50-Ohm Coaxial cable is the industry standard and ideal solution for devices that demand high power characteristics.
50-ohm cables/connectors are especially great for transmitting analogue video formats.
Cloom's 50 Ohm coax cables are designed to the precise specifications of industry standards, including RoHS and REACH.
Our cable is double-shielded, but you can also get single or triple shielding if needed for your application.
Cloom's varied selection includes corrugated, flexible, formable or semi-rigid designs. Your choice of size and construction material will determine the flexibility and bend radius.
We use a variety of core dielectric materials including FEP, FEP (AS), PE, PE (AS), and PTFE for your wide range of performance needs, including attenuation, temperature, voltage, and RF power.
Corrugated Coax Cable 50 Ohm
SPF-250,SPF-375,SPF-500,SPO-250,SPO-375, SPO-500, SPP-250-LLPL, SPP-375-LLPL, SPP-500-LLPL,Coax Cable Corrugated 50 Ohm,
Flexible Coax Cable 50 Ohm
FM/HF/LMR/GR/TFT Coax Cable Flexible 50 Ohm
Formable Coax Cable 50 Ohm
FM-SR086TB/FM-SR086TBJ/FM-SR141TB /FM-SR141TBJ/LMR-SW396/LMR-SW540 Coax Cable Formable 50 Ohm
Semi-Rigid Coax Cable 50 Ohm
.020/.034 /.047/.070/.086/.118/.114/RG401/RG402 /RG405 Coax Cable Semi-Rigid 50 Ohm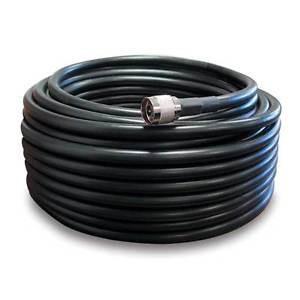 About 50 Ohm Coaxial Cable
The tradeoff with 50-Ohm cabling is larger connectors and thicker cable housing since data transmissions are typically required by this type of wiring - which means it's ideal for transmission inside a cell phone booster installation that requires large distances covered or multiple floor levels serviced simultaneously.
The diameter size will also increase as much as 1/8th inch per foot if the length exceeds 500 feet which can make them difficult to install in some areas like apartments because they have limited access points.
About 75 Ohm Coaxial Cable
The 75-Ohm coaxial cables are found across many of our buildings, and they've been prewired into them. They're often used for sound or video transmission purposes in homes and businesses alike-- this is why you find it at the back of your television set!
You'll see these types of leads as part of internet routers or TV boxes too; because that's what they're primarily designed to do: make transmissions like audio signals easier. This means fewer cable costs overall for us all.