AirPod Pro vs. Raycon is one of the most commonly debated earbuds brands.
Despite Raycon being a more affordable and less popular brand, many users already compare it to industry giants like Airpods.
We offer a comprehensive comparison between these two earbuds brands.
You will learn the different features that set them apart and their similarities. 
Table of Contents
Airpod Pro vs. Raycon: Prices
Raycon tends to offer a variety of cheaper alternatives than AirPod Pro.
If budget is your key consideration when deciding between the two, Raycon is the one to go for.
Their prices range between $79 and $119.
The cheapest is Raycon Everyday Earbud which you can get for as low as $79.9.
The rest models, including the Raycon work earbud classic, Reycon gaming earbuds, and Reycon fitness earbuds, can cost around $119.
On the other hand, Apple Airpod Pro (second generation) costs up to $249.
Even the most expensive Raynon earbud model is cheaper than AirPod Pro. 
AirPod Pro vs. Raycon: Design
Airpod Pro and Raycon come in great stylish and attractive cases.
The earbuds sit on their respective cases with the aid of a magnet to prevent them from falling. 
However, the cases have noticeable differences too.
The AirPods Pro case looks smoother, and it is easier to open. 
In addition, AirPod Pro earbuds have sleek designs with long stems.
On the other hand, Raycon earbuds model a very short protruding stem. It all depends on what you prefer.
Raycon, however, does well when it comes to color options.
The brand offers various colors, including flare red, rose gold, and electric blue.
For AirPod Pro, you only have one option: white color.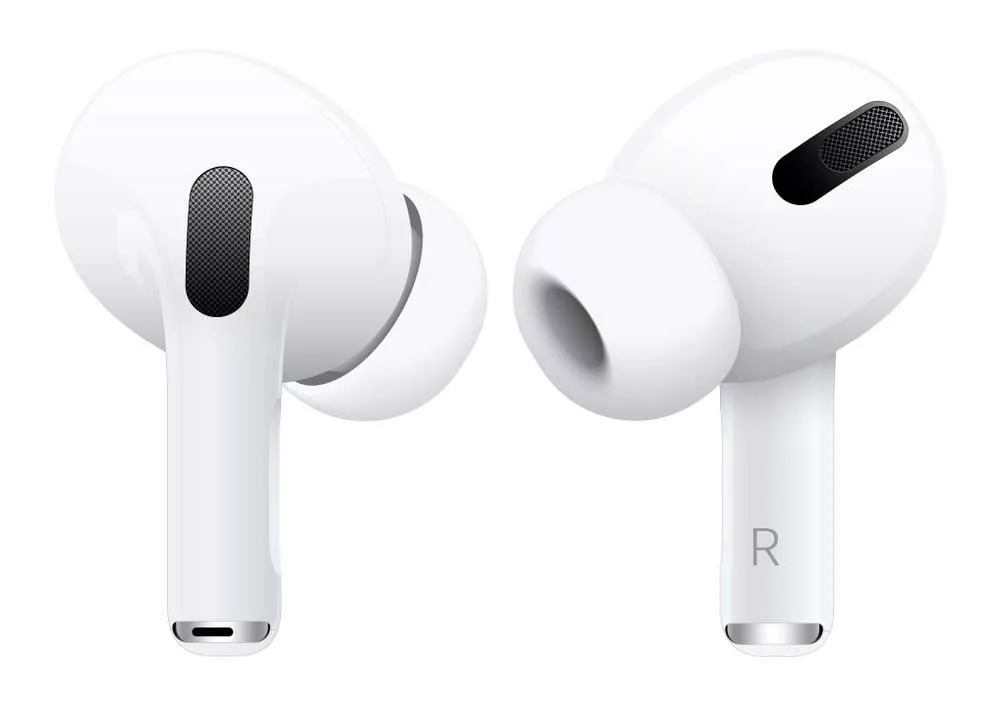 Airpods Pro 
AirPod Pro vs. Raycon: Comfort and Fit
Both earbuds fit nicely in the ear without causing any pain and fatigue.
AirPod Pro's cushiony nature offers added comfort. 
AirPod Pro earbuds also feature silicone ear tips in three sizes: small, medium, and large.
You choose what you'll find comfortable. For instance, those with small ears will love earbuds with small tips. 
Raycon is equally comfortable and even offers more options in terms of tip sizes than AirPods Pro.
Finding the exact fit for your ears is easier. 
AirPod Pro vs. Raycon: Sound Quality
Raycon and Apple Airpod Pro's sound quality is almost similar.
They are generally known for high quality and smooth sound.
The features that contribute to their decent sound quality include:
Heavy sound bass
Noise isolation
Noise cancellation
Balanced sound
One brand will win in one aspect while the other will win in another.
For instance, Airpod Pro has active noise cancellation, while Raynon earbuds have only noise isolation.
That means AirPods Pro can cancel outside noise and prevent them from interfering with what you are listening to better than Reynon. 
However, Raycon wins big when it comes to the bass sound.
A premium balanced sound can help downplay the sound bass when it is too much.
AirPod Pro vs. Raycon: Durability
Raycons and AirPods Pro have a decent lifespan of 2-3 years.
However, durability depends on various factors, including how, when, and where you use them.
Users are generally happy with their lifespan, especially that of Raycons.
They can surprisingly last as long as Airpods Pro despite the cost. 
Besides, both come with a 1-year limited warranty for manufacturing defects.
A warranty indicates that the manufacturers are confident in the durability of their products. 
AirPod Pro vs. Raycon: Battery Life
Raycons generally last longer than Apple Airpods regarding battery life and playback time.
The earbuds have up to 6-9 hours for making calls and listening to audio.
The charging case should also offer another three full charges holding up to 30-54 hours of battery life.  
E25 ( the every day) earbuds have the most powerful batteries among their models.
However, they don't support wireless charging. E55s (the performer) also has a decent battery life and supports Qi wireless charging technology. 
Apple AirPod Pro, on the other hand, has a playtime of between 5-6 hours and a battery life of 24 -30 hours with the charging case.
That said, it is clear that Raycon does better in this department.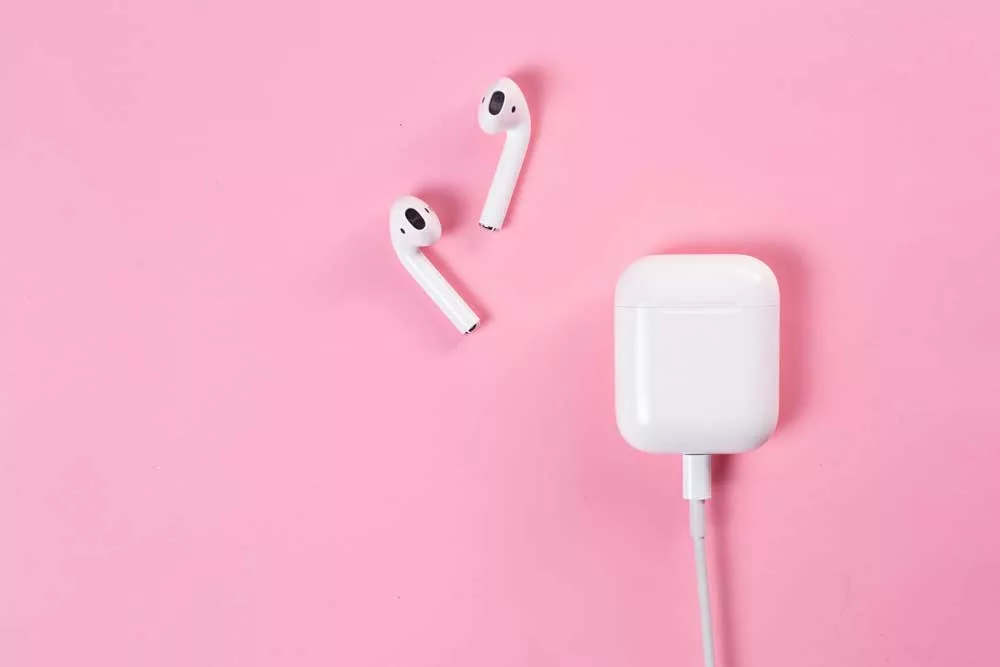 Airpods with the charging case
AirPod Pro vs. Raycon: Connectivity
Raycon earbuds are compatible with Bluetooth-enabled devices.
You can connect them to Androids, iOS, windows, and TVs.
The connectivity is straightforward; you can do it in a two-step process.
AirPods Pro, on the other hand, connects to all Apple devices in just one step.
It can connect with iPhones 8 or higher, iPad Pro 2nd gen or higher, iPad mini 5th gen, and iPad Air 3rd gen.
It can also connect to Siri and operate with voice assistance. 
AirPod Pro vs. Raycon: Additional Features
Raycon and AirPods Pro have a touch function on the earbuds that enables you to answer calls, play, pause, etc.
However, most users find AirPod Pro touch functions easier to operate than Raycon.
Both of them are also sweat and water-resistant to some extent.
They are not entirely waterproof, so don't use them for water games or in the shower.
Besides, it is not advisable to charge the earbuds when still wet.
AirPods Pro earbuds feature a sensor that automatically pauses the music when you remove it from your ears.
This is a feature that Raycon earbuds should have.
AirPod Pro vs. Raycon: FAQs
Which is Better: AirPod Pro vs. Raycon?
If you want a more sophisticated earbud with well-built quality and more convenient features, AirPods Pro Truly Wireless is a great choice.
However, this comes at a relatively higher cost.
For someone on a budget but still wants almost the same sound quality and stylish design, Raycon is a good alternative.
Are Raycon Earbuds Compatible with iPhones?
Your Raycon should work with any Bluetooth-enabled device, including iPhone, regardless of the brand.
You must upgrade your iPhone to the latest software if it can't pair. 
However, the connection is not as seamless as when you pair Apple AirPods Pro with Apple iPhone.
Apple devices go together much better.
Raycon vs. Apple AirPods – Summary
Deciding between Raycon and AirPods Pro is difficult because each brand is stronger in different aspects.
For instance, if you choose based on price, Raycon is the best option.
Raycons also offer variety, so you can easily find what comfortably fits your ear canal. 
On the other hand, AirPod is a popular brand with excellent compatibility with Apple devices.
Earbuds users also agree AirPods Pro has better sound quality than Raycons.
However, these two brands offer good quality earbuds from a general point of view.
Whichever you choose, rest assured you are getting a top wireless earbud in the market.
For more information, feel free to browse our website.