When it comes to tech giants, Apple takes the topmost position. Although the tech company is well-known for its luxury phones, its pencils also receive some interest. But one question one every Apple fan's mind is: Apple pencil 1 vs. 2: which is better?
Apple pencils have unique designs that work with iPads, and you can choose from two variants. But what makes these styluses different? And why should you choose one over the other?
This article will discuss the two generations of apple pencils and explain the differences.
Are you ready? Let's go!
Table of Contents
The Specifications at a Glance
A hand using a stylus on a tablet
The Apple pencil 1 is Apple's first generation of styluses, and it made its debut in September 2015. The item's key features include:
You can connect to your iPad via Bluetooth technology
It has an 8.89 mm diameter and is 6.92 inches long
The Apple Pencil 1 has a magnetic cap that secures its charging port (lightning connector)
A full charge can provide an impressive 12 hours of usage time.
On the other hand, the Apple Pencil 2 is the tech giant's second generation of styluses, released in October 2018. Its key features include:
The Apple Pencil 2 also connects via Bluetooth technology
It has a shorter length of 6.53 inches and an 8.89 diameter
The item doesn't come with a lightning connector. But it uses a magnetic variant on its side for wireless charging.
A full charge can also provide up to 12 hours of usage time
Apple Pencil 1 vs. 2: A Detailed Comparison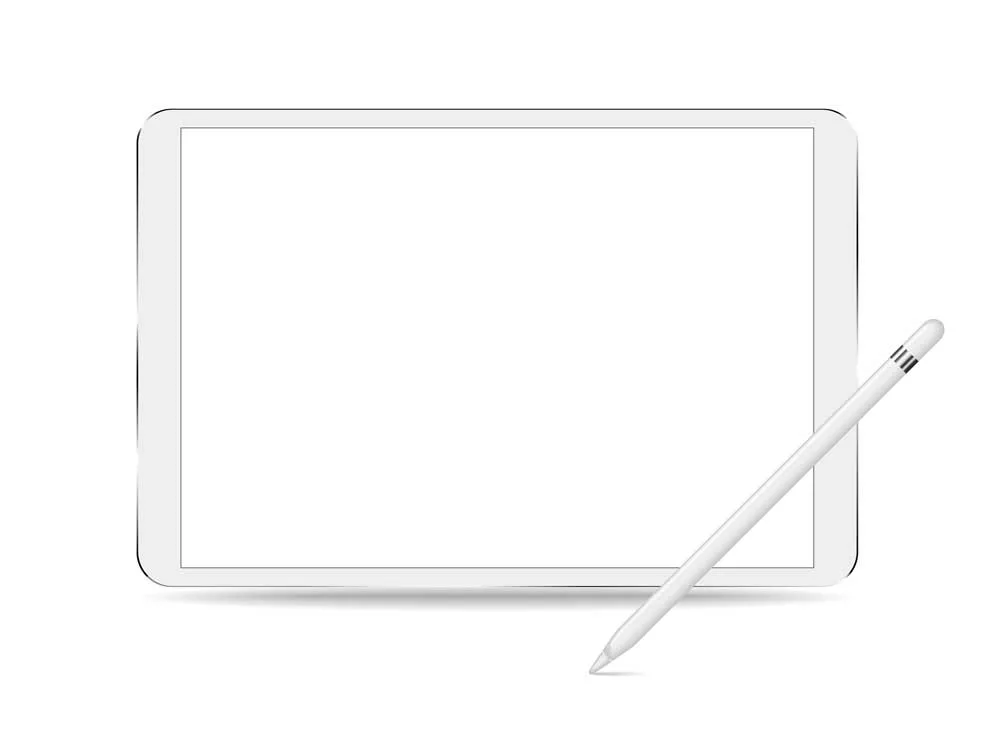 Apple Pencil and iPad
Now it's time to get into the nitty-gritty. But first, let's take a closer look at the differences between both generations of Apple's stylus.
Design
Like every other gadget, one of the things we'll explore is the design. Both Apple pencils have unique designs making them distinct. So let's start with the shape.
Shape
Although both styluses have rounded designs, they feature slightly different shapes. While the Apple Pencil 1 is more spherical, the Apple Pencil 2 is flat. The 2nd generation's flat shape helps secure the pencil and stop it from rolling away.
Surface
Things get very different at this point. The Apple Pencil features a shiny plastic surface similar to AirPods. In contrast, the Apple Pencil 2 has a matte surface that mimics a real pencil.
Grip
You may get a firm grip on the Apple Pencil 1 due to its shiny finish and spherical shape. However, it's a different story for the Apple Pencil 2. Unlike its predecessor, the second generation provides a tighter grip because of its matte finish.
Weight and Diameter
Both generations of Apple styluses have similar diameters (8.9 mm). Hence, they aren't thick or thin but just the right size to be ergonomic. Interestingly, they both weigh 21g and won't cause discomfort when held for long.
Performance
While Apple Pencils are not the first styluses to grace the market, they have redefined what it means to draw, take notes, and design digitally. Let's compare the performances of both generations.
Charging
The 1st generation features a lightning connector that plugs into an iPad's charging port. Plus, they often come with adapters for charging purposes.
On the other hand, Apple Pencil 2 doesn't feature a lightning port, but it compensates for this with a magnetic connector. Interestingly, you can stick this gadget on the right side of an iPad to pair or charge it wirelessly.
Latency
Latency has more to do with the iPad screen than the Apple Pencil itself. Newer iPad pros feature a 60Hz screen which fits the Apple Pencil 2. In contrast, older variants have 120Hz screens that work perfectly with the first generation.
So, newer models have lower latency compared to older variants.
Tip
The first and second-generation Apple Pencils use similar tips—which are rigid and tap firmly against the iPad's glass. But, the Apple Pencil 1 comes with an extra tip in the package, while the second generation does not.
You can purchase an extra pack of four tips for $19.
Button
While the Apple Pencil 1 has few physical features like its cap and lightning connector, the Apple Pencil 2's flat edge doubles down as a button. Interestingly, you can double-tap it to access various actions like switching to erase, color palette, or last-used tool.
Price
Like every other Apple device, there's a notable price difference between both generations of Apple Pencils. While the Apple Pencil 1 goes for $99, you can get the Apple Pencil 2 for $129.
Which Apple Pencil is Better?
We can't point out which gadget is the best. Instead, several factors come into play when determining which Apple Pencil will do the job better. For instance, both generations have similar performances but getting either depends on your budget.
Also, your iPad model determines the best generation for you. For example, the Apple Pencil 2 is more compatible with newer iPad Pros, while older versions work better with the Apple Pencil 1.
FAQs
Does Apple Pencil reduce battery life?
Apple Pencils do not adversely affect an iPad's battery life. They don't even consume much charge in the first place.
Are Apple Pencils compatible with other tablets?
Apple Pencils are strictly for iPads only. They have designs that require special hardware to function. However, you can opt for alternative styluses that work with all devices.
Can I use Apple Pencil with an iPhone?
Apple Pencils require specific hardware to function–hence, they won't work with iPhones. You can only use them with iPads since they have the required hardware.
Last Words
Apple Pencil 1 and 2 are incredibly similar, and their differences relate to compatibility. However, we recommend opting for second-generation pens if you have an iPad pro or plan on upgrading to one.
Plus, an Apple Pencil 1 will suffice for older iPad models and situations where you have a limited budget. But keep in mind that the first gen will eventually go obsolete. So, new is always better.
Do you have more questions? Please contact us, and we'll be happy to help.