If you're an electrician or tradesman who wants to become better at stripping wires, you may need an automatic wire stripper.
Choosing from the wide range of products on the market can be a real challenge, but this guide will discuss the six best automatic wire strippers to consider.
Table of Contents
Manual vs. Automatic Wire Strippers
Manual Wire Strippers
In terms of pricing, manual wire strippers are relatively affordable.
They are a lot less expensive than automatic alternatives.
One of the best ways to differentiate manual wire strippers from other variants is their portability.
They are a lot lighter and often smaller.
Manual wire strippers are also extremely robust when it comes to their functionalities.
While basic models tend only to strip, more premium products can often crimp and cut.
Despite all these differences, the most important concept behind manual wire strippers is that they require the user to set and configure the tool entirely by hand.
You'll need to define the diameter of the wire you are trying to strip at the very least.
In some cases, there may be more to set up, too.
Automatic Wire Strippers
Automatic strippers apply the appropriate force when cutting into the wire's plastic casing, eliminating much of the guesswork that manual options can involve.
They also account for varying wire sizes without any input from the user.
They're also very heavy-duty, occasionally leading to increased wear on the wires you strip.
Ultimately, automatic wire strippers solve the time-consuming nature of manual alternatives.
They perform the job significantly faster and more methodically streamlined way.
Factors to Consider While Looking for an Automatic Wire Stripping
Wire stripping capacity
A given wire stripper can usually only work with certain thicknesses of wires.
Ensure you understand what thicknesses you'll work with, and choose a stripper compatible with these diameters.
Material and Ergonomics
Different tools can have varying materials.
While the most common type is steel, it can also be plastic, rubber, or fiberglass.
Steel is the cheapest, but rubber is much more ergonomic and comfortable.
Versatility
While some wire strippers will offer only the bare minimum, many have unique and special features to make life easier for you.
For example, they may also cut or crimp the wire.
Determine which of these extra features are important to you.
Tool Weight
Lightweight tools are ergonomic and easier to use for long periods.
They could also be less durable, so consider your priorities when purchasing.
Stay Safe
Research the safety features and certifications of a particular wire stripper before purchasing.
It will help guarantee your safety.
Price and Brand
Automatic wire strippers can start as cheap as just $10 and be as expensive as $50; consider how much you're willing to spend and investigate in that price range.
Also, think about different brands and which ones you trust the most.
Best Automatic Wire Strippers
1. IRWIN VISE-GRIP Wire Stripper
Features & Benefits
Firstly, it includes an adjustable stopper feature to help improve control of the core strip length.
Additionally, it is a multifunctional tool that can crimp and strip.
Lastly, self-adjusting reduces your workload and saves plenty of time.
Downsides
They are not as reliable as some alternatives.
Customer Reviews
It achieves a very clean strip, especially with single wires.
2. Klein Tools Heavy Duty Automatic Wire Stripper
Features & Benefits
Firstly, this wire stripper is extremely efficient and works with 8-20 AWG solid and 10-22 AWG stranded wire.
Secondly, it works perfectly and is highly accurate due to its clever engineering.
Thirdly, it can remove as much as a one-inch jacket layer per step.
Downsides
It can be challenging to create super clean and accurate quality cuts.
Customer Reviews
Extremely easy to use and takes a lot of the guesswork out of stripping wires. Highly recommend.
3. KAIWEETS Self-Adjusting Wire Stripper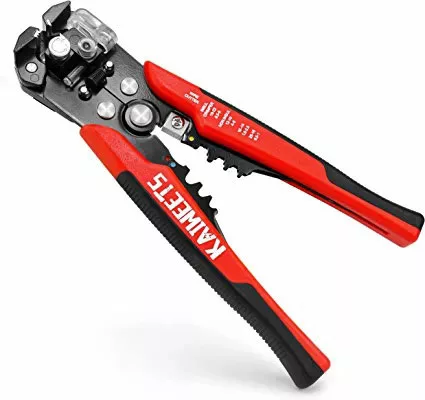 Features & Benefits
Firstly, this automatic wire stripper is completely self-adjusting, reducing your workload.
Additionally, it has the added ability to crimp and cut, as well as strip, wires.
Furthermore, the product comes with three years of customer service and lifelong tech support.
Downsides
The tool can often slip off the wire.
Customer Reviews
This tool saved me much time and did a far better job than my old manual wire strippers.
4. Klein Tools 80013 Wiring Tool Kit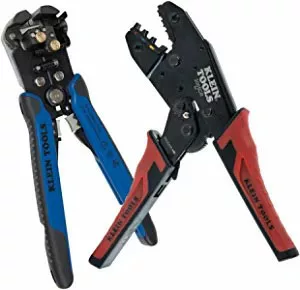 Features & Benefits
Firstly, this product is a pack of two high-quality wire strippers that each serve their unique purpose.
Also, they are professional-grade strippers for tradespeople to get everything they need in one tool.
Finally, they have an adjustable stopper to help you control the core strip.
Downsides
The quality of stripping, cutting, and crimping could be cleaner.
Customer Reviews
The tool feels extremely sturdy and is very well made.
5. WGGE Self-Adjusting Insulation Wire Stripper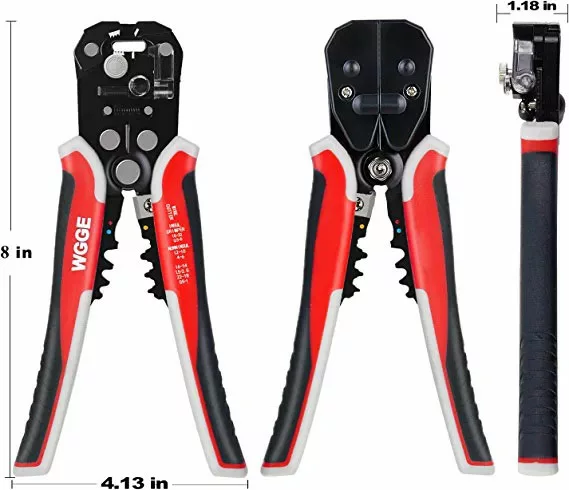 Features & Benefits
Firstly, this product is very cheap compared to its competitors.
Secondly, it is compatible with both copper and aliminium cables.
Thirdly, it can cut and crimp cables on top of the standard sire stripping features.
Downsides
It doesn't work as effectively on the solid wire, but it will still do the trick.
Customer Reviews
Considering the price is so low, this tool provides fantastic quality.
6. IRWIN Vise-Grip Wire Stripping Tool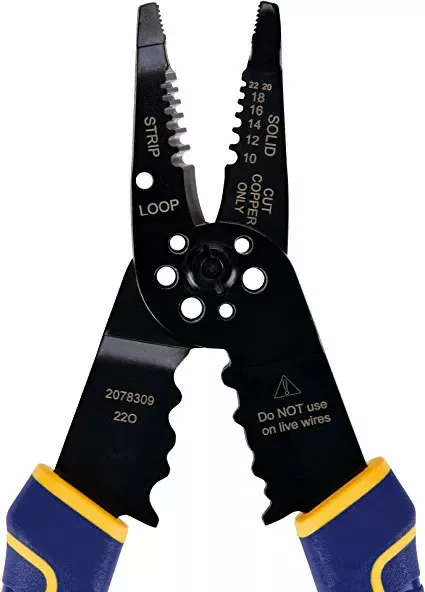 Features & Benefits
Firstly, this product offers an alternative design to traditional automatic wire strippers.
Secondly, the plier-style nose lets you pull and loop wires if you need to do so.
Lastly, it can also crimp both insulated and non-insulated terminals.
Downsides
The pliers do not have spring loading so that they can be tiring.
Customer Reviews
Fairly easy to operate and is a high-quality tool. Very happy.
Conclusion
Automatic wire strippers are more ergonomic, easy to use, and efficient than their manual counterparts.
The best brands for you to consider when buying strippers are IRWIN, Klein Tools, KAIWEETS, and WGGE.