Undoubtedly, studio monitors have helped several recording engineers in mastering, mixing, and recording audio.
Therefore, having the most effective studio monitor cable is almost mandatory.
Today, we'll show you the best cable for studio monitors and then enlighten you on a few criteria for choosing quality cables. 
Table of Contents
Factors to consider when choosing
Analog Cables & Digital Cables
Generally, digital cables will transmit a digital signal from one point to another, while analog cables transfer analog signals.
Luckily, digital cables experience no signal, unlike analog cables with signal loss during transmission due to their insulation material. 
Some digital cables include SPDIF and Optical cables, while analog cables are TRS, TS, and XLR cables. 
Balanced VS unbalanced cables
A balanced cable has three wires, one which acts as a ground, while the other use reversed polarity to transmit similar audio signals.
As a result, you end up with an additional 4dB of headroom and noise-free sound.
On the contrary, unbalanced cables have two wires; one is ground, the other a positive end.
Unfortunately, the combination may culminate into noise mixed with audio signals, 
Types of audio cable connectors
TS and TRS connectors
TRS is a balanced ¼" phone connector, whereas TS is the unbalanced one.
TS connectors are mostly recommendable in analog instruments like basses and guitars, while TRS connectors connect well with a mixer or audio interface. 
XLR Connectors
XLR connectors have clear signals, more conductivity, are balanced, and are ideal for high-end studio monitors and microphones.
Also, since there are female and male XLR connectors, ensure your cable order suits the connector type. 
RCA connectors
It is an unbalanced connector that often presents with noise during audio signal transmission.
However, this doesn't mean you throw away your connector if you already have one.
Just get an RCA cable. It could be an RCA-RCA cable for an RCA output or a TRS-RCA cable for a TRS/XLR output. 
Cable Length
Some users find that a cable length has a low to zero impact on audio quality.
However, others believe that it does affect the audio greatly for reasons such as;
The effect of capacitance on all cables where you'll find longer cable experience slight signal loss details in their high ends.
Additionally, the longer cable might display a loose bottom-end response in a scenario with two indistinguishable studio monitors. Luckily, the response is barely noticeable. 
Either way, approximately 10ft per speaker is appropriate for near-filed monitors, with 25ft being the maximum length for most applications. 
Variety of thicknesses
The outer interference is inversely proportional to the audio cable thickness. In other words, less interference occurs due to a thick cable and vice versa. 
In addition, a thick cable has higher durability chances and will serve all your audio recording needs. 
Conductivity
Conductivity varies depending on the metal employed in the wire.
Here, you can opt for copper wire cables and gold-plate connectors with better chances of improving the conductivity and audio waves. 
Best Cable for Studio Monitors: Interference shield quality
An audio cable has an interference shield that protects audio from external interference, ensuring noiselessness.
Furthermore, the shield is a metal wire that wires around a positive cable that mirrors outer electric waves and magnetic fields.
A good quality shield means noiselessness and should be the top priority. 
Best Cable for Studio Monitors: Price
Most quality cables have higher price tags. Sure, you could find cheaper options, but they may not be as effective.
Therefore, if you're on a tight budget and looking for an affordable cable, consider researching what you'll expect from your cable choice. 
Best Cables for Studio Monitors
Cable Matters (XLR to XLR models)
Amazon Purchase Link
Features and Benefits 
First, it has grip threads that decrease connection loosening.
It additionally has a durable PVC jacket and a length of about 20′.
Besides having individual wire insulation and compatible DMX lights, it also has a 'strain relief' on the connectors.
You can use it with camera mics consisting of gold plating on XLR pins. 
Finally, you'll find it in packs of two. 
Disadvantages 
Its signal clarity might be fatiguing.
Also, the cable lacks a color code. 
Customer Review 
"Sure, XLR cables can be pretty expensive, but this guy fits snugly like a bug, looks awesome, and the material feels like quality all the way through.
Don't settle for cheap cables with loose connections. Better safe than sorry. Unlike some other cables, these have yet to fail in a recording."
TISINO TRS cable
Amazon Purchase link
Features and Benefits
It has a 20 AWG 4N Oxygen Free Copper shielding.
Furthermore, the ¼ to ¼ balanced male cable has high durability and comprises heavy-duty gold-plated connectors.
Then, its nylon braid jacket and duty-flexible rubber promote a flexible and sturdy performance. 
Disadvantages 
Customer Review
"Cables are excellent quality. They feel like they'll last a long time.
The sound quality is as good as any others I've used. Will be purchasing more of these in the future."
Hosa CPR-202 (RCA to TRS connector)
Amazon Purchase link
Features and Benefits
The six-meter-long cable has OFC spiral shields, conductors, and nickel-plated connectors.
Its OFC spiral shield ensures signal clarity by reducing interference, while the OFC conductors offer quality conductivity. 
It is also a heavily built dual cable that can withstand pressures. 
Disadvantages 
Unfortunately, it lacks gold plating and color codes. 
Customer Review
"As a DJ, these cables work well when I'm traveling to a venue and need to jack in. I've only used them a handful of times, but they seem sturdy and well-built."
Seismic Audio – SATRXL (XLR to TRS connector)
Amazon Purchase link
Features and Benefits
Apart from being a cable, it also has a one-year warranty. 
Then, it comes as a pair of the color of color-coded cables. 
It is affordable. 
Finally, it is ideal when connecting equalizers to amplifiers, monitors, effect units, compressors, or crossovers. 
Disadvantages 
It lacks gold-plate connectors. 
Customer Review
"These seem to be HEAVY DUTY. METAL ends. Good solder joints.
The wire is flexible and coils nicely for storage or transportation. A full six feet long. I will buy these again when I need more."
Monoprice 102864 (RCA connector)
Amazon Purchase link
Features and Benefits
It is cost-effective.
Secondly, it has gold-plated connectors, a thick magnetic shield, and a low impedance of 75ohms. 
It is of high quality. 
Disadvantages
It has a limited cable length of 6ft and is not so clear compared to other cables. 
Customer Review
"Great product that is very durable. The ends are high quality.
Flexible cable for the long run as well. I have had zero issues with the cable. Cable does get trampled by kids occasionally, but still works well."
GLS Audio Studio Monitor Cable (TS connector)
Amazon Purchase link
Features and Benefits
First, it has a neatly-coiling plus flexible braided tweed jacket, conductive PVC shield, and an OFC insulator shield.
Moreover, it consists of internal and external rubber heat shrink tubing that renders it long-lasting.
Disadvantages 
The unbalanced cable is a big budget. 
Customer Review
"Amazing product for the price. I would recommend these cables to anyone if you want a quality cable.
I have had cables from all the big-name companies but none compared to GLS cables."
What are the differences between XLR, TRS/TRS cables?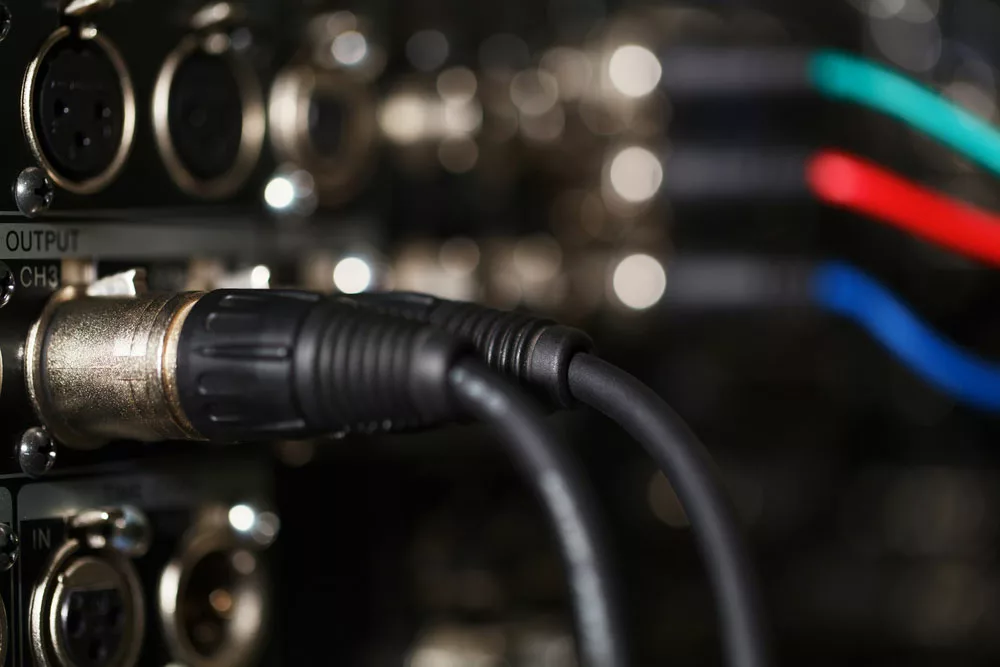 (Audio XLR cable)
The two cables majorly differ in terms of the internal wires.
Usually, TRS/TRS cables have two or sometimes three internal wires, whereas XLR cables have three wires.
The two wires in TRS/TRS cables often work for unbalanced audio, while the third wire in XLR cables is for balanced audio. 
Conclusion
While our list may not meet all your requirements, we hope you're more knowledgeable about the best cables in the market.
Remember, the cost, conductivity, thickness, type of connector, and interference shield quality will always affect your cable of choice.