The best indoor antenna for TV without cables.TV antennas might be a tale of the old times when there wasn't any other option. But, as the times are becoming tough,
people are returning to this old relic.
It has helped consumers significantly cut down their satellite and cable bills while giving them the same number of channels with the best quality.
Some studies also show that about one-quarter of the houses that previously held broadband systems are now switching to antennas.
So, there is an increase in antenna sales and manufacturing of different types of variations.
Even with better performance, the outdoor option might not suit all consumers in these variations, so people are leaning more toward the indoor antenna.
Let's dig into the best indoor antenna for TV without cables.
Table of Contents
The benefits of a TV antenna
People are nowadays dumping cable connections and subscribing to streaming services like Hulu + Live, Netflix, Amazon Prime, etc.
However, these streaming channels cannot always supply live channels.
In addition, even if these platforms have many shows and movies to watch, they do not broadcast local channels.
For that, the indoor antenna can best fill the gap.
A multi-directional antenna catches signal to supply live channels with local news and show.
Also, living near major TV towers, you can catch signals for ABC, Fox, Telemundo, NBC, and PBS using a TV antenna.
In addition, you might get signals to many other sub-channels that offer additional programs, like old dramas, movies, and other content. 
Moreover, a powerful antenna offers better picture quality than cable as it directly receives the signals.
Due to such a phenomenon, the signals are less compressed than the ones in cable connection and are not distorted. 
Caption: Loop antenna
How to choose the best indoor TV antenna for you
The building you reside in will determine whether to buy an indoor or outdoor antenna.
An outdoor TV antenna usually works best as it catches better signals.
However, you need to install it on the rooftop for better results.
An indoor antenna is your go-to if you have a broadcasting tower within a range of 40 to 50 miles.
There are four factors to consider while looking for a good indoor antenna.
Range and Location
The range is always on top of the list since it determines the strength of signals you get.
Hence, your indoor antenna should be able to pull a good amount of UHF and VHF signals from the tower.
Small antennas can work well for you in a city or near broadcasting towers.
It is because you only have to search for a station within 10 to 20 miles of the area.
But, if you are living away from the city, chances are you have to pull the signals from a 30+ mile radius.
For that, you will need a much-amplified digital antenna.
For 50 mile radius, you have to buy large outdoor units.
Unlock local channels
The local cable package might not be giving you the local channel range.
But fortunately, with a good indoor antenna, you should be able to pull strong signals for local content and news for free.
Receive sub-channels
Along with the local channels, the antenna should be able to catch the sub-channels. These sub-channels are mostly genre-specific. Thus, you will enjoy the wide range of content and watch whatever you like.
Get HD picture quality.
Top channels like NBC, ABC, PBS, and CBS have a clear picture quality if you use an antenna to receive them.
Here, we are talking about 1080i and 720p clarity.
On the other hand, if you go back to the cable connection, you will see the difference.
Amplified or Non-amplified
Another important factor is whether to buy an amplified antenna or not.
An antenna with an amplifier gives additional signal strength while helping weak signals clear.
It also means you must pay the additional cost and have another socket to plug in the device.
Non-amplified antenna sales are $20-$40, while amplified sales for $30-$100.
The downside of a TV antenna
Since every good thing has disadvantages, antenna too will lack in some areas.
For instance, you might not receive some channels on the antenna that you regularly watch on your cable system.
It may be because the antenna cannot catch the signals near a broadcast tower or there are a lot of obstructions nearby.
While comparing it to a streaming channel, you will notice that the antenna only connects to your TV and shows content there.
While on streaming platforms, you can log in to any device, laptop, mobile, or TV.
Moreover, it would be best to have a TV with a digital tuner to catch the signals of your local stations.
It is mostly found in TVs manufactured since 2007. 
10 Best Indoor TV Antennas in 2023
Some of the best-reviewed antennae for 2023 are
Antop HD Indoor TV Antenna
ANTOP HDTV antenna is a popular pick for 2023.
Moreover, it has a good 80 miles range with a built-in adjusting dial that gives more control to the user for signal reception.
Pros:
Easily work with two TVs at the same time.
4G LTE filter for minimal interference
Has built-in power booster or adjustment dial
Cons:
This type of antenna is an all-rounder device with 180 miles range and Clean peak filter technology for clearing network distortion.
Pros:
Great 180 miles range
Has an 18-inch coax cable
CleanPeak filter technology.
Cons:
High signal loss in high obstacle areas
Channel Master Flatenna delivers 35 miles range while using professional level RG-6 coax cable.
Pros:
Built-in LTE filter with interference prevention
Omnidirectional receiving
Cons:
Built-in amplifier not included
TO BE #1 Amplified HDTV Indoor Antenna
With a maximum range of 250 miles, this indoor antenna is best for larger rooms with TVs far from the windows.
Pros:
Adhesive pads for easy placement
Comes with a 16.5ft coax cable
Compact design with 13.5x 9.5 x 2 inches dimension
Cons:
Loutsbe Indoor Antenna
Youtube Indoor antenna works to capture VHF-UHF signals with 174 to 240MHZ and 470 to 862MHz, respectively.
With a sleek design, it offers easy installation and lets the user occasionally switch between long and short ranges.
Pros:
Sleek design and easy to install
Best for the user who knows specific channel proximity
Cons:
No charging adapter available in the packaging
No Long range indicator on the device
XFTREE Indoor Antenna
A mid-range antenna with 250 miles range, XFTREE indoor antenna is best for capturing UHF, VHF, and FM frequencies.
Pros:
Normal price point
Easy to install
Best for every type of TV
Cons:
Distortion in a long-range setting
Signal issues
Forlovv Amplified Antenna
Follow works on a 300 miles range due to the IC chip and is best for anyone who wants to cut the cable connection off.
Pros:
300 miles range
Built-in IC microchip
Captures more array of the channel than any other antenna
Cons:
Expensive than other antenna options
Gesobyte Long Range Antenna
Gesobyte long range is a 200 Miles ranging antenna with a smart filter that helps get signals clearer than ever. Its sleek design may add an aesthetic touch to your living room. 
Pros:
Long Range
Designed for higher-quality TVs
Cons:
It may not work in some countries
MATA1 TV Antenna
With a thin design and 330-mile range for broadcast signals, the MATA1 HDTV Antenna pulls off all the popular channels, including ABC, NBC, CBS, etc.
Pros:
Slim design
Compact with 13 by 3 by 1.4 inches dimension
Comes with a 10ft coaxial cable
Cons:
May miss signals in high-obstacle areas
Flimsy thin plastic feel
No dedicated app for channel search
Amazon Basics Ultra-Thin Indoor TV Antenna
This indoor antenna has a 35-mile range while giving you a sleek design that is best for modern setups.
Pros:
Offers 1080p HD quality
Simple installation (plug-in)
Cones with 15ft coax cable
Cons:
Sensitive
Difficult setting in an ideal location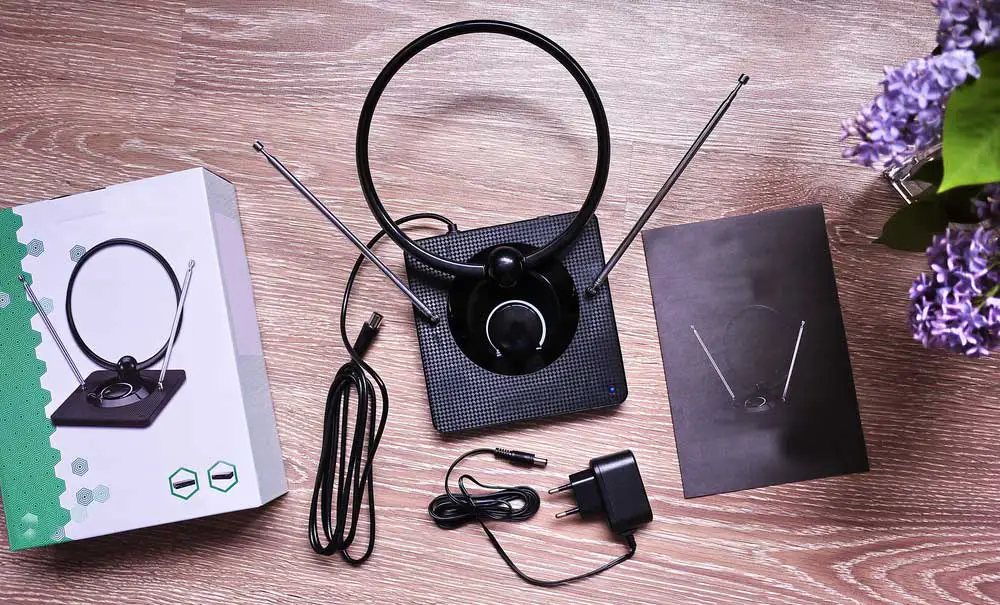 Caption: Indoor antenna with complete accessories
Conclusion
We have tried our best to evaluate the options with our expert insight in this guide.
Thus, we combined a bunch of testing and hands-on evaluation to find the best antenna available.
Here, our main consideration is the performance, the number of channels it could pull, the equipment it needs, and ease of setup and use.
We hope our work will benefit you while you make the lifetime decision to invest your money into the antenna.