Can I charge my laptop with a USB cable? USB-C connectivity seems to be on every latest device available in the market. Smartphones use it for charging and transferring data, whereas PCs only use it for later work. 
In such circumstances, one might wonder whether you can use USB-C ports to charge the laptops as you do for mobiles. 
This article solves these questions and helps you understand what you will need in that case. 
Table of Contents
Can I Charge My Laptop With USB-C?
Recent designs of laptops are coming with USB-C ports as their charging slot, but it can depend from model to model. 
Although they are very common, USB-C is mostly used for data transfer. Hence,t is not a standard to follow. 
For example, if your laptop ishas a type of power adapter, stit is better to use an additional bundled adapter to meet our port and wattage needs simultaneously. 
Moreover, some laptops, like the latest Lenovo ThinkPad, offer more than one charging option. 
It has a USB-C port for charging, but the charger that comes with it is of a different style. Hence, you can plug in your type cable if you want to use that port.
Type C cables with Laptop
Why is USB-C for charging your laptop?
Let's take the example of different automobiles and their operation. A simple motorcycle will work on regular petrol or gasoline without any issues.
 However, heavy machines will need diesel for smooth operation. Changing the fuel type for each of these types will make the automobile slow down or even stop working.
Our devices work on the same principle. The heavier the power needed, the greater the voltage required to charge the battery.
Voltage and Power
Many devices do have their required power mentioned on the packaging. If not, you can always find it using the other mentioned entities like voltage and amperage.
 Use the formula P=V x I and determine the required amount of watts.
Power Output and Limitations of USB-A Ports
You may have seen USB-A ports on smaller gadgets like tablets or smartphones, but each supports different current values. 
Among them, most A-type ports only allow a 5V current, which is nonsufficient for larger devices.  
Moreover, these USB A ports may support fast charging that can charge the corresponding devices rapidly.
 However, it limits over 3A amperage or 18W power due to internal wiring issues or incompatible connectors. 
Therefore, you must consider the power requirements before purchasing or using the wire for your devices.
Power Required By Laptops
Now, different models of laptops will require varying power and voltage levels. Sometimes, it also changes due to changes in the certain laptop graphics card and processor a
Hence, you should carefully see the charger that comes with your laptop. As a standard, these devices use a current between 15-20V and a power of 36W.
How USB Charging Works in Laptops
USB-C is a 24-pin connection system that can recharge a laptop. 
Also, it requires the installation of USB 3.1 technology to support smooth power transfer for the laptop. 
It can send over 100W of power, and thus the makers do not need to install a separate charging port on the laptop panel. 
Old laptop models usually come with a 30-65 watts of power requirement that can charge the device efficiently. 
Using a 100W USB-C cable will charge the device faster than its original charger. 
The Apple MacBook uses this technique to make its models slimmer and easy to handle.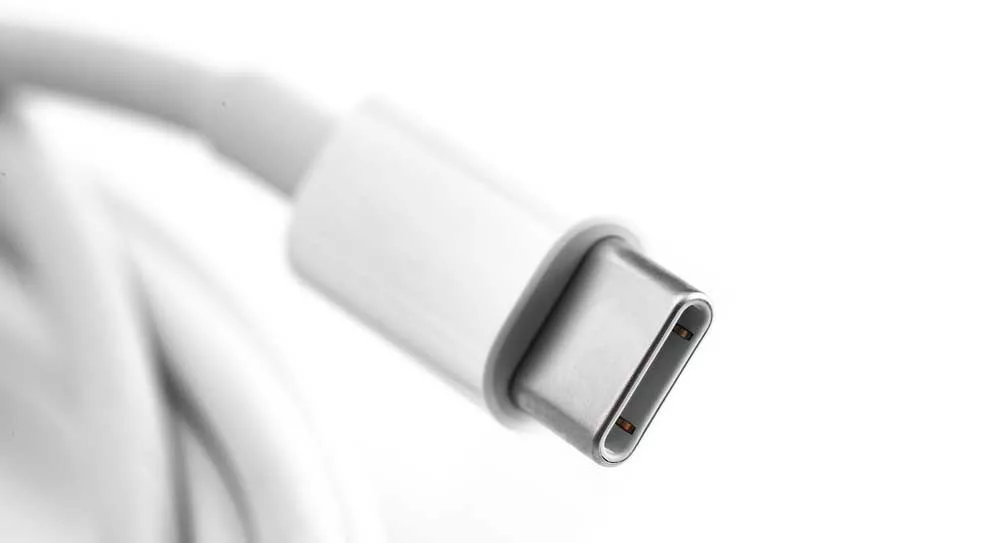 USB Type-C cable
Are There Any Downsides to USB-C Charging?
USB-C cables come with the following downsides when used as laptop chargers.
USB-C has different formats and implementations that can vary for each device.
These connectors are delicate. Thus, you must be more careful while tripping over the wire since it can get damaged easily.
USB-C-type wires are not meant for robust and rugged uses. For that, USB-A wires are preferable.
You cannot connect other peripheral devices while charging the laptop; you must know how to complete it. 
Still, most people prefer these laptops as they have Thunderbolt 3 interface present on it that lets HDMI connection as well.
The power management between the adapter and the cable will not be as easy as it seems. Thus, it is better to use the Laptop's original charger that can charge the laptop without any problems or battery damage in the future.
Disconnected Type C cable
Charging the Laptop using USB-C
Here are different methods to charge your laptop using a C-type charging wire.
How to charge your laptop with the USB-C Charger?
To charge your laptop with a USB-C wire, you will need these three things;
USB-C cable
USB-C power adapter
A power source (an Outlet or Battery)
AsYouan charges the laptop with these easy steps.
Connect one side of the USB-C wire to your power adapter as you get your hand over these tools.
Attach the power adapter to the outlet and turn it on.
Now, connect the other end of the USB-C cable to the laptop and look for the charging symbol.
As simple as that, the charging works similarly to charging the mobile.
Can you charge your laptop with Another USB-C Charger?
Plugs like USB-C are universal for every device. Hence, the wires that use such connectivity technology can be used on multiple devices, smartphones, or laptops.
 Even if the device doesn't have its original charger, you can connect it to a USB-C power supply using a respective port.
But, the problem that occurs in the case of laptops is the unavailability of chargers that match the requirements. 
You might be unable to raise even the slightest power level in the laptop's battery, leading to time and energy waste. 
Thus, using a source with a compatible power level or external adapters that regulate the voltage between the source and the destination is better.
How to charge your laptop in a car?
You can easily charge your laptop in your car, given that you have a power adapter and a wire inside your laptop. 
The car's battery flows the current and powers your headlights as different electrical components. 
For this process, you can follow these steps.
Turn the key in the start hole and start the ignition chamber. You may also turn on the car; it would be enough if your vehicle had enough power.
Now, insert the USB wire into your charging or Lighter port with the help of an extra extension. Usually, it takes a USB-A wire to connect.
Then, connect the other end containing the USB-C wire to the laptop. 
How to charge your laptop with a power bank?
Charging the laptop using a power bank is possible. But, in such a case, the power bank has to be big enough to support your laptop's needs. 
For instance, normally, you use power banks with an output of around 5V, that's sufficient for your smartphone's needs. 
However, laptops require greater voltage, and thus you have to buy larger power banks with 15 to 20V capacity.
As you have a compatible power bank, all you need to do is to plug one side of the USB cord into the power bank port while the other end goes to the laptop charging port. 
Moreover, a power bank can charge the device three to four times. However, beyond that, you will need to connect the bank to a power supply. 
Hence, it is better to use this alternative in emergencies.
Can I Charge a Laptop With Another Laptop?
If your device has a good USB charging interface and another laptop with good power potential, you can connect the first with the second to charge it. 
Previously, this technique worked for charging smartphones with laptops and PCs. Nowadays, you can charge your latest MacBook with other laptops as well. 
You need to plug the USB-C wire into both devices. 
However, not every device supports this method; you must consult the laptop manually.
USB power adapter with C-type cable
Conclusion
Charging your laptop with USB-C is not wise, but a desperate decision when you have nothing else in your hand.
However, if your device has a compatible C-type charger to power it up, there's nothing better than that. For more charging problems, contact Cloom.