Questions surrounding the electrical wire for the hot tub have currently dominated the internet. Wiring this relaxing home addition has some specific requirements that many homeowners need to be made aware of. 
Caution: Hot tub electrical wiring involves water and electricity existing close to one another. If not done well, it may expose you to a higher risk of shock and electrocution and severe injury or death in the worst-case scenario. Consider hiring a licensed electrician who knows the fundamentals of the National Electrical Code (NEC) and local electrical code requirements. 
Table of Contents
Hot Tub Electrical Requirements
Hot tubs come with an owner manual containing specific requirements. It is important to reference this manual throughout the installation process. Here are general requirements and guidelines for 110-120V and 220 – 240V hot tub electrical wire requirements. 
110-120V
110 – 120V are regular 15-20 amps plug-and-play hot tubs. Meaning they are well-equipped and ready to plug and use. For instance, 120V myhottub.com spa comes with around a 15-foot cord, built-in GFCI, one pump, and a few jets. All that remains is to fill the tub with water and plug it in. Once the water reaches your chosen temperature, you can soak yourself in the tub. 
However, you will require a dedicated outlet that is not shared by any other appliance in your home. Plugging the hot tub into a shared outlet and running it simultaneously with other electrical items can cause the tripping of the circuit breaker. This may put you at risk of shock and electrocution. 
It would help if you also planned to install the tub within the range of the outlet to avoid the need for an extension. An extension cord will interfere with the warranty and damage your hot tub. Since it is not hardwired, it is portable, and you can move your spa to your preferred location. 
That said, 110-120v is exceptionally convenient and the simplest to install, and you can do it yourself. In addition to being easy to install, 110-120v hot tubs heat slowly and are easy on electric bills. However, this means it will require a longer heat-up time than 220-240v. 
You can convert this model to hardwired 220-240v for faster heating and to improve the ability to maintain the temperature in cold weather. However, the upgrade will require a professional licensed electrician.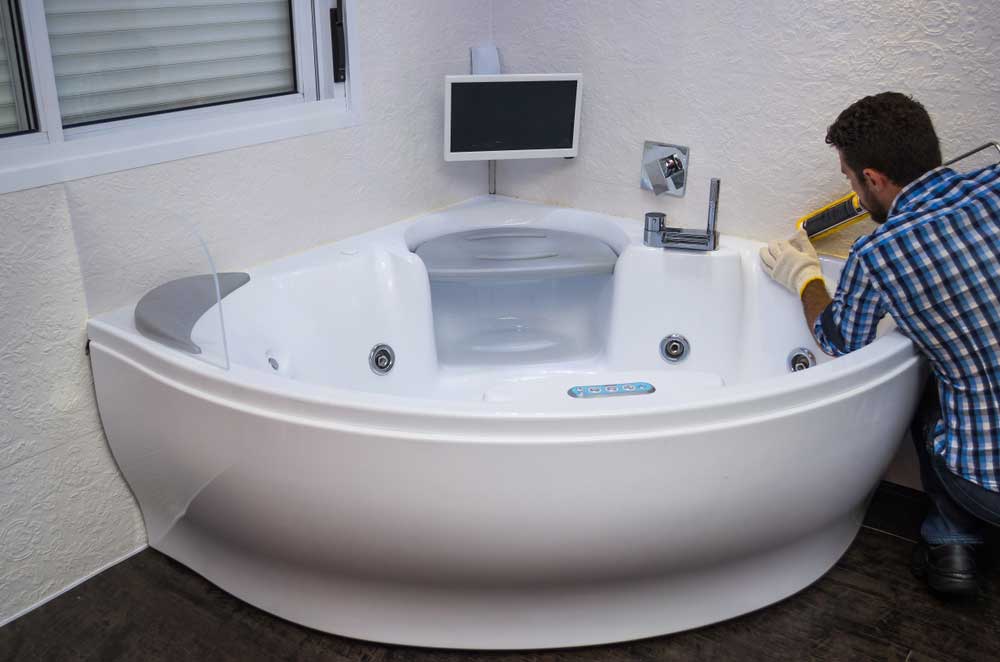 Small hot tub
220-240v
This is the ideal hot tub to install if you are planning to host many guests. Most 220-240v require 50 amps 4-wire service. However, some require 30A or 40A, and even 60A. Dual-zone swim/exercise spas can run on up to 100 amps due to their multiple jet pumps or heaters. 
The 4 wires consist of one ground, one neutral, and two hosts. It must be hardwired to a terminal in a junction box in a dedicated circuit. In addition, the electrical connection must be a single phase.
The ideal wire size is 6 AWG copper. However, it can be larger depending on the distance and the run length. Using the wrong wire gauge can cause nuisance tripping, damage the fuse, electrical box, and other hot hub components, and create safety hazards. 
The power that runs these hot tubs usually passes through a service disconnect switch. The switch enables tab users to turn the power on or off. The switch should be located in a disconnect box that you should install within 5-15 feet of the hot tub for easy access by tub users. Always refer to the local electrical code to ensure a proper disconnect box and switch placement. 
You should install a GFCI (Ground Fault Circuit Interrupter) to protect the circuit. This is a safety mechanism that automatically shuts the power off. As a general rule of thumb, you should connect any lighting, plug, outlet, and other electrical equipment within 5ft of the hot tub to a GFCI. 
Hot tub installation
Hot Tub Wiring Mistakes For DIY
Failure or Incorrect Installation of GFCI
Any electrical outlet close to water must include GFCI for protection. GFCI works to disconnect the electrical supply to your hot tub in case of an electrical short. Failure to install GFCI or incorrect installation, or even failing to test it regularly, are serious errors that can put you at risk of electrocution. 
Mistake in Bonding
Metal parts carrying current should be bonded together and secured to the electrical panel. If not done well can cause electrocution or shock to tab users.
Skipping Grounding
It would be best to ground hot tub wiring to allow a safe electricity channel to the earth in an emergency. Skipping this step can put you and your guest in great danger of unexpected electrical hazards. 
Why Hire An Electrician?
To avoid the mistakes mentioned above, you should hire an electrician to undertake the wiring project. You don't just need an electrician. You need a trained, licensed electrical professional. 
A licensed professional will access your home electric system and install your hot tub without worrying about future hazards. The professional also has experience following complex electrical code requirements by the national or local government. 
A licensed electrician will get the required permit from the Electrical Inspection Authority (EIA) with a lot of ease. For that reason, they will wire your tub in a manner that meets the requirements to pass an electrical inspection. 
Remember, your insurance provider will need a certificate that proves that your hot tub installation passed inspection. If you don't have that, the provider may decline to settle you in case your hot tub electrical issues cause an accident. 
An electrical system for a large hot tub
Final Thought
For your and your guest's safety, you need to hire a licensed electrician to handle your hot tub wiring. The professional will assess all the wiring and electrical code requirements and wire your hot tub in a way that meets electrical inspection standards. 
As a general rule, only attempt a DIY installation if it is the plug-and-play hot tub. This model comes with all the components built in, including GFCI. You only need to fill it with water, plug it in and soak yourself once it attains your selected temperature.