Headphones vs. IEMs primarily do the same, listening to music and other audio. However, they do it in different ways. So, how do you decide which is the best option? Our headphone vs. IEMs comparison will walk you through the differences. 
Table of Contents
What is Headphone
Headphones, also known as earphones or cans, are padded speakers worn on the head over your ears to listen to music and other audio privately. The device has a band on top of your head to hold the speakers. 
Headphones convert the electronic signal to a sound signal when you connect them to a signal source such as a radio, CD player, or mobile phone. 
What is IEMS
IEMS (in-ear monitor) is a particular type of tiny earphone. They feature foam or silicone ear tips that perfectly fit your ear canal to block ambient noise. They are mainly for professional use rather than our daily use.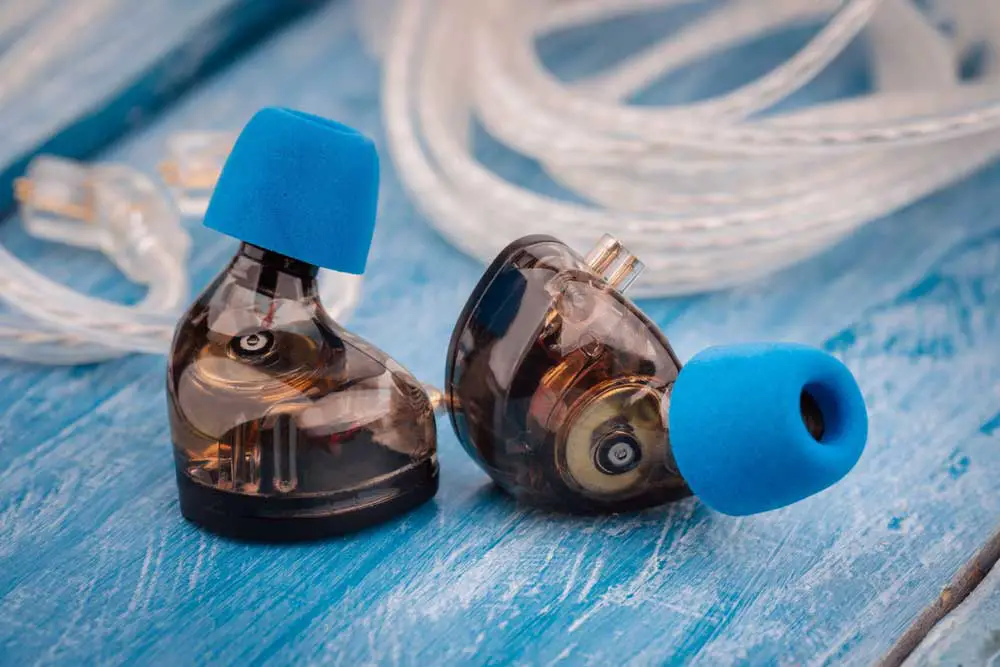 A pair of IEMs
Headphones Vs. IEMs – Here are the Differences
Applications
The primary use of headphones and IEMS is to listen to music and other audio. However, differences in design make them preferred for different applications.
In the late 19th century, headphones were only for radio communication and telephone operations. However, they now have a wide range of usage, including listening to music and recording. 
Ordinary over-ear headphones are great for daily use due to their affordability, comfort, and sound quality. The premium over-ear headphones are jam-packed with extra features that make them ideal for professional use. 
However, IEMs are rapidly replacing headphones for professional use. Most singers nowadays prefer IEMs while performing on stage. Even news anchors, television hosts, and award show presenters prefer these devices while receiving info in front of live audiences. 
What makes IEMs the best choice for professionals is their noise isolation capabilities and tiny nature, making them more portable.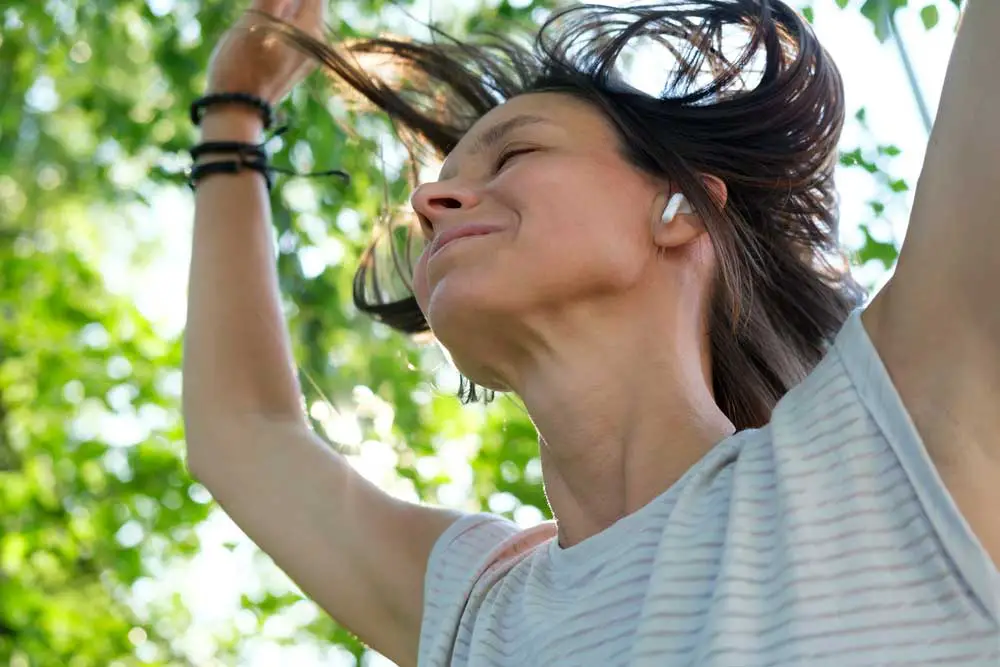 Woman using IEMs
Sound Quality
Headphones offer excellent sound quality for both professional and everyday use. You should consider two types of over-ear headphones regarding sound quality: open-back and close-back headphones. 
Close-back has the best noise-canceling feature. Their ability to isolate you from unwanted external noise makes them better options over open-back for professional use. 
However, open-back headphones sound more airy and natural than their closed counterparts. They don't block ambient noise, so if you want to stay aware of the sound from the external environment, they are the best choice. 
IEMs produce more detailed sounds than headphones. You will be able to hear things that you wouldn't otherwise appreciate with headphones.
The devices feature a Balance Armature (BA) and hybrid drivers that offer dynamic sound to let out the details of the music. Even some inexpensive BA can deliver a more detailed sound than regular over-ear headphones.
Besides, it's well known that in-ear monitors are the best at canceling external noise. These devices get into the ear and provide a perfect seal blocking external noise.
Lastly, these devices don't necessarily require amplifiers, as they only need a little power to be audible. The drivers are very close to the eardrum, making it possible to get every detail of the music even at low volume. 
Design
Most IEMs are tiny, and you place them deeper in your ear. The smallest IEM configuration features driver chambers in rounded buttons or small can-shaped barrels. 
IEMs come in two types: custom and universal. Custom IEMs are molded at the audiologist's office to fit only your ears. Universal is the most common type and can fit a broad range of ear canals. They are also shaped more like an ear. 
Headphones offer different styles. You can have wired or wireless, open back or close back, and so on. The headbands and earcups also come in different shapes and colors.
From a general point of view, headphones come in stylish designs and fantastic appearance. IEMs are tiny and go into your ears. The aesthetic look is not much of a concern. 
Open-back headphone
Noise Isolation
Close-back over-ear headphones feature Active Noise Canceling feature. This feature blocks external noise, so you focus only on your device's music.
However, IEMs have better noise-reduction capabilities. They fit much better in your ear canal, blocking all the external noise so that you only focus on the audio they produce. For that reason, you will not miss out on every detail of the audio sound. 
Comfort
We'll leave this one for you to decide based on your experience. Over-ear headphones generally offer incredible comfort due to their well-padded earcups and headbands. However, some people feel the tension in their skulls caused by headbands such that they can't wear headphones for extended periods.
In-ear monitors are lighter and fit exceptionally well in your ear canal. You can wear them for a longer time without the worry of having them fall. However, while some people find it convenient to have less visible devices in their ears, others can't tolerate tiny pieces inside their ears for a long time.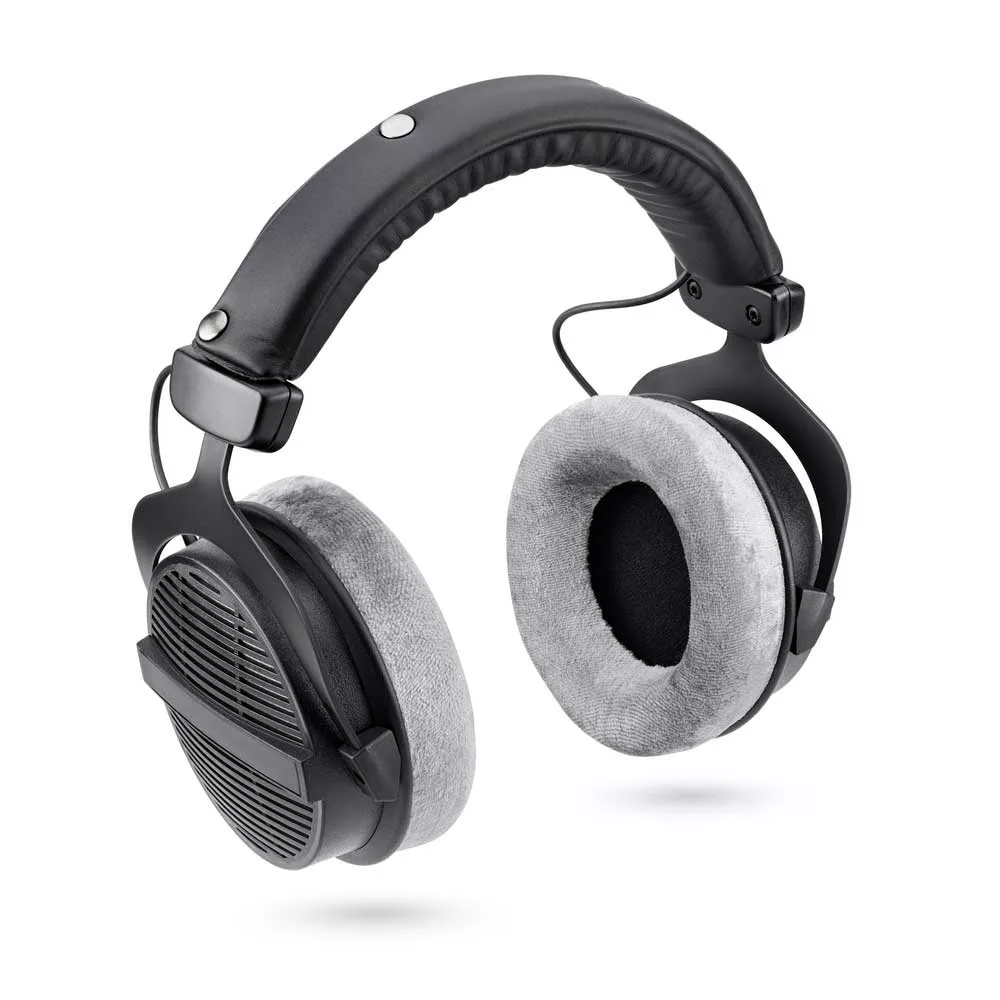 Padded headphone
Cost
Headphones have a wide range of markets, making their prices vary greatly. The best budget selections can be affordable, $20 to $100. However, the best headphones for recording or mixing music can reach thousands of dollars.
A set of IEMs is more expensive than headphones if you go for their premium products. The most costly designs are the custom ones that cost between $1,000 and $2,000. You can get most universal IEMs below thousand dollars. 
Headphones vs. IEM – FAQ
Why do Audiophiles Like IEMs?
IEMs fit directly into the ear, offering better noise isolation. For that reason, audiophiles can listen to all the details of the music. This quality makes them preferred by most artists and television anchors for live monitoring while performing.
What are the Benefits of IEMs Over Headphones?
IEMS is tiny and portable. They fit in your ear canals perfectly and offer superior noise isolation. Besides, some people also find it more comfortable having less visible devices in their ears than large earcups over their ears and an earbud around their head.
What Makes IEMs so Expensive?
IEMs are made from high-quality materials like metal, acrylic, and resin, along with plastics, for added durability. Their sound quality is exceptional thanks to their excellent noise isolation features. This makes them preferred by professionals such as engineers, music artists, and TV anchors.
Final Thought
It is a tough comparison to decide on the winner because it depends on how you use them. The most important factor when deciding between these two audio devices is whether you prefer using them outside or inside your ears. 
If you are uncomfortable with objects inside your ears, headphones are the better option. If you need a more portable audio device or don't like the bulky nature of headphones, IEMs are the way to go.