Unfortunately, hearing loss works hand-in-hand with aging and is almost inevitable. As older people gradually lose their hearing, they'll keep increasing the volume to hear TV shows. But that's not the solution. What such situations demand are deaf and hard-of-hearing TV speakers.
Raising the volume would also increase the background noise level, disturbing other people with normal hearing. A louder volume won't make the sound audible. Thankfully, older people and others with hearing loss can enjoy a quick fix with these innovative devices.
Here, we'll explore the benefits of deaf speakers and more.
Are you ready? Let's go!
Table of Contents
How do Speakers Improve TV Sounds for the Hearing Impaired?
Wireless speaker
Deaf TV speakers can help set audio to a level people with hearing loss can enjoy without disturbing others. These innovative devices transmit sounds directly to the watcher, regardless of their distance from the TV.
In addition to making audio louder, these speakers also enhance speech and dialogue.
How does it Work?
Interestingly, these wireless speakers are often small enough to place next to the person watching the screen. Plus, they offer personalized volume settings that you can turn up or down.
In other words, someone with better hearing can watch the same show without suffering from excessive loudness. This is because the speaker limits its sounds to where it is.
In addition, the Tv speaker would give the watcher more freedom to move around. For instance, they can turn on the news and move the speaker to the kitchen for breakfast. The sound will remain crisp and concentrated in that particular area.
How do you Set Up a Hearing Impaired TV Speaker?
Setting up these special wireless speakers is trickier than expected. It takes about twenty minutes to prepare before someone elderly can use them.
Fortunately, we have a few steps to help ease you into the process.
First, charge the speaker's docking base overnight before using it. Ideally, it would be best if you plugged it in overnight for a full charge.
Also, you'll see two cables in the speaker's package. They're necessary for attaching the dock to the TV. We recommend using the smaller optical cable, but the audio cable will still generate good results.
Next, connect one end of your preferred cable to the dock and the other to the TV's corresponding output port.
After a successful connection, plug the dock into the wall socket. 
Now, it's time to tweak some settings. Start by opening your TV's settings. Then, change your audio output to PCM.
Next, turn on the speaker by pressing the power button and adjusting the volume control button to the required level.
Finally, check if the TV and wireless speaker are in sync. Usually, there won't be a delay, but you can mute the TV if no one else is watching.
Features of a Hearing-Impaired TV Speaker
Weight and Design
Most TV speakers for impaired hearing have lightweight and compact designs. Also, they come with charging docks weighing 85g or less.
These wireless speakers may also have sturdy handles making them easy to grip and move around. They also feature rubber feet securing them to any surface.
Wireless Functions
You don't need wires to use these speakers. They can pair with TVs using infrared commands. Also, you can use them at distances up to 30m. 
Note: You can connect these speakers to all TVs, regardless of type.
Battery Life
You can enjoy excellent battery life from these special speakers. Ideally, a full can produce quality audio experiences for up to 16 hours. However, we recommend placing the wireless speaker back on charge when idle.
Simple to Operate
Most speakers come with several buttons on top, but your elderly relative will only need the volume dial. It's chunky and easy to operate. Also, charging this device is equally easy. You only need to place it back on the charging dock.
Audio Quality
These special TV speakers provide much better audio than soundbars or amplifiers (for people with hearing loss). Interestingly, these devices utilize Voice Zoom technology, which makes dialogue and speech crisp and clear. 
Drip Proof
You can also use these speakers in the kitchen while washing up dishes. You can rest assured that splashes and drips won't damage the device.
Other Ways to Enhance TV Audio for the Hard of Hearing
 TV speakers are not the only ways to enjoy enhanced audio with hearing loss. Let's look at other available options.
Wireless Headphones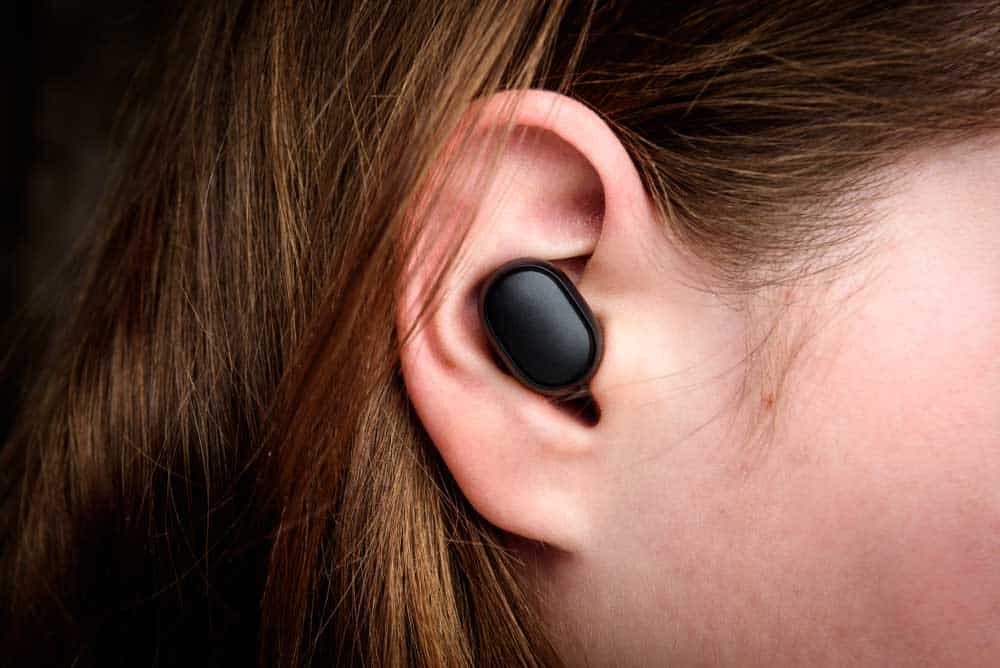 Wireless headphones
First on the list is wireless headphones. Many people, including those without hearing impairments, prefer using this option.
With wireless headphones, you can watch late-night TV shows without disturbing others in your environment. They also have noise-cancellation properties, allowing you to focus more on the sounds coming from the TV.
Interestingly, wireless headphones offer various benefits if you're experiencing hearing loss. For example, the device transmits sound directly into your ear, allowing you to hear television shows or movies better—regardless of hearing loss level.
However, this technology has its downsides. Using it automatically reduces your environmental awareness. For instance, you may not hear someone knocking at the door or calling your name.
Also, headphones are only sometimes comfortable for long-time usage. The more you use them at a stretch, the more uncomfortable they'll become. Plus, you may have to do multiple charging sessions if you don't have several pairs.
Soundbars
Soundbar under TV
Soundbars come in handy for people experiencing hearing loss. They're similar to loudspeakers but have more width than height. 
In addition, soundbars generate high-quality audio that will sound louder in smaller spaces. But remember, they aren't portable like wireless earbuds or headphones.
Sometimes, you may need to crank the volume up to hear anything—which may disturb others in your home.
Rounding up
Experiencing hearing loss can be frustrating, especially when you can't hear your favorite TV shows. Although you may listen to the sounds, things won't sound right, ruining your movie time.
Thankfully, you can find many speaker options to help enhance your TV's audio quality, allowing you to hear your shows and movies without increasing the volume. 
Do you have more questions? Ask us anything, and we'll be happy to help.