We know that most of you love the Dallas Cowboys and die watching their matches whenever possible. It is indeed a famous team in NFL for quite some decades. So, it's nothing new if you are worried about watching their live match since you don't have cable access. How can I watch the Dallas Cowboys game without cable?
In this article, you will get into the details of setting up platforms that stream matches. However, you must choose a good streaming service and device to get the channel. Let's find out what the process will be and how easy it is to set up.
Table of Contents
The Dallas Cowboys' Next Playoff Game
In NFL Postseason action, the upcoming playoff will be between the Dallas Cowboys and the San Francisco 49ers. You can watch the game on Fox TV at 6:30 PM EST on 22 January 2023.
                                     Dallas Cowboys 2023 TV Schedule
| | | | | |
| --- | --- | --- | --- | --- |
| Week | Date | Time (ET) | Teams | Channel |
| 20 | 22 January 2023 | 6:30 PM | Dallas Cowboys VS San Francisco 49ers | Fox TV |
How to watch all season matches of The Dallas Cowboys matches?
If you are residing inside the TV market of cowboys, you can easily watch the match on the regional Fox or CBS TV. Also, you can watch the regular season on KPIX-TV. For Monday night, you can tune in to ESPN, and for Sunday Night game, it's on NBC. Nevertheless, you can get all these channels on Directv stream, Hulu, FuboTV, Youtube TV, etc.
If the cowboys are out of your market area, you can still watch the games without an issue. One way to watch these games is to use the workaround we'll tell you below.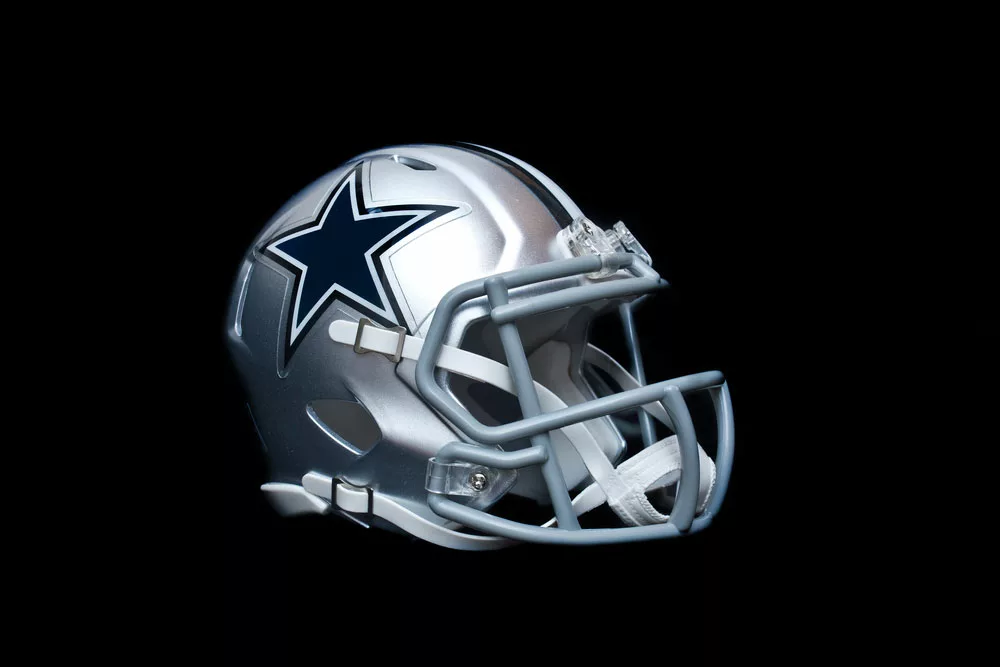 Caption: Dallas cowboys helmet
How do you watch the Dallas Cowboys Inside their TV Market?
You might access their local broadcast affiliate to catch up on the game while living inside their region. Here are our favorite options.
Hulu Live
Hulu Live gives you access to many famous channels like CBS, ABC, Fox, ESPN, and the NFL network. Additionally, you can always add the zip code and search for the packages to check which channels are available in your area. This streaming service usually costs $70/month. Moreover, they do not oblige you to sign a long-term contract.
Since the channel has access to Fox, CBS, and ESPN, you can easily watch the Dallas Cowboys game. Additionally, if you can't watch live, you can ask your family to record it on the DVR. It also comes with 6 customizable profiles so you and your friends or family can share one package.
FuboTV
FuboTV lets its subscribers watch the cable and local TV channels around them. Hence, you can watch your favorite team's game matches easily on any channel you want. Moreover, it also allows you to use Roku or Fire TV sticks to watch the game.
If the services don't convince you, you can always subscribe to a 1-week free trial with no hidden charges. Also, no contract is involved, so you can cancel whenever you want.
Monthly fees for FuboTV start at $75 per month for the time. It also offers cloud DVR recording and streaming up to 3 devices simultaneously, making money justified.
DirecTV Stream
DirecTV stream carries Fox, ESPN, NBC, ABC, and CBS but does not have an NFL network. It means that you have to miss the Thursday Night football match. However, with a range of other channels, we bet you will never feel the difference.
These channels are available on DirecTV "Entertainment" package, starting at $70 per month. You can also get a 5-day free trial without a contract and cancel anytime.
YouTube TV
YouTube TV also offers the same package of channels adding NFL and Fox for just $65 per month. Hence, you can easily watch every Cowboy game on it. Also, Youtube TV offers DVR and, at the same time, lets you stream content from many devices.
The Streaming channel also supports Android, Roku, Fire TV, and Chromecast devices. With this service, you can get a free trial to check whether it is for you.
Local TV
Local TV or antenna is a less expensive option than other streaming platforms. It can let you watch local CBS, FOX, NBC networks, and other stations. But you might miss the Monday and Thursday night games since the antennas do not have ESPN or NFL on them.
Here, we highly recommend buying GE Ultra Edge Antenna for many reasons. Firstly, it comes with a money-back guarantee if you buy it from Amazon. Buying a low-priced antenna with a guarantee immediately puts you on the safe side.
Paramount+
Paramount+ from ViacomCBS is another popular streaming choice for game enthusiasts. Through Paramount+, you can watch the game on CBS. However, you cannot access the channels like Fox, ESPN, etc. A free trial is available to check if their service supports your local CBS channel. You can use the Paramount+ for only $4.99 monthly and get NFL on it.
NFL+
NFL+ lets you watch all the live local and national broadcast seasons on android and apple devices. Moreover, it also lets you watch out-of-market games on all devices. However, you can only access the Nfl+ through your mobile, not anything else.
The cost of the NFL plus package is $5 per month or $40 per year. And for NFL plus premium package, the price is $9.99 per month or $80 per year. You can get the app on the Google play store or Apple store.
Caption: Dallas cowboys lines up
How to watch the Dallas Cowboys Outside their TV Market?
Suppose you are currently residing outside the Dallas Cowboys market. In that case, you can only access the televised games airing on ESPN, NFL Network, and NBC (Thursday Night, Sunday Night, and Monday Night Football)  on some of the platforms we discussed (fuboTV, Hulu Live TV, DIRECTV STREAM).
NFL is already working on providing access to people outside the Cowboys market. With NFL plus, you can watch the matches even out of the market, but it is available in the 2023 season game.
Hence, it would be best if you had NFL Game Pass. It costs around $99.99 per year. But it lets you watch replays, older matches, NFL films, and whatnot, justifying the price. 
But getting it is not easy, and you need to dome some black workaround. 
Black Workaround
The NFL game pass might be minimal, but the NFL game pass international lets you watch every season match. In the US, you may not get the international one. However, if you show that your device is outside the US, you will get access easily. A VPN can help you a lot in setting up such a device. All you need is to follow these steps.
Sign up for a VPN app
Then, install a VPN client on our device and start it. Log in to the app and select any country you want to show your device.
Clear your browser's cache to remove cookies from the NFL game pass.
Now, go to https://www.nflgamepass.com/ and click on Sign up now. As you click it, you will redirect to a page that says, "All games free." Here, you will even get a free trial to the game pass for testing it out.
And that's how you easily get an NFL international game pass to watch all the matches.
Additional Ways To Watch Cowboys Without Cable.
Here are some additional ways to watch the 49ers game so that you don't miss t at any cost.
Mobile Apps: You can view the game live on two mobile apps. These are the NFL app and the Yahoo sports app. So, grab your i-pads or mobile phones, go to the app store and download them asap.
NFL Sunday Ticket: Like the NFL game pass, you can also get the NFL Sunday ticket. DIRECTV is the only option to get this ticket and watch each NFL game without a problem. However, we may recommend something other than this as it comes with costly installations and charges.
Amazon Prime Video: On Amazon prime, you can watch around 11 streams if you are an existing member. However, if not, you can always get a free 30-day trial and join the journey. Moreover, to watch the Thursday night football game, you can subscribe to Amazon prime on the Prime Video app. Also, you can watch the 49ers Thursday Night Game airing even if you are out of the market.
Conclusion
As a Dallas Cowboys fan, it is hard to miss out on any of their game. This article devised different packages and solutions that let you watch the game even if you don't have a cable connection.