Xfinity is one of the major internet providers currently operating in the U.S. regarding its national footprint and the number of services offered. Since its inception, the company has expanded extensively, from providing only Xfinity TV and Internet to many other benefits, including cellular and security services with Xfinity home. Nonetheless, paying for your Infinity cable service is often overwhelming and time-wasting. 
Fortunately, it doesn't haven't to be the case every time since Xfinity today provides its customers with various methods to pay their bills despite not publicizing some of them.
Table of Contents
Pay for Your Infinity Cable Service Online
Below are the various methods you can use to make payments online.
Online Xfinity Portal
Many consider this way as the simplest method. You must log in to your account from any device and follow the following steps to pay your bill successfully.
Go to the xfinity.com page and log in to your account using the necessary credentials.
Press on the profile option located at the top right of the page.
Select billing from the menu.
Next, choose the make payment option.
Select between the current balance and the new amount. Remember that if you're making a future payment, indicate the date you want the Payment sent.
Choose your payment method from your previous options or enter a new method.

For future reference, you can save the newly entered method.
You'll need to use different payment methods when simultaneously making two payments of the same amount. They might consider it a duplicate if you pay via the same method.

The next step is to review your Payment and ensure all the necessary information is correct. After reviewing your Payment, click on submit to finish the process.
You'll get a confirmation message that you can save and print for record purposes.
Also,  you can opt for automated payments by turning them on on the method under the automatic payments tab before submitting your Payment. Ensure you go through the terms and conditions to familiarize yourself with the terms of your agreement.
Xfinity My Account app on any device
You can download the Xfinity My Account App on the online portal if you don't enjoy paying your Xfinity bill. It's available in all stores. Once you've installed the app, follow the steps below to make a payment.
Start the app and log in to your account with the relevant credentials.
Select the Billing option.
Choose the Pay Now option on the menu.
Enter the amount you want to pay and the date you want to pay.
Select payment options to pick your payment option from previously used options, or you can enter a new method. You can pay via credit/debit card, Apple Pay, or a bank account.
Use your card key in the details correctly and save them for future use. Often you'll need to scan your card for confirmation.
You'll need to select between a savings or checking account for the bank account payment method. Proceed to enter the necessary information. If you encounter problems with the routing or account number, press the help icon.
If you're using Apple Pay, you can pay once at a time, and you can't schedule future payments.
Store your payment method for future ease.
Next, verify the Payment and click on Submit Payment.
Expect a confirmation message once the Payment goes through.
For people with home networks, the Xfinity My Account app is the perfect tool to use when making payments. The app allows you to monitor your connection, check due dates, verify duplicate bills, and more.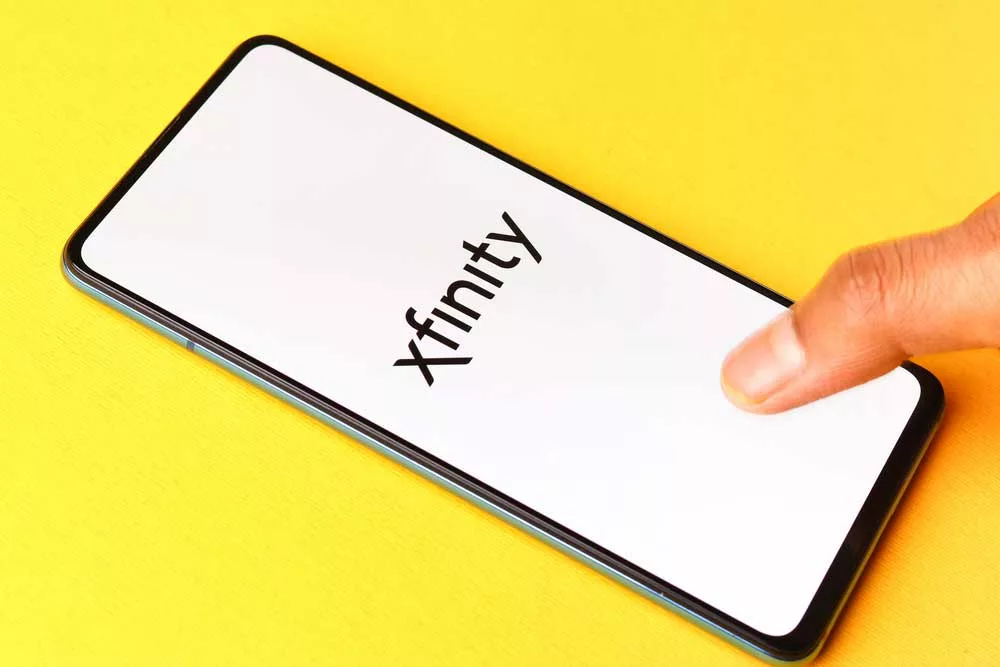 Caption: Xfinity Mobile
Xfinity My Account App on the Xfinity X1
Those with the Xfinity X1 can make bill payments directly using the My Account App system. It is easy to use and gives customers the ideal flexibility for paying their Xfinity bill via the TV. Follow the steps below to pay for your account via the My Account app.
Click on the Xfinity button on the voice remote.
Go to the apps option and choose the My Account app.
Select account details and verify your current bill.
Choose Pay Now. You'll need to enter your to proceed further. If you're unaware of your PIN, press the help button below.
Next, highlight the total balance and press OK to pay. However, you can pay a different amount by selecting Pay Another Amount.
You'll be prompted to pick a payment method from your previously used ones or set up a new method at their official website.
Review the Payment and confirm to submit your request.
The Payment may need some time to process. Therefore, don't close the app until the confirmation screen appears.
If you ever enter a higher amount than your monthly requirement, you can change the amount before confirming the Payment a second time. If all is well, you can press OK and proceed. 
Pay for Your Infinity Cable Service by Quick Bill Pay
Even though paying Xfinity bills online can be convenient, it can still be annoying to log in every time you make a payment. As a result, most Xfinity customers have been searching for methods to pay their bills without logging in.
If your Xfinity number is active, you can easily go to the Quick Bill Pay site, where you'll need your zip code, phone number, and payment details, and choose whether you'll take a digital receipt. It is ideal for Xfinity customers to pay their bills without logging in. Also, family or friends can use Quick Bill Pay to make payments.
Pay for Your Infinity Cable Service Via Phone
Xfinity customers can pay their bills by calling 1-800-934-6489(1-800-XFinity). After doing so, you must choose option #2 to pick the Billing and Payments options.
After that, the system requests the necessary information like your billing account details and Xfinity Voice No.  
You will then need to enter your payment information to complete your Payment. You can pay with your checking account, savings account, or credit card. 
And a good thing about the method is you can negotiate for a lower bill.
Pay for Your Infinity Cable Service By Mail
In today's modern world, some Xfinity users don't want to pay their bills via checking account because they fear data breaches. As a result, they sometimes opt for a safer, slower means, paying their bill via mail.
Mail a check drawn on a valid U.S. bank account or a cashier's check issued by a valid U.S. bank. And never mail cash.
The mail address? As long as every month you still receive physical bills every month's notice should note where you can mail a check. Please use the insert included in your Xfinity bill.
However, you should also be ready for delays since things can sometimes get backed up at the post office. The other thing to remember is that failure to pay Comcast in time can force you to pay an Xfinity late fee of $10.
Pay for Your Infinity Cable Service In Person
As you can see, the previously highlighted options were common in not having to leave the comfort of your home to make payments. However, you can pay in person using the following two options.
At an Xfinity store
You can also walk into the closest Xfinity store and make your payments using a credit card or check. You can talk to a customer care representative if you have any queries. Customers can also save time by going to an Xfinity self-service stall in the store, which accepts the payment methods listed above, plus cash and traveler's checks.
In a Western Union Quick Collect facility
The other way to settle your bill is by visiting any Western Union Quick Collect facility. You will need an account number, and you'll be able to clear your bill using cash.
Pay for Your Infinity Cable Service at Walmart
Most Walmart locations allow its customers who are Xfinity users to pay their bills using a credit or debit card. To facilitate such payments, you must provide the bill pay service, the amount you want to pay, and your Xfinity account number. But you may also incur an additional fee for using the bill pay service.
Pay your Comcast Bill with cash at a 7-eleven
It may take less than a minute to cash out your bill at a 7-eleven in your residence. 
You only need to have your account number with you. It may take as little as $.1.25 to settle a Comcast bill which can be done by cashing out. Once the payments are complete, you will get a notification and a receipt as proof of Payment. 
Caption: Xfinity Store
Cut Your Cable Xfinity Bill Pay Right Now
The following are the two best suggestions for reducing your Xfinity bill payments.
Purchase a modem to save $96 to $120 annually.
Staff at Comcast know that blatantly jacking up monthly prices will likely lead to scaring off its customers to their competitors. However, the company still raised its rental fees using its modems. Sometimes, you may not notice the fee on your bill since the word modem is not stated clearly. Instead, they use the vague term, Voice/Data Equipment. For those using Comcast, you know that the cost for the line item went up by as much as $8 to $10 each month at the beginning of the year.
Change to Dish's Sling TV $20 Streaming Package to make estimated savings of $360 or more per year.
Comcast TV provides basic TV packages that have only broadcast networks. However, they will charge you for Reviews for those free channels amounting to about $6 monthly. You can cut these costs by switching to Dish's Sling TV.
Conclusion
As much as you know about Xfinity bill payment options, you can get ideas. Now, pay for your services according to your needs. If your account is active, you can confirm your Payment by opting in to receive payment reminders.