With the world going digital, there is a lot of demand for higher data transmission rate, wide bandwidth, large capacity, and better performance. Thus, data infrastructure needs to move from 10 Gigabit Ethernet to 40 Gigabit Ethernet to ensure high-speed data transmission. QSFP+ transceiver is an integral part of any Ethernet infrastructure. In this article, you will read about QSFP+ transceivers and the associated modules.  
Table of Contents
QSFP+ Module Understanding
QSFP stands for Quad Small form-factor pluggable, and its evolved version is QSFP+. These compact transceivers are ideal for 40 Gigabit ethernet telecommunications and data communication networks. A QSFP interface connects between a network device and fiber optic cables or copper cables. 
The designs comply with MSA (QSFP+ multi-source agreement) and IEEE802.3ab. The QSFP MSA provisions support Infiniband, Fibre Channel, Ethernet, and various SONET/SDH standards. In addition to the design and standard specifications, the MSA also specifies the requisite mechanical form factor.
You can install the transceivers into all QSFP+ ports and in parts of the QSFP28 port. When you connect this, your network will get a 40GBASE-X interface.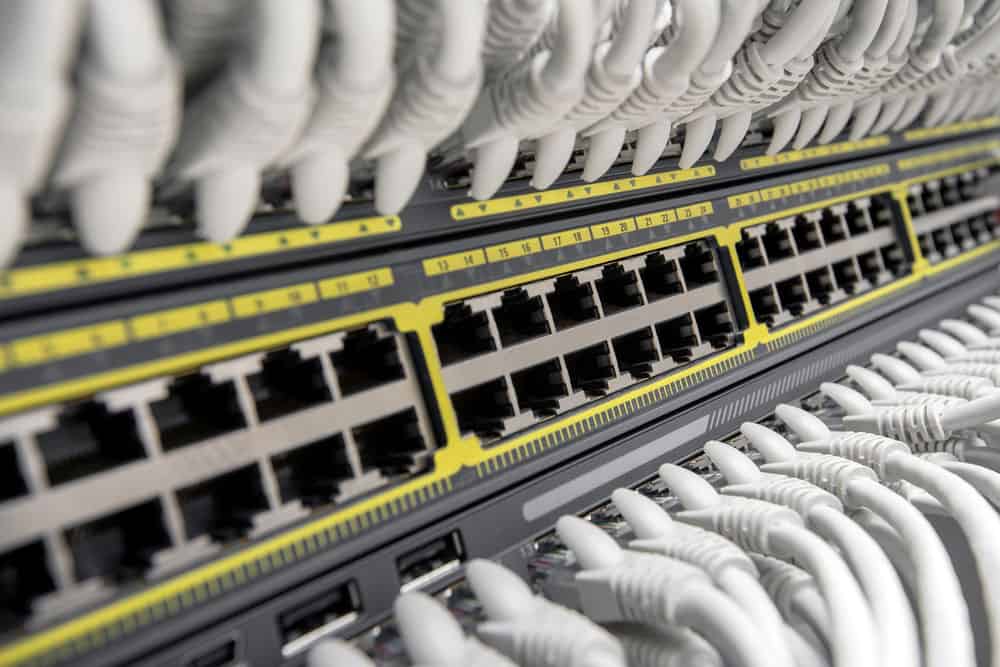 Image: intelligent Gigabit Network switch
Types of QSFP+ Transceivers
You can find several types of 40G optical transceivers in the market. In general, 40 Gigabit QSFP+ modules have an  MTP/MPO interface or LC duplex interface. These two interfaces differ in various factors such as cable type, transmission distance, and the accessibility of  4*10G connectivity.
QSFP+ modules with MTP interface
There are four modules in this category. You can use them when you need four 10 Gigabit Ethernet ports through a solo QSFP+ interface.
40GBASE-SR4 MODULE
This transceiver module is a popular choice.
You can apply this to short-distance data transmission.
MMF can support distances up to 100m through optical multimode 3 and 150m over optical multimode 4.
It has four transmission and receiving lanes, each with 10G. On combining, these lanes produce 40G signals for both receiving and sending. You can connect two 10G lanes using an SFP cable.
40GBASE-CSR4
It is the higher version of SR4.
You can use it for 40 Gigabit optical transmission. 
You can transmit data using parallel fiber cables (up to 12) by connecting them with suitable termination push-on connectors. 
Additionally, you can use it in a 4*10G breakout mode for further connections. For this, you have to use an external 12-fiber cable parallel to a 2-fiber duplex breakout cable. 
It can reach a link length of 300m over laser-optimized Optical multimode 3 and 400m over OM4/OM5 multimode parallel fiber.
40GBASE-PLRL4
Like the two above modules, it also supports parallel transmission with MTP female connectors.
The link length ranges from  1-1.4km over single-mode fiber. 
40GBASE-PLR4
This transceiver type also uses parallel transmission with MTP optical connectors.
It can support four 10 Gigabit -LR connections with a 4*10 Gigabit mode.
For SMF, it uses duplex fiber breakout cables.
You can use this module for long transmission, and its link length capabilities are up to a maximum limit of 10kms.
Image: data transmission
QSFP+ modules with LC Interface
There are four trans receivers in this category. Among these four, only one, 40GBASE-Bi-Di, transmits data over MMF at shorter distances. 
40GBASE-BiDi
This type of transceiver transmits full-duplex 40 Gigabit traffic through a single duplex Multimode Fiber cable.
You can reuse your 10-gigabit duplex MMF infrastructure with the transceiver by migrating it to 40 Gigabit Ethernet connectivity.
This bidirectional optical transceiver supports a 40G connection through a single pair of multimode fiber cables.
This 40-Gbps BiDi transceiver can deploy 40G as 10G with the same structure without adding more fiber.
This module gives you a shorter reach when compared to others. Its link length capabilities are up to 100m over OM3 and up to 150m over OM4. Various BiDi modules support link distances on laser-optimized OM3.
The transceiver complies with QSFP MSA specifications.
40GBASE-UNIV
It is a universal module because it can operate with SMF and MMF. However, it won't change any software or hardware in the module. Further, you need not add any hardware to the network also, and thus, you save extra costs and time.
This module has four 10G multiplexed channels in the module. These channels help in transmitting and receiving a complete 40G signal through double-stranded fiber.
It supports a link length that is up to 150 m over both OM3 and OM4.
Through single-mode fibers, it can achieve a link length of about 500m-2km. 
40GBASE-LR4
This LR4 module helps in long-distance transmission.
With the help of a single-mode fiber, it supports a link length of up to 10kms.
This module multiplexes 4 sending lanes to a single fiber strand and 4 receiving lanes to another single-mode fiber cable. On the contrary, other modules use a single fiber strand for each lane.
40GBASE-LR4L
It is similar to the 40GBase-LR4 module. 
This module is perfect for distant data transmission. Like the previous one, it also transmits data through single-mode fiber. 
It has a transmission distance of up to 2km.
40GBase-ER4
This module has the most extended data transmission distance. With LC duplex connectors, its data transmission range is up to  40km over single-mode fiber.
The working principle of 40GBase-LR4 and 40GBase-ER4 are the same.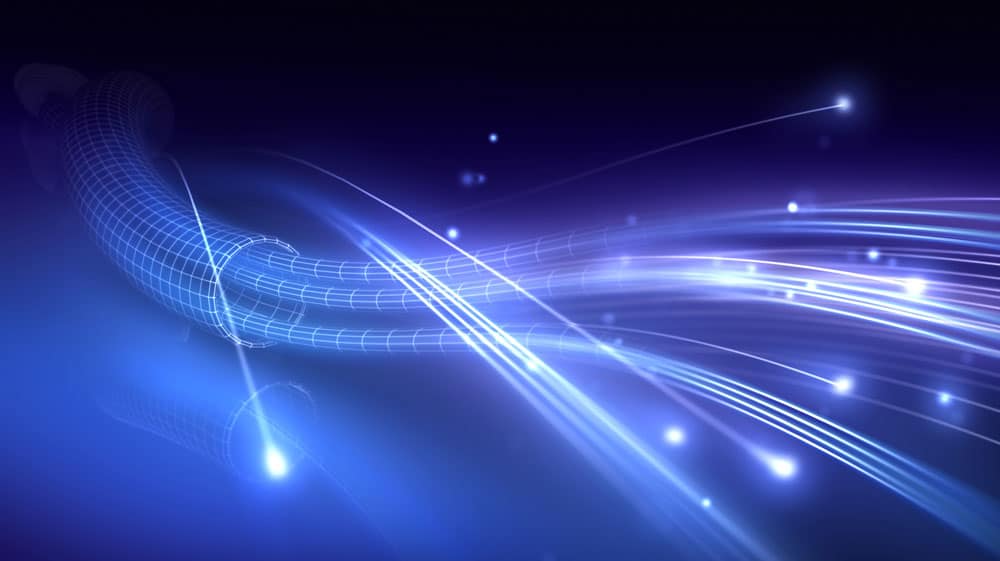 Image: fiber optic 
What's the Difference Between 40G QSFP+ and 40G CFP?
CFP is the acronym of C form-factor pluggable. 40G CFP complies with  MSA, and it produces a standard form factor and transmits digital signals at high speed. It mainly supported 100 G Ethernet connections. However, it also supports 40 Gigabit Ethernet. You can find three types of 40 Gigabit CFP modules. These are:
40GBASE-SR4 CFP- it has a link length of up to 150m on Optical Multimode 4 with MTP connectors
40GBASE-LR4 CFP – With the help of SC duplex connectors, this module can transmit data up to 10 km on single-mode fiber. 
40GBASE-FR CFP- With SC duplex connectors, this module gives you a transmission length of up to 2 km on single-mode fiber. 
As for the difference,
CFP modules are more prominent in size but do not support ganging or stacking. QSFP is smaller than CFP. Also, it is relatively inexpensive.
CFP module has MTP and SC duplex interface while QSFP module has the LC interface or the MTP interface.
There are limited options in the CFP module, so you may not get one of your choices. On the other hand, QSFP modules have varied options with broad applications. Additionally, they are highly flexible as compared to the 40G CFP module.
Conclusion:
Today, every industry needs a high-performance data network. 40 Gigabit QSFP+ modules give you high-density and lower power data transmission at a low cost. If you choose a QSFP+ module for a data center, you must understand its different types and product details. The modules you choose should have little link BER (bit error rate). While installing these modules in your data c, if you need any help with cables and wires, Cloom is here.