Professional & Meticulous!
RG6 Coaxial Cable Explained
The RG-6 coax cable is the perfect choice for home entertainment, with a large conductor providing better signal quality.
The thick insulation of this cable makes sure you get a clear picture without interference from outside sources.
It is also perfect for high-frequency signals because it has superior shielding against interference.
Some types you may come across include F connectors and RCA connectors because they allow easy connection to televisions or other AV equipment.
Know
About Cloom RG6 Coaxial Cable
Cloom RG6 coax cable is a 75 ohm cable with F-Type connectors. It's often used in homes to wire and install TV devices. The cables come spooled out at 20 feet long up to 50 feet long for the average home installation that covers from 2500 – 5000 sqft.
Our RG6 coax has been constructed with the best materials and engineering to ensure quality performance every time. It features PE dielectric insulation as well as PVC jacketing in order to make sure excellent RF shielding capabilities up to 90 dB.
Let's face it, we all have to deal with wiring. The F-type connector the most widely used coaxial connector in residential settings.
Custom RF cable assemblies using RG6 or another coax can be built as well. With so many options available, you're sure to find exactly what you need!
The Difference Between RG59 and RG6 cable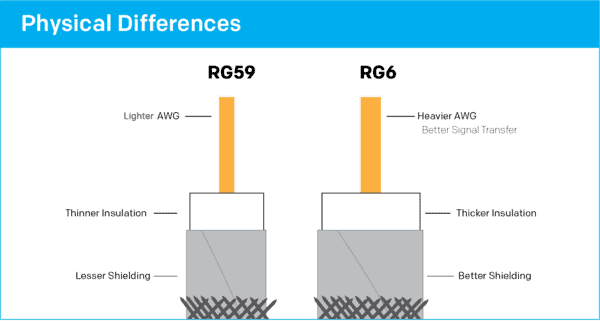 RG 6 vs RG 59 Applications
The difference between RG 6 and RG 6Q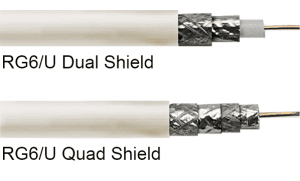 CHOOSE BETWEEN RG6Q CABLE AND RG6 CABLE
if you are looking to install a coaxial cable and can't decide between the RG6Q cable or the RG6 cable
Choose the Best Coaxial Cable
There are several important factors to consider when shopping for a coaxial cable, including how the cable connects to the TV, cable construction, and operating frequency.
RG 6 Signal Loss (in dB) per 100 ft
| | |
| --- | --- |
| Loss at 50 MHz: |  1.5 dB |
| Loss at 100 MHz: | 2.0 dB |
| Loss at 400 MHz: |  4.3 dB |
| Loss at 900 MHz: | 6.8 dB |
| Loss at 1000 MHz: |  7.0 dB |
Selected rg6 cable products
We Would Love to Work with You
rg6 Coaxial TV
Do you need to send HD video and audio? So, this unit is capable of doing that.
2-Way Coaxial Cable Splitter
GE Digital 2-Way Coaxial Cable Splitter, 2.5 GHz 5-2500 MHz, RG6 Compatible, Works with HD TV, Satellite, High-Speed Internet, Amplifier, Antenna, Gold Plated Connectors, Corrosion Resistant, 33526
White RG6 Cable with F-Male Connectors
If you need a product that delivers fantastic results at long distances, this is the right choice.
RG 6 Cable
It minimizes static in transmitting satellite and cable signals. Therefore, it maximizes picture quality.
Contact us
We Would Love to Work with You
FAQs about RG6 Coaxial Cable
If you are thinking of getting RG6 Coaxial Cable
Is RG6 good for Internet?
Yes. RG6 cable is the best for high-bandwidth, high frequency applications such as Internet, Cable TV and Satellite TV signals. If you aren't sure which one to get then Cloom has your back with their super insulated RG6 cables!
Whether or not RG6 will work well with your HDTV?
It depends on what model TV you have. RG6 Cable is a better option for satellite TV and cable TV. It's conductivity makes it good to use with HDTVs, but RG11 will give you the best signal for your HDTV.
Can RG6 be used for antenna?
Yes. RG-6 is rated for applications below 150 MHz, so it can be used with transmitters and antennas on the 2 meter band.
How do I choose an RG 6?
If you're in the market for a new coaxial cable, make sure to select one that best fits your needs. RG6 is most commonly used and can be run between signal source and TV up to 50 feet away without any problems. For longer or more complex runs, choose an RG11 as it handles interference better than other cables due its quad shielding protection.
Testimonials
Our customers are very satisfied with us