You probably have heard about the MoCA technology. Multimedia over Coaxial Alliance or MoCA is the type of connection in which you will spread an Ethernet network over existing coaxial wiring. It means that you do not need to worry about drilling extra holes and placing all the wiring once again.
Also, you might have a router that already has MoCA capabilities. Hence, you can use one adapter with no requirement of additional pairing.
However, like other technology, the MoCA connection will have repercussions once the relationship may seek out other links and interfere with most devices. Moreover, you will need to incorporate MoCA filters within the link to prevent interference between subscriber homes. SNLP-1GCW can be your first choice. Why? Let's find out.
Table of Contents
What is a MoCA Filter?
A Moca filter is used at the entry point of a MoCA device. These Moca immunity filters or MoCA POE filters are small, but you can screw them onto the tip of the coax cable. Thus, any signals going out of the line will be filtered and secured from the nearby DOCSIS devices. These neighborhood devices can be within a building or a home close to your residence.
Usually, some cable modems do already have a built-in MoCA filter. Especially when the cable internet provider has installed it professionally, you will not need to pair up the cable with any external MoCA filter. But if you have bought your modem, you may need to buy a separate filter.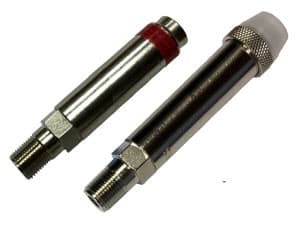 Caption: GLP-1G70CW, GLP-1G70CWWS MoCA POE 70dB Filters
Why do you Need a Moca Filter?
As you install a Moca filter, it will benefit you in the following ways.
It will enhance the MoCA network's performance and give it the strongest protection.
If any other similar network operates nearby, the filter will prevent the signals from mixing up.
In the case of neighboring networks or Multi-room network devices, the MoCA filter will isolate the signals from other devices.
If done the right way, setting up the MoCA adapter has many benefits. Interestingly, the steps might be much simpler than you think they are.
MoCA Filter Placement and How to Install
There are a few specific places where the professionals advise you to place the filters. These are the point of entry POE from where the cable is entering your home or office. You can also install it by entering the cable modem or router.
Here, your main plan should be to install the Moca PoE filter close to the coaxial cable point before it attaches to any other device. For a successful installation, you need to follow these steps.
Disconnect all the internet devices and TV as well so that you can ensure that there is no external interruption disturbing the installation.
Now, check the coax cable entering your home. Disconnect it from the Office Ethernet Splitter or any other connector if going through it to your home.
Then take the filter and enter the coaxial cable end to the extreme point of the MoCA adapter. Secure it by screwing the cable and the filter and making the connection strong.
Next, add the connector by attaching it to the other side of the Moca POE filter. From here, you can now connect the coax cable to any device, and you will receive more precise signals than before.
And here you got your filter added in the connection. 
What is PPC SNLP-1GCW MoCA Filter?
The PPC MoCA filter can isolate each signal and make your connection free of interference, even if you are in a room full of networked devices. Also, you can use the SNLP-1GCW MoCA Filter in your homes for Non-MoCA devices to protect them from AGC, like in cable modems. 
SNLP-1GCW filter is optimized to let the power flow quickly even if any minor surges occur in the connection. Thus, you are never cut off from the content as the filter keeps it flowing. Additionally, the PPC offers guaranteed weather and moisture protection so that you are not hesitant to use it for outdoor connections. 
Moreover, as per the definition of SCTE, the filter may also withstand a combination wave surge of almost 6kV 3000A, which might melt the other kinds of filters. 
Caption: PPC MoCA PoE Filter, Combo wave
Here are some essential features and specs of the product. 
Features
Prevents interference within homes that are using MoCA technology
Complaint to the usual MoCA specifications
Can support up to 1GHz passband in coaxial networks
Enhances the signal level and quality coming to the user's home
Easy to install and maintain hence a future-proof technology
It is bidirectional, so you don't have any problem determining which side to connect the cable and the connector. 
Specifications
Quantity: 1
Bandwidth: 5 MHz to 1525 MHz
Impedance: 75 Ohms (nominal)
Return Loss:

5-860 MHz: -18 dB min
860-1002 MHz: -14 dB min

Insertion Loss:

5-750 MHz: -0.7 dB max
750-1002 MHz: -1.5 dB min
1125-1525 MHz: -40 dB min

Group Delay: 5 ns
Surge Withstanding ability: 6 kV B3 Combo Wave
RFI Shielding ability: -140 dB
Maximum Operating Temperature: -40 F to +140F
Female Contact Retention Force: 200 grams
Physical Dimensions (inches): 0.50×1.94
Conclusion
SNLP-1GCW MoCA Filter can lessen the interference created by the neighboring MoCA networks. That way, each network can enjoy full signals without any content mix-up. Installation is simple, and so is the maintenance. Hence, you can get quality signals in less money and effort. 
Here at Cloom, we provide coax cables to support your MoCA system, so you're your connection is made with attention to detail. To avail of our services, contact us now.