Are you ready to take your smart home setup to the next level?
If so, then you need the best smart thermostat.
While navigating all the different types, models, and options can be quite challenging, this article will provide you with the five best 2-wire smart thermostats.
It will also cover what a 2-wire configuration is and how they work.
Table of Contents
What is a 2-wire thermostat?
As the name suggests, a 2-wire thermostat has just two wires connecting it to the power source.
There are different types of thermostat wire configurations, with the 2-wire being the lowest number of wires. Due to their unique and limited capabilities, you may refer to 2-wire thermostats as single-pole or heat-only thermostats.
2-wire thermostat configurations are available for you to use with low-voltage heating systems, such as a gas furnace or heating pump, and with line voltage heating systems (for example, a baseboard heater).
Any thermostat can only operate with one of these heaters, so you can't use a low-voltage model with high-voltage systems, and vice versa.
These two types run at a specific current. Low-voltage models operate at a mere 24 volts, while line-current types run between 120 and 240 volts.
What does the wiring color represent?
2-wire thermostats have two wires coming out of the back of them, so there are only two colors that you will have to remember when working with these models.
It makes your job easier than higher wire configurations such as 4-wire or 8-wire.
Red is the color of the first wire, providing a connection between the 'R Terminal' of the thermostat and the main source of electrical current.
The other color is white, which links the thermostat's W Terminal' with the electricity source.
When working with any electricity, it is always important to understand and implement procedures to prevent the risks. 
How you set up the two wires can differ significantly depending on factors such as the brand, model, design, and configuration of your thermostat and furnace.
Contact a qualified electrician or heater technician to ensure you do it right.
Best 2-wire smart thermostat
1. Google Nest Thermostat
Features & Benefits
Firstly, this product is a part of the well-known and highly-trusted Google Nest brand.
Secondly, there are many options for customizing the thermostat, including colors and inclusions.
Lastly, it boasts an Energy Star Certification, so you can be sure it will be both affordable to operate and good for the environment.
Downsides
The settings can be difficult for people unfamiliar with the technology.
Customer Reviews
"Love how you can control it from anywhere with an app. Easy install, looks good, loved the schedule."
2. Emerson Sensi Wi-Fi Smart Thermostat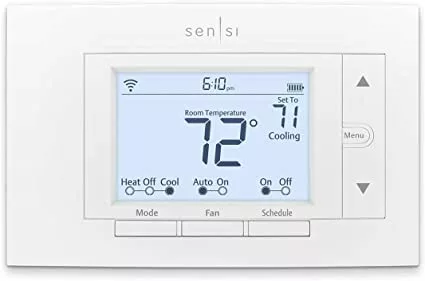 Features & Benefits
Firstly, the manufacturers (Sensi) promise they won't sell your personal or private information to third parties.
Additionally, it is easy for most people to install it at home.
Thirdly, the style resembles a traditional thermostat, so it's perfect for homes with less modern designs.
Downsides
Customer service can often be quite poor and take a while to respond.
Customer Reviews
"Such an easy setup with the wizard and connected right away. A clean and simple app too."
3. Honeywell Redlink Prestige Touchscreen Thermostat
Features & Benefits
Firstly, you can easily program the thermostat in just a few seconds to turn it on or off at any specific time.
Additionally, it uses RedLINK wireless communication to allow you to program and control it remotely.
Finally, the wall-mounted controls are touchscreens, adding a modern feel to your home.
Downsides
It does not control the temperature as effectively as alternative models.
Customer Reviews
"This, together with my other 4 Honeywell thermostats in my zoned system, has not only balanced the temperature of my home but has cut my energy usage in half."
4. Best 2 Wire Smart Thermostat: Honeywell Home 7-Day Programmable Touchscreen Thermostat
Features & Benefits
Firstly, it offers excellent ease of use, allowing you to program daily, over a weekend, or any other specific period.
Secondly, the display is extremely high-quality and backlit for night-time accessibility.
Also, you will receive Smart Response Learning Technology so that your thermostat can automatically heat and cool your home.
Downsides
The differential cycle (how often it cycles on and off) is way too low, and there is no way for you to adjust this.
Customer Reviews
"This product is easy to install, operate, and overall good."
5. Best 2 Wire Smart Thermostat: Vine Programmable 5th Generation Smart Home Thermostat
Features & Benefits
Firstly, the hardware consists of a high-end, next-generation chip to provide the fastest internet connection.
Secondly, it is compatible with several devices, including Amazon Alexa and Google Assistant.
Thirdly, installing the thermostat is quick and easy, so you don't have to pay a technician.
Downsides
 Connecting the thermostat to other smart home devices can often be challenging.
Customer Reviews
"Love the software, and very easy to incorporate into your LAN. Good features, and the phone app is very good as well."
Conclusion
2-wire thermostats run at varying voltages, so it's important to choose the right type for your needs.