Best Automotive Wire Connectors, If you require wire connectors for your next automotive project, you may experience challenges comparing your options.
Fortunately, there are a few simple factors to consider that can make the decision-making process much easier. This article will review these factors and the top five products today.
Table of Contents
Our Picks
[affiliatable id='141039′]
Factors to Consider When Buying
Water-Resistance
If your wire connectors get wet (usually inside the engine area of the vehicle), you must make sure you purchase waterproof products. It will prevent damage to the wire and reduce electric shock risk.
Current Rating
Different connectors can handle certain maximum currents. Determine the current of the wire you use the connector with, and ensure the product you purchase has a current rating that exceeds your wire.
Connector Size
Wires come in various diameters, so wire connectors can not be one-size-fits-all solutions. Find out the diameter or thickness of your wire and look for a connector that works with that size.
Maximum Voltage
Connectors can withstand a certain voltage, and the wires you use the connectors with mustn't operate at a voltage higher than the connector's rated maximum.
Ease of Use
Choosing an automotive wire connector that is simple to set up, easy to use, and works without hassle will save you a lot of time in the long term. Sometimes, it is worth paying more for added ease of use.
Copper-Plated
Copper-plated automotive wire connectors are more durable and high-quality and often work better than non-copper-plated alternatives.
Wire Gauge Imprints
If you want to make it easy to tell what wire gauges an automotive connector is suitable for, you could look for a product with imprints that clearly define this information.
Environmental Factors
Consider the temperatures and humidities in the environment and select a connector that can handle the extremes you expect to encounter.
Agency Approvals
Agency approvals can provide clarity and insurance that the product you're purchasing works well, is high-quality, and undergoes the proper manufacturing processes.
You could look for SAE approvals, IP ratings, and various others.
Price
Price is always a major factor in any purchase. Still, it's important to remember that the amount you spend on an automotive wire connector will often reflect the quality you expect to receive.
Choosing a cheap product will likely mean you'll need to replace the connector sooner due to wear and tear or damage.
Best Automotive Wire Connectors
1. Nilight – 50004R 120 Pcs/60 Pairs Quick Splice Wire Terminals
Features & Benefits
Firstly, these connectors are self-stripping.
Secondly, the product contains 60 T-Tap connectors and 60 quick disconnects.
Downsides
The splice ends are of poor quality, so connecting to prong ends can be difficult.
Customer Reviews
Fantastic experience using these on a variety of automotive projects.
How to Use
It would be best if you utilized the quick splice t-tap connectors to link the wire and the connector. These will automatically lock on to the wire and stay closed permanently. 
2. Kuject 320 PCS Heat Shrink Wire Connectors
Features & Benefits
Firstly, this comprehensive kit includes a wide range of connection types.
Additionally, the kit is durable and will last for years, thanks to its copper core.
Downsides
The crimped parts of the terminals are not always compatible with each other.
Customer Reviews
The heat shrink capabilities of these connectors were perfect for rewiring a trailer.
How to Use
The connectors work with heat shrink crimps, so you only need a blowtorch. Apply the heat for a short period to the connector, and you're all done.
3. ZHOFONET 2 Waterproof Pin Connectors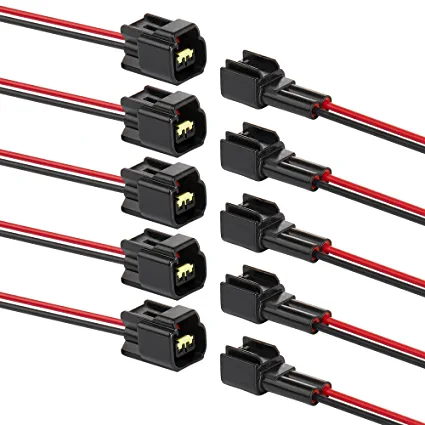 Features & Benefits
Firstly, this product is much cheaper than many of its competitors.
Furthermore, it is completely water resistant with an IP68 rating.
Downsides
The package only contains five connectors, which may need more for your project.
Customer Reviews
Perfect if you need a few connectors.
How to Use
Connecting two wires is simple with this product's straight plug-in installation. Plug it in when you want to form a connection, and unplug it when you no longer need it.
4. AKmliber Waterproof Automotive Wire Connectors
Features & Benefits
Firstly, this kit includes a ratcheting wire crimper.
Secondly, the pin connectors are extremely high-quality and eco-friendly.
Downsides
The male terminals may struggle to lock into the connectors.
Customer Reviews
A comprehensive automotive wire connector kit with everything you need.
How to Use
This product consists of pin connectors, so you match up the holes with the pins on the other side of the connection and then insert them.
5. Twippo Waterproof Car Electrical Connector Terminals
Features & Benefits
Firstly, there are 352 pieces in this kit, with 26 different sets.
Additionally, you'll have a money-back guarantee for a whole year following your purchase.
Downsides
Connecting pieces can be fiddly.
Customer Reviews
Have been consistently good and worked well when exposed to dust and water.
How to Use
These wire connectors work with a simple plug-in system. Simply attach the two ends when you wish to form a connection and unplug when you don't need it.
Conclusion
Some of the most important factors to consider when buying automotive wire connectors are whether they're waterproof, what their max voltage is, and their price.
These factors can help you compare the wide variety of brands on the market, such as Amber, Twippo, Subject, and more.