How to Convert Coax Cable To HDMI? Technology advances daily, and you must upgrade your devices to ensure smooth functioning.
Among many newer technologies, one is the input/output ports in all audio and video systems. As the ports are changing to newer versions like HDMI or USB and accordingly, you also need to change cables based on their compatibility. 
However, it is not always possible to switch to newer versions everywhere.
Sometimes, you also use some older devices; you need some adapters for converting signals to work them properly. This article details one such issue.
Table of Contents
Why do you convert Coaxial to HDMI cable?
You sometimes needed coax cables for connecting your television and cable boxes as the standard output cables.
People often think that with the advent of newer cables like HDMI and USB, these cables have become obsolete. However, that is not the case.
Still, it would be best to have Coax connections in your houses to get cable connections through satellite, as old cable satellite boxes only output through coax cables.
However, with the advancing technology, modern TVs nowadays do not come with coax connections and instead have HDMI or USB connections. For such devices, coax cable to HDMI cable becomes essential.
Hand-holding HDMI cable in the back of the HDTV box
2 ways to convert the coaxial cable to HDMI:
Several methods help you convert coax cable to HDMI and vice versa; let's read about two approaches.
Upgrade your Set-top box.
Set-top boxes are the prominent problem people face with HDMI and Coax cables. Generally, people have modern TVs with HDMI ports, but they have old set-top boxes with coax ports.
So, the most convenient solution for this problem is to get a new set-top box that supports HDMI ports.
If you have a set-top box supporting coaxial ports, it needs to be updated, and you need a replacement, as such old boxes may also create quality issues.
However, if your service provider asks for irrelevant replacing charges, you must opt for another solution. 
Get a Coax to HDMI converter:
Converting Coax into HDMI with a converter adaptor is very convenient, working as an intermediary between Coax and HDMI. The primary purpose of this adaptor is to convert Coax analog signals into HDMI digital signals. 
To convert coax cable to HDMI through a Coax to HDMI converter, you need to follow the following steps:
You can get a converter adapter from any online or electrical shop in the local market, which has two types of adapters: one with coax and HDMI sockets and the other with the cables attached.
Firstly, plug the coax cable into the coax outport of your cable box and connect the other end to the Coax IN port of the converter.
Similarly, take the HDMI cable, and connect one end to the converter HDMI port and another to your television. 
Turn on your television to check whether you have made the right connections. If you have connected all the cables properly, your TV/other devices will receive signals.
However, if you do not see any signals on your TV, you can select HDMI 2 as your input.
How you will convert HDMI-1 to HDMI-2:
Firstly, connect all HDMI devices to your device and turn it on. 
Take the remote,  find the input button, and press it. You will see a window on display. Keep pressing the button until it goes from HDMI 1 to HDMI 2 once it selects HDMI 2, press OK.  
Some remote controls may not have a direct input button on them. In such cases, you must go to the MENU first and look for the INPUT or SOURCE in that menu list.
Telecommunication equipment
How to choose the right coaxial to HDMI Adapter
You will find several types of converters to convert Coax into HDMI or HDMI into Coax; however, different converters work differently based on the systems you are connecting.
So, choosing the converter according to the device you need to connect would be best. Here are different converters with their specifications:
OTA to HDMI converters
You may have some indoor or outdoor antennas for your TV having coax output ports, while your TV has no coaxial input ports. In such a case, you need an OTA (over the air) Coax to HDMI adapter, and you can find this under a price range of $30-$50.
Here, you do not require any particular conversion components; unlike cable TV signals, air signals are unencrypted.
Set-top box/satellite box to HDMI converter:
If your cable service provider has given you a receiver with only Coax output, it's time to ask for a replacement, as having cable boxes with coax output means they are decades old.
However, you must invest in a satellite TV coax to an HDMI converter if you cannot replace the box. 
As this satellite coax to HDMI must have demodulation, its price rises to around $100. Coax signals generally use RF or radio frequency modulation, outputting it on either channel 3 or Channel 4 on the TV.
Further, as cable boxes utilize encrypted signals, you will need a converter with decryption technology.
However, finding such converters with all specifications may be difficult, so focus on a set-top box coax RF demodulator to HDMI converter.
Video game console/VCR to HDMI converters
There are no HDMI ports in VCRs and video game consoles, as HDMI was not there then. You will need NTSC or RCA coaxial to HDMI converter to convert signals from these devices.
Like cable TV coax to HDMI, you will also need a demodulator for converting RF signals to output them on HDMI.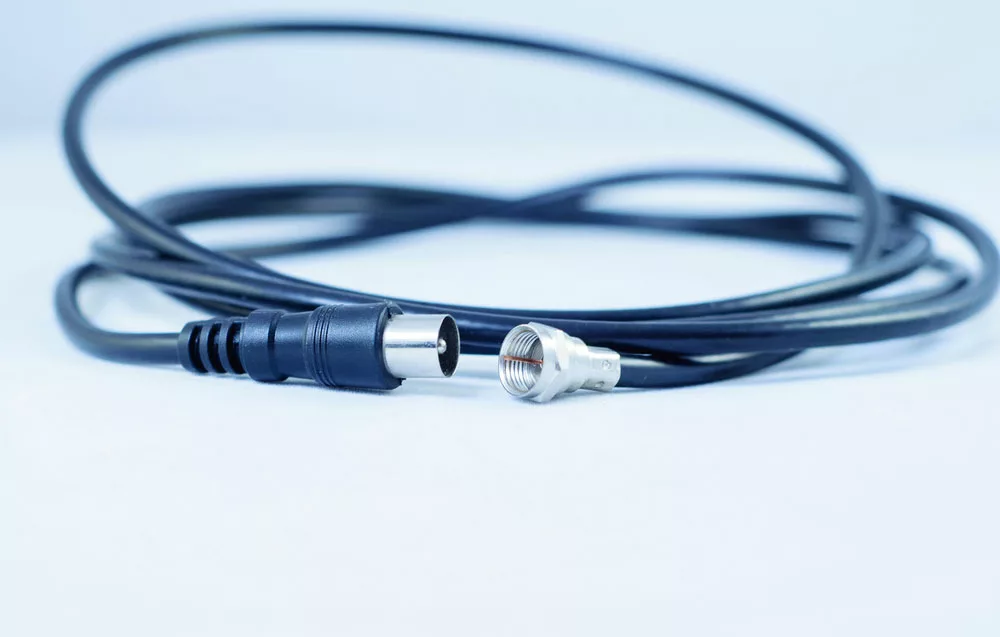 Professional antenna cable
Adjust the television settings:
Your TV must have correct input settings with coax input to HDMI output to allow your converter to function correctly. You can do these settings with your remote control. 
Go to the MENU and look for "input" or "source" and look for the different options. If you want your box to function correctly, the input must match the correct cable.
Different inputs exist for devices such as cable boxes, DVD players, or any external media source. 
From the input options, choose HDMI 1 and press ENTER so that you return to the main screen. You will see the cable in a few seconds. Please wait for the picture; it may take a minute or so.
If there is no screen change, check the cable box's power connection and turn it on so that signals from coax transfer to HDMI input.
If the screen does not change even with the cable box powered on, you must try HDMI 2. Your TV has multiple HDMI ports, and you may have to try plugging the cable into different ports for the proper connection.
If the screen remains black or blue even after all trials, your cables are loose or not connected properly.
Conclusion
So it will be easier for you to convert the coaxial cable to HDMI. Make sure that you follow all the instructions carefully. You must also ensure that you always get cables from a reputed supplier.
If you are still confused about where to get such high-quality cable, we are here to help you. Cloom is a leader in manufacturing superior cable assemblies, and wiring harnesses.
Contact us, and our technical engineers and experienced team will gladly guide you in picking the most suitable cables for your application.