Often it would help if you had a printer while working in an office, working on a college project, or handling a small business from home. A printer takes the files and images from your computer and gives you hard copies. However, a printer cannot work without a cable as the cable connects the printer with a laptop or your office network. A cable helps in data transfer between a computer and a printer. A printer can support several types of cables. Before buying a printer, don't forget to check the cable your computer supports and the printer's type of cord. So, it's better to get an idea about different Printer Cable Types or cords to make the right decision.
Table of Contents
USB Cables
USB (Universal Serial Bus) is the standard cable for printers nowadays and is widely used worldwide. These transfer cables are plug-and-play devices which means you do not need an additional driver. USBs are the faster and smaller version of standard serial printer cables. A printer USB cable can support faster transfer speeds ranging from 1.5 megabits/sec to 4,800Mbps. As a result, you can transmit a large amount of data in a few seconds. In addition to the printers, you can use USB for mice, keyboards, external drives, and various other devices. There are many USB sockets on a computer, and you can use one for the printer.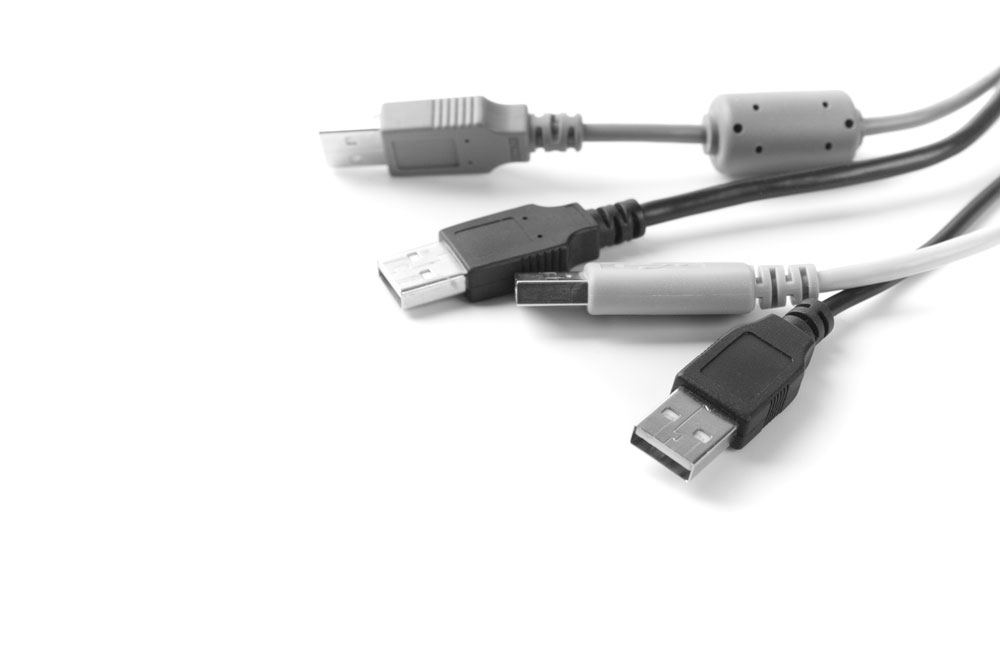 Image: USB cables
Parallel cables
Parallel printer cables have 25 wires. Eight wires carry data from the computer to the printer. As all eight wires carry data at the same time almost, the name "parallel" is given to these cables. Other remaining cables are responsible for timing and control signals. Parallel printer cords have different connectors on either side. There is a 36-pin connector on one side, while the other side has a 25-pin connector. The 25-pin connector connects to the socket of your personal computer.
Nowadays, only dot matrix printers use parallel cables; otherwise, these cables have become obsolete. Currently, the printers are using USB cables, and in fact, many new printers do not provide a socket for parallel cables. So, if you want to connect a printer with a parallel cable to your computer or office network, you will need USB adapters.
Series cables
Some personal computers still have serial connector sockets (COM1 and COM2) for connecting serial cables. Many old printers use RS 232 serial cable that connects to these PC sockets with either a 25-pin or 9-pin connector. The serial cable transfers one data bit at once; thus, it got the name " serial" cable. Before the release of USB, serial cables were standard peripheral cables, but the new technology of USB is a thousand times faster, and thus, serial cables are left behind. However, if you want to use DB-9 serial connector, you will have to make products compatible with the same data speed.
Ethernet Cables
You will see ethernet cables as the standard data network wiring in offices. With the help of an Ethernet cord, you can connect your printer to a computer or a network. When using a network, both the printer and computer connect to a common Ethernet switch. As a result, you can give access to your printer to several colleagues. In the absence of a network, you can directly connect a printer to your computer with the help of an ethernet crossover cable.
Image: ethernet cables
Power Cables
Apart from a data cable, a printer also uses a power cord to connect it to the standard electrical outlet. The power cord has a three-prong plug at one end and a connector at the other. The connector can vary depending on the printer type. For example, several inkjet printers use AC/DC adapter in a small cylindrical plug. On the contrary, laser printers use a standard modular AC plug with three terminals in a tough plastic connector. You can connect this connector with the corresponding socket in the printer.
Image: power cord with English plug for printer
Firewire
Nowadays, modern printers have a firewire connection and a high-speed serial bus connection. Firewire or IEEE-1394 allows very high data transfer speeds than serial and parallel connections. Developed by Apple, the Firewire connection is still not as popular as USB.
Conclusion
So, you see, printer cables are different in their design and functionality. Thus, always check your device and cable compatibility before buying a cable. Try to read reviews and choose brands with good previous records. If you cannot decide, Cloom technical experts can help you get a suitable printer cable for your device. We deal in superior quality cable assemblies.