Portable power cords are common in commercial, industrial, and residential applications. However, the cable you need depends on their specific application. For example, SJO portable power cords are standard among customers as they can handle high voltages even when their applications are rated for junior service or 300 volts. This habit is quite common and creates an overkill situation. Further, the SO portable power cords cost more and take extra space. However, if you understand the complete requirements of your applications, you can reduce the cost. Although the cost reduction per cord is less, it makes a considerable difference when you order thousands of meters of cable. Today, we will dig into one of the portable cables: sjeoow.
Table of Contents
Explanations of Portable Cord
You can call a portable cable portable cordage, extension cord, or a flexible cord. It is a cable having multiple conductors, which you can use for temporary power connections needing flexibility. Besides, you can employ these cords in various applications like power extensions, industrial machinery, home appliances, and operating engines in large and small tools.
As a result of their flexibility and flat nature, these cords are standard in all types of applications. Firstly, you can use them in job locations with extreme environments inside and outside, and these environments need cables that offer resistance to chemicals, oil, and abrasion. 
Secondly, you can also find some cords that are submersible or water-resistant. 
In short, you can use portable cords in many facilities, including sports complexes, mines, mills, construction sites, and even marinas.
There are several portable cords; however, at least a standard cable will have two stranded conductors. These copper conductors are of size between #2 AWG and #18 AWG. The outer jacket, insulation, and stranded copper impact the physical properties and the cord applications. Some common portable cables/cords types are SJT, SVT, SJOOW, SJ, SJOW, SO, SOW and SEOW.
Further, each letter in a portable cord specifies some meaning related to the cord's applications or its construction.
Portable Cord Designations
The meaning of the portable cable defines its particular properties like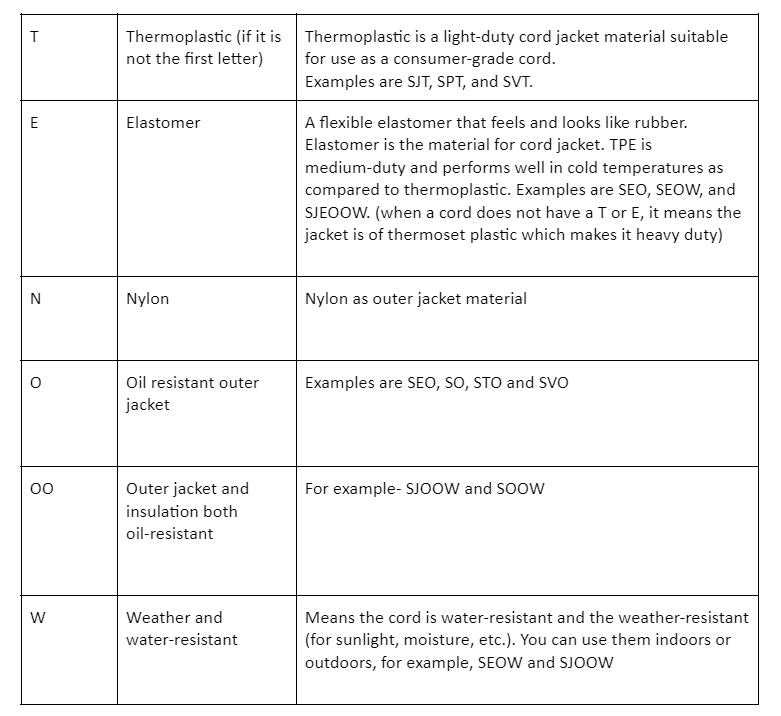 source: https://thompsongws.com/ 
Dig into the type SJEOOW cord
The SJEOOW portable cords comprise flexible and stranded copper conductors having insulation of TPE rubber cables with fillers as required. You will also find a separator on conductors and fillers.
Conductors: annealed and bare copper conductor as per ASTM B-174 Class K stranding, 18-10 American Wire Gauge, 2, 3, or 4 conductors
Note: An electrical line with four wires has one red hot wire, one black hot wire, one common white wire, and the ground or earth wire. On the other hand, if the electrical line is of two-wire, it has one black hot wire and one common white wire. Thus, such wire may have a ground wire, but it may not have any connection.
Note: Green conductors are for grounding only.
Insulation: color-coded Thermoplastic Elastomer, oil resistance
Outer jacket: Thermoplastic Elastomer jacket (TPE), resistant to oil, water, and sunlight, flame retardance, black or yellow.
SJEOOW Ratings and Approvals
NEC Article 400
UL standard 62 for flexible cords
Voltage rating: for junior volts, 300 volts
Temperature range: -50 degrees Celsius to 105 degrees Celsius
CSA Standard 22.2 No. 49 for flexible cords
MSHA flame resistance makes the cord suitable for mining applications
RoHS Compliant
SJEOOW applications
You can use SJEOOW portable power cords in medium-duty applications like in 
hedge trimmers
snowblowers
lawnmowers
various other electrical equipment used for outside purpose
Conclusion
Portable power cords are beneficial, and their different construction makes them suitable for various applications. Thus, the market has a variety of portable cords that offer a wide range of advantages. However, the primary benefit you get from our portable cords is their water- and oil-resistant properties. As a result of these properties, the cords become durable and have a longer shelf life so that you can use them in challenging situations. So, if you need help choosing power or a portable cord, Cloom's experienced experts can help you pick the best type for your applications.