What is a USB cable? More USB cables enter the market every day due to technological advancements. These advanced USB cables provide faster charge and transfer speeds, are compatible with all modern devices, and matter a lot in the device's performance.
Table of Contents
What is a USB cable?
USB cables refer to the famous cable types that make it easy to charge or transfer data between two devices. These devices may include cameras, scanners, printers, video cameras, etc.
How does a USB cable work?
A USB 2.0 cable has four pathways, two of them are power conductors, and the other two are twisted pairs. If a USB device uses total bandwidth, it should have a couple of twisted D+/D- conductors. A USB 2.0 cable transmits data in one direction, i.e., upstream or downstream. The data transfers from D+/- connectors, and the other two connectors (VBUS and GND) power the USB device.
And USB 3.0 cables are bidirectional. They add four more wires for data transmission. As a result, it can send data TO and FRO. 
vs
Caption: USB 2.0 and USB 3.0 cable construction
Other USB standards to consider
Even if the USB cables look alike, they have different capabilities like different charging speeds or transfer speeds. For example, a USB 3 is backward compatible. Its connector pins are of different shapes, and thus it has a more frequent use. The color of the ports is blue so that you can distinguish them from other versions. However, a USB 3 cable provides maximum data transfer rate only when used with compatible devices. For example, if you are using a USB 3.1 compatible device, you can get a speed of 10 Gbps while transferring data. However, if you use an older device, you may not get the same speed. 
USB 1.1
Transfer speed 12 Mbps
Maximum power output – 2.5 volts, 500mA
Directions: host to peripheral devices
USB 2.0
Transfer speed- 480 Mbps
Maximum power output- 2.5 volts, 1.8 A
Directions: Host peripheral devices
USB 3.0
Transfer speed- 5Gbps
Maximum power output- 2.5 volts, 1.8 A
Directions: Host peripheral devices
USB 3.1
Maximum power output- 2.5 volts, 5 A
Directions: bidirectional
USB 3.2
Transfer speed- 20 Gbps
Maximum power output- 20 volts, 5 A
Directions: bidirectional
USB 4
Transfer speed- 40 Gbps
Maximum power output- 48 volts, 5 A
Directions: bidirectional
Thunderbolt 3
Transfer speed- 40 Gbps
Maximum power output- 100 watts
Directions: bidirectional
Up to 5000 video output
Thunderbolt 4
Transfer speed- 40 Gbps
Maximum power output- 100 watts
Directions: bidirectional
Up to 8000 video output
USB Connector types
USB Type-A is the most common. It is a rectangular connector, and there is only one way to connect them. You can use it in computers, hubs, and power outlets. Be careful while inserting so that you do not damage the cable.
USB-B is one of the rare types of USB connectors. Earlier, people used them to connect hard drives and printers to computers, and it has a square end with a squarish protrusion on the top. You can find them in USB non-host devices like printers, external hard drives, and audio interfaces.
USB Mini is a small connector. It is suitable for mobile devices. Nowadays, most devices come with a USB Type-C port. However, Micro USB has replaced them, but you can still find them in MP3 players and some cameras.
Micro-USB was a common USB port earlier. A large number of portable devices use this miniature connector. But now, the USB-C cables are replacing them quickly. However, you can still find them in smartwatch charging stands, wireless earphones, and Bluetooth speakers.
USB Type-C is the king of the plugs. It allows high data transfer rates and a high-power flow than the previous USB version. Also, it is reversible to insert it either up or down. Many new Android phones like Samsung, Note, Apple's latest MacBook, etc., have USB-C ports. 
Caption: USB Type-C charger
Type of USB cable
There are four kinds of USB cables according to the shape.
Host controllers
Most of the host controllers have USB-A receptacles. So, when you have this kind of cable, it is mostly USB A to something else. Generally, cables have names based on the other end as the USB A plug at one end is obvious. Sometimes, some small host devices use mini or micro-USB receptacles. However, for these devices, USB-A gets a pigtail adapter.
Caption: USB A to keyboard/keyboard
USB cable with hubs
Some cables come with hubs, which means they allow the connection of multiple USB devices into the same host port. You can use up to 127 devices but consider power limitations.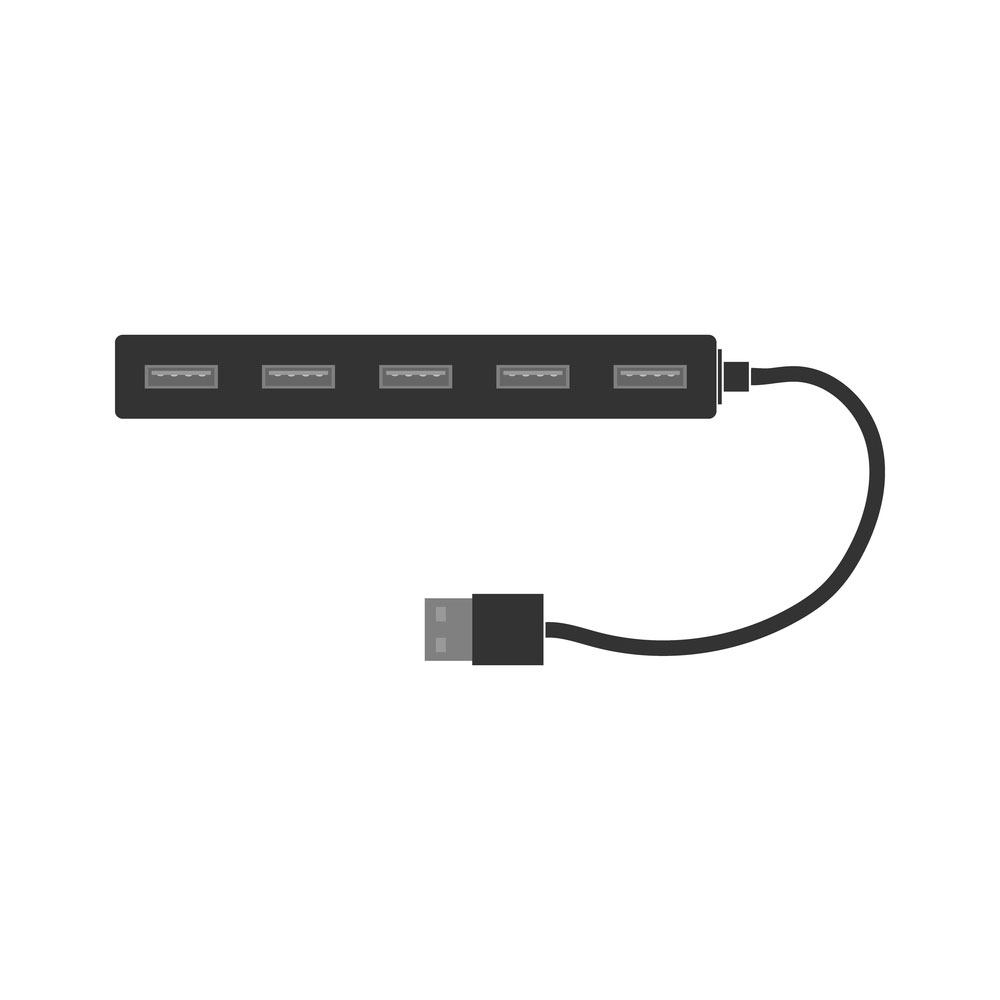 Caption: A cable with a hub
USB extension cord
 Some devices like webcams and wi-Fi adapters need to be free. You can do this by extending the length of the original USB cable with the help of an extension cable. USB extension cords have a plug on one end and a receptacle on the other end. Generally, the maximum cable length is 5 meters.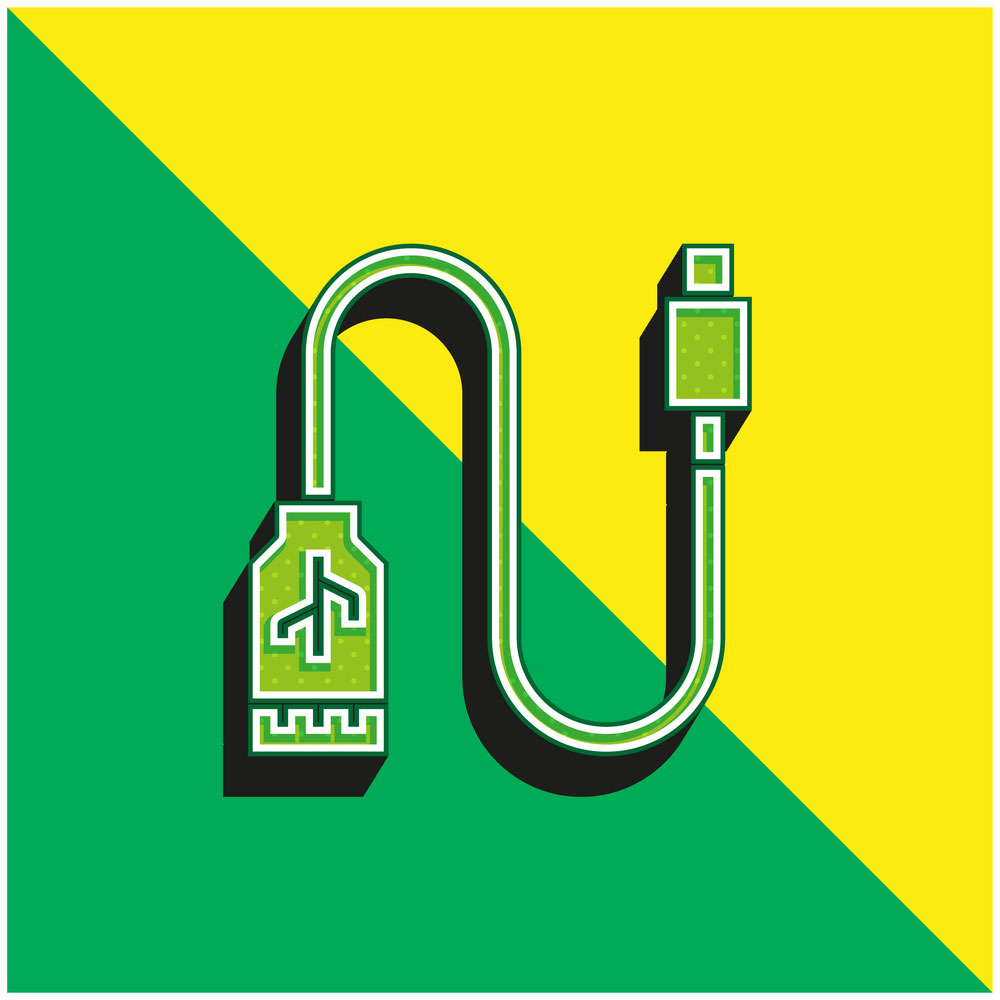 Caption: USB extension cord
USB cables with two plugs
USB A to Mini-B cable
The USB A to Mini-B was once a common cable in the offices for portable devices. Though discouraged for modern devices, you can still find them. The good part is they are easy to solder but challenging to fit in tight spaces. 
USB A to Micro-B cable
This cable type is the latest and the smallest. Every new mobile device has a Micro-USB port for a Micro-B connector, so you must already have one.
USB A to USB B cable
These are common cables for printers and other peripheral devices, and this is the standard connector for Arduino UNO and other programmers and development boards.
USB A to USB A cable
Before the mini connectors came, these were the commonly used cables. People used these cables to overcome the drawbacks of USB-B-type cables.
How to choose the USB cable?
Now, as you know that there are several types of USB cables available, you must know which one you need. Consider these factors before buying cables.
Purpose: Your use of cable will decide its length, type, and size. For example, if you purchase a new android phone and charge it only with cables, you must use a fast-charging cable.
Brand: With so much popularity of cables, many brands are trying their hands in the market. Ensure that you pick cables from a reliable brand only. 
Build: Handling cables like folding and coiling them and putting them in bags and pockets often damages them. Thus, while buying, ensure that cables comprise flexible and durable material.
Length: The length is an essential aspect when buying a cable. If your device is far from the host or your charging point is high up on the wall, you need a long cable. On the contrary, if you prefer fast charging, go for a short-length cable as a long cable charges the phone at a slow speed.
The manufacturing process of USB cables
A USB cable comprises two main parts: the cable and the connectors. The manufacturing process of these two parts involves various steps, and let's look into it.
Cutting the cables
The first step is cutting raw cables into desired lengths. Raw Cables made from unprocessed materials are used in making USB cables. These are long cables, and you need to cut them into suitable lengths of 1m, 2m, or 5m. 
Exposing the inner conductor
Cables have many wires, and to avoid any electromagnetic interference, wires are braided or foiled. You need to expose these inner wires to connect them to the connector.
Firstly, strip the outer jacket of the cable.
Secondly, clear the braids and spiral arrangement by weaving and folding them in the opposite direction.
Now, strip the foil to expose the wire inside.
Finally, strip the inner jacket to expose the conductors.
Connecting the wire and terminal
This step includes the soldering of electronic materials using tin.
Firstly, technicians will dip the conductor's endpoint in the soldering flux and then dip it into the melted tin.
Secondly, they solder the connector's pinpoint and conductor. 
Finally, they examine the soldering so that it passes the requirements. 
Here, tin is the most common choice for soldering because it has a low melting point, excellent fluidity, and strong iron and copper surface affinity.
Molding
Technicians will cover the connector and conductor joining the pit through an injection molding machine in this step. 
Firstly, technicians will protect the first layer through internal injection molding.
Secondly, in this, they put iron shells for more protection. (This is optional)
Now, technicians will check the electrical efficiency of these semi-finished products.
If everything goes okay in the above step, technicians give a final layer of protection through external injection molding. In this step, technicians also put the tag and logo of the brand.
Finally, technicians perform a final electrical test to check the effective performance of the cable.
Final checking and packaging
The technicians will conduct a final electrical test to ensure effective electrical performance in this step. They will also inspect the cables for their appearance and look for flaws.  If everything goes well, they will send the products for final packaging.
Conclusion
If you want any help regarding USB cable assemblies, Gloom is here to help you. We manufacture USB cable assemblies with Type A, B, Mini B4, Micro B 5, and Mini B 5 position connectors. For harsh environments, we also offer waterproof cable assemblies. We also have right-angle USB cables, panel-mount USB cable assemblies, latching, and LSZH USB cables. All in all, we can customize USB cables based on your specifications. For more information, please call our experts.