Although wire harnesses may vary according to the system you are working on, you must use electrical wires, connectors, and terminals.  Also, with individual wires harness, the components can transmit signals to each other. Today, we are going to have a clear picture of wire connectors and terminals. Both pieces have a direct effect on the performance and reliability of the harness.
Table of Contents
Wire Harness Connectors
The connector is electromechanical equipment that joins the conducting wires while creating an electrical circuit. In most connectors, there are two components, a male plug, and a female Socket. Thus, when you want to make a connection, you will plug the male components in the female connectors or sockets and regulate the flow of the electronic signal.
Moreover, the pair may come in two forms. Either you can connect it permanently or disconnect it whenever you want. Each way has its benefits. Also, it comes in a variety of shapes and sizes.
Caption: Audio-Video connectors
Types of Electrical Connectors
While you use a connector, you must consider the extreme environment you will use them.
Electrical connectors come in a variety of sizes, materials, shapes, and Mating Types. Hence, each type will have its level of protection against moisture, dust, dirt, and extreme temperatures due to charge surges.
Choosing the suitable Wire Harness Connector
In a connector, there is a different number of signal contacts and power contacts. Also, it can have either board-to-board connectors, wire-to-wire connectors, or board-to-wire configuration. In such a situation, there is an extensive catalog of standard two, three, or four-pin designs, whether locking or weather-resistant connectors.
Thus, you will be required to choose from such a wide variety according to your customer's needs.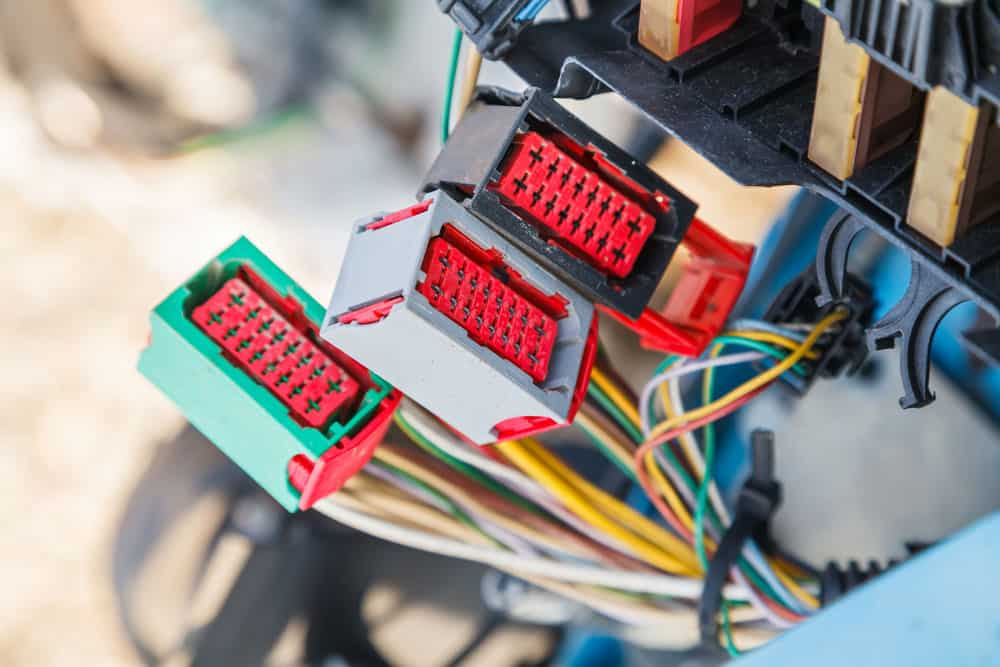 Caption: Car connectors
Wire Harness Terminals
Terminals are yet another essential component in making electrical connections with wires. It is an electromechanical device with the help of which you terminate a wire. Usually, it is made up of a metal or an alloy, and however, carbon or silicon may also be used.
Types of Terminals
Just like connectors, the terminals also come in different shapes and sizes. These have similar pins like the connectors through which you can regulate the flow of current. Also, you can use a terminal between the connector pin and socket in a PCB trace.
Therefore, you have a variety of terminals from which you will choose.
Ring Terminals
A ring terminal has a hollow round of conducting material that allows a screw or stud to pass through it. You may also call these ring connectors. Also, this type of terminal is only compatible with stud size and wire gauge.
Remember, you need to use either crimpling or soldered techniques to join the ring terminals to the wire.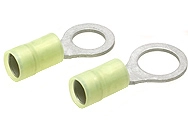 Caption: Metric Ring Terminal
Spade Terminals
As its shape is just like a fork, hence it is also named a fork terminal. This open-ended terminal makes it easy to attach or remove from the screw. Thus, it has a unique application in installation places where there is not enough space. The space terminal is available in multiple sizes and insulation levels so that you can select one according to the need.
Caption: Standard vinyl insulated Spade Terminal
Hook Terminals
The hook terminal has a hook-like shape that is easy to attach to remove, thus convenient to use. You can get the hook terminals either insulated or non-insulated. Additionally, the hook terminals may prove a more durable yet straightforward installation for many projects.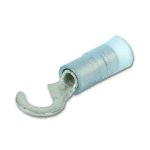 Caption: 14GA Hook Terminal
Quick-Disconnect Terminals
Commonly used in the auto and consumer products industry, a quick disconnect terminal makes a reliable connection between two wires. So, with this type of terminal, you can connect and disconnect the system with the current flow. The quick-disconnect airport is a stable source of connecting the wires and comes in insulated or non-insulated versions.
Caption: Partially-insulated standard Quick-disconnect Terminal
Bullet Terminals
Bullet terminals or bullet connectors, yet again, make a reliable and secure connection. With its help, you can disconnect the wires as well. Also, bullet terminals comprise male and female sides that make a strong connection. Moreover, this kind of terminal does not rust easily and saves the circuit from dirt, dust, etc.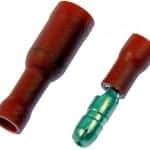 Caption: A Bullet Male-Female Terminal
Butt Terminals
Butt terminals help terminate single or multiple wires at a time, and they can also avoid abrasion, cutting, and keeping the moisture out of the connecting airport. Moreover, butt connectors can extend the wiring range as they can mate. For that, you will enter each wire inside the terminals from both ends and crimp them.

Caption: Butt Terminal
Flagged Terminals
Flag terminals, also known as flag connectors, can help you create a secure and convenient connection. These terminals work very well in tight installation spaces, where the quick disconnect may be too significant. Thus, it provides an easy connect disconnect mechanism in both insulated and non-insulated forms.
Caption: A fully insulated flag Terminal
Splices and Lugs
Splices and lugs create a long-lasting connection as it is crimped onto the cable. Also, the manufacturers coat the terminals with tin or other metals to prevent corrosion or extra dirt. It is usually used in battery cables, primary wires, and different types of electrical connections.
Caption: 12-10 AWG Butt Splice Terminal
Battery Posts
To connect a load to a battery, you can use battery posts terminals. These terminals can be a good choice for connecting to either a single cell or multiple cell battery. With the help of battery posts, you can ensure a secure as well as stable connection.
To protect the battery posts, you can use additional battery boots. This way, you give the system an extra layer of safety and prevent shock and short-circuiting.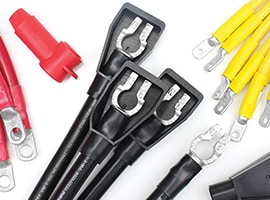 Caption: Battery Posts
Wire Ferrules
For preventing the wires from fraying, you can use wire ferrules. A wire ferrule terminal is used over stray cables. Thus, you slide the protective layer on the wire opening and cover it completely. Here, the purpose is only to make a stable connection in equipment. With wire ferrules, you terminate the wire and make it a solid one-piece.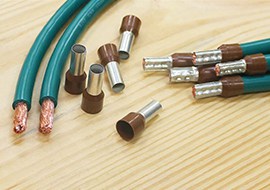 Caption: Wire Ferrules Terminal
Choosing the Correct Wire Terminal
In choosing the correct wire harness terminal, you need to consider the circuit design and where you will apply it. For instance, there are two categories of terminals, insulated or non-insulated. As the insulation provides a protective layer to the airport, you will consider using it in harsh environments. Thus, the connection will become long-lasting.
On the other hand, if the application area does not have much traffic or extreme weather conditions, you can choose the non-insulated terminals. The selection of airports for the appropriate usage is only possible after complete analysis.
Conclusion
To conclude, there are various types of wire harness terminals and connectors available to choose from, according to the intended application. These electrical connectors connect the two wires and the system while providing an undisturbed electricity supply. Thus, you can use them for making a secure yet durable electrical connection in a wire harnessing process.
Here at Cloom, we offer a wide range of types of connectors to support wire assemblies. So, to get your quote, contact us now.