Wires and cables need protection from foreign dust, debris, vibration, and harsh environmental conditions. So, engineers worldwide face the problem of covering wire harnesses and cable assemblies. There are so many options, depending on the cost, performance requirements, and application type. We will learn about different types of wiring harness covers.
Table of Contents
Different types of Wiring harness types
You can call wiring loom different names like cable assembly, wire harness, wiring harness, or wiring assembly. Primarily, it is an assembly of wires that transfers signal and electric power to the destination. You can bind the wire looms through cable ties, straps, braiding, sleeves, lacing, electrical tape, a conduit, or through a weave of extruded string, wiring harness coves, or wiring harness looms. In addition to providing protection, these covers also keep your cables neat, clean, and organized. 
Braided cable sleeve
A braided sleeve is made up of a mesh material. The sleeve conforms to the irregular shape of the cables and prevents wires and cables' current from getting in contact with outer conductors. It helps organize your wires and protects the wires and cables from external factors like moisture, temperature, abrasion, chemicals, etc. The sleeve conforms to the irregular shape of the lines and prevents wires and cables' current from getting in contact with outer conductors.  Also, the braided sleeve is easy to cut with a hot knife. 
Image:  braided sleeve
Heat-shrink tubing
Heat-shrink tubing is mainly a process through which you encase cables and wires into plastic tubes. After covering wires in lines, you can shrink the pipes through a blow torch or a heat gun. And after heating, the tubing forms close-fitted protection around cables and wires.
Mostly, you will find polyolefin heat shrink tubing as the material is highly durable, flexible, resists chemicals, has excellent electrical properties, shows high UV resistance, and is available in a wide range of colors. The main advantage of heat-shrink tubing is to relieve the strain of cables and wires, which are either short or confined to limited spaces. 
Apart from the colored tubing, you can also get clear tubing. Clear tubing is a good choice when you prefer electrical insulation and physical performance. Also, its polished surface adds an aesthetic appeal to the wire assemblies. Heat-shrink tubing is quite popular in automotive, electronics, cable TV, and wireless telecoms.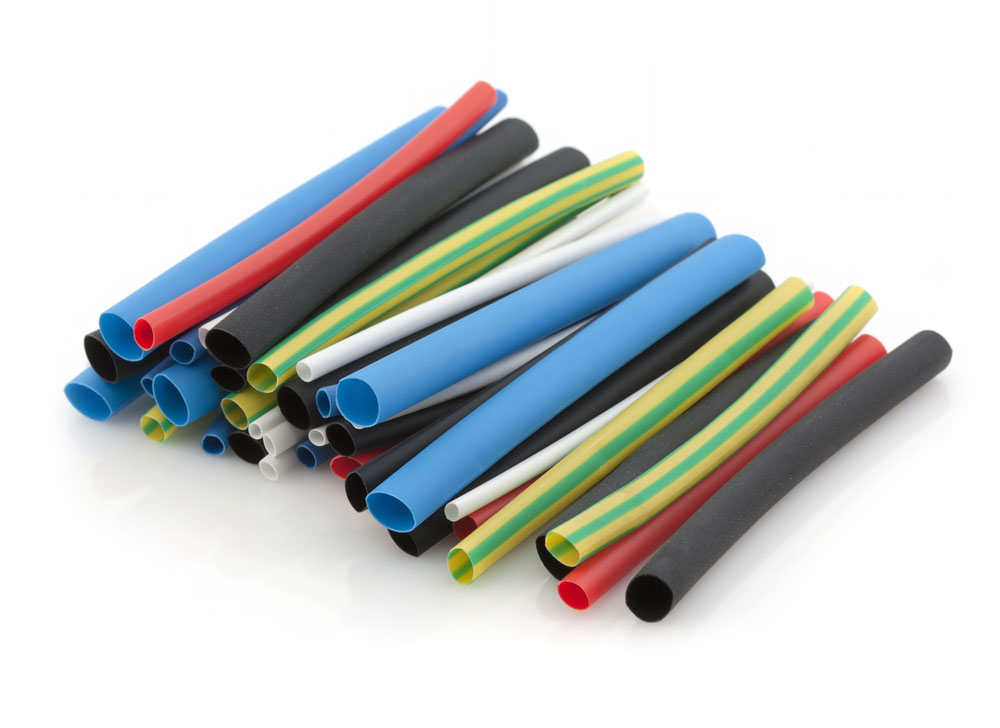 Image: heat shrink tubing for protection of cables
Cable wrap
A cable wrap is a cost-effective cable management solution. The flexible wrap shows crush resistance and is easy to install, and you can easily branch out cables from any point of the cable wraps.
Cable wraps come in two varieties; heat stabilized nylon and Polyethylene. In heat-stabilized nylon, a stabilizer slows down the loss of physical properties with increasing temperature. On the other hand, the plastic spiral wrap is durable and highly flexible; even after multiple bending, it will maintain its integrity and strength. 
Apart from the standard cable wraps, there are hook and loop braided cable wraps too. These are one of the most straightforward cable management solutions and are economical.
Image: cable wraps
Cable conduits
You can route and protect cables in the building through cable conduits. These are made of metals and thus minimize electromagnetic interference. Apart from the metal conduits, there are plastic conduits too. Pliable cable conduits are flexible, have high UV resistance, and are suitable for outdoor applications. 
Image: plastic cable conduits
Different constructions of wiring harness cover
Further, the four types of wiring harness cover come in different construction for different applications.
Split loom
They all have a split that runs through their length so that wire insertion becomes easy. 
Available in four types: flame retardant, UV resistant, high-temperature nylon, and standard Polyethylene.
Cost-effective.
High flexibility due to high-rise-rigid material.
Abrasion and crush resistance.
Spiral cut
Suitable when you want to pull wires at any point and any angle.
You can put it on existing or already installed wiring harnesses.
Expandable Sleeving
This sleeve forms an open weave construction that allows fast and easy installation. 
Further, the open weave construction allows moisture and heat to dissipate quickly. 
As the name suggests, the sleeve is expandable; thus, you can insert multiple wire bundles and get the desired flexibility. 
You can also find polyphenylene sleeves that show stability at very high temperatures and high chemical resistance. 
You can use them in machine tools, robotics, and automated equipment.
Available in six different types: standard Polyethylene, flame retardant, heavy wall, super duty, clean cut, and flat filament.
Braided Sleeving
Self-closing braided sleeves are self-closing or split sleeves. 
These are also made of polyester and are lightweight. Polyester makes it highly flexible, more than split looms. 
Due to their split nature, you can install them even after the wiring has been done. 
Further, these sleeves also allow easy access to the wires inside them. 
Suitable for high vibration applications.
Wiring Harness Covers: Woven wire loom
Suitable for high abrasion environments.
More flexible than split looms and more durable than spiral cut looms.
It has a fabric-like feel on touching.
Wiring Harness Covers: Heat shrink loom
It is a loom with heat-shrink tubing technology.
Protects against mechanical damages.
Loom shrinks and holds wires and offers protection.
Highly flexible.
The Wiring Harness Covers: Metal sleeving
Suitable for grounding.
Available in tinned copper and stainless-steel varieties.
Perfect for high-end automotive applications.
Wiring Harness Covers: High-temperature protection (Fiberglass)
As the name suggests, fiberglass looms can resist very high temperatures. It comes coated with a resin material that withstands temperatures up to 1200 degrees Fahrenheit.
Other options include aluminum metallic and silicone jacket sleeving.
Suitable for high temp. Applications like race cars.
Wiring Harness Covers: Asphalt-Coated Fabric Loom
Non-split loom.
Protects against abrasion and harmful chemicals.
Shows flame retardancy also.
Four tips when picking a wiring harness loom
Firstly, decide which type of loom you want, whether you wish to thread the loom over the wire or want to wrap it around them. If you're going to access wires regularly, choose split looms; otherwise, non-split looms.
Secondly, don't go for too big or too small a loom size. First, measure the diameter of your cable bundle and then choose a wire loom slightly more significant than your measurement.
Third, choose the right type of material. Pick a material that protects from environmental factors in your application environment. Different looms offer different levels of protection against varied external factors.
Finally, if you are looking for a loom for high-temperature applications, flame retardant split looms and high-temperature braided wire looms are great options. Flame retardant looms meet UL94V-2 rating and can withstand a temperature range of -40˚C to 135˚C. These are suitable for emergency vehicle industries and the marine industry. High-temperature braided fiberglass sleeves have a rating of 649˚C.
Conclusion
Wire and cable harness covers are essential if you want a long life with your cables and wires. Further, when the cables and wires remain secured, they keep the electrical systems working. So, whether you belong to any industry or work on any application, Cloom has a solution for all your wiring harness coverings. We have an extensive collection of wires & cable wraps and covers that offer high protection to your wiring assemblies and cable harnesses.