Antennas play an important role in radio frequency circuits. However, for the effective working of antennas, you need smart antenna connectors that ensure a long-lasting and reliable connection. Today, we will talk about antenna connectors.
Table of Contents
What are Antenna Connectors?
The antenna connector is an RF connector located at the end of the antenna. 
It works as a channel for radio frequency signal transmission, keeping signal loss, impedance mismatch, and discontinuity to the least possible value. Also, it provides an electrical connection for the current to travel to the antenna cable, radio, and circuit board under shielded conditions. 
In addition, the connector bears the mechanical stress of securing the antenna to the radio frequency assembly. So, these antenna connectors also undergo mating with other coaxial RF connectors on cables, amplifiers, PCBs, etc.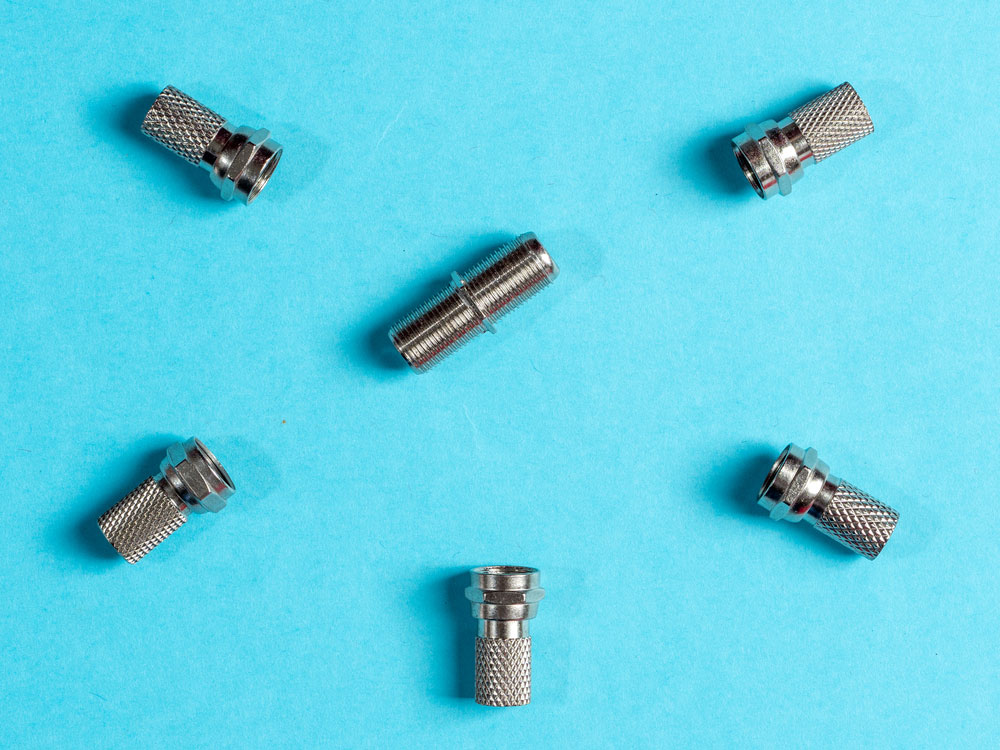 Image: television antenna connectors
Why are Antenna Connectors Important?
Failure to select, apply, or connect a connector will affect the functionality and lead to data loss and connectivity. So, you must consider the structural properties. Depending on how it is mounted, a connector can have a rotating, hinged, or recessed arrangement with the antenna.
Image: power button with antenna and power connectors
Types of Antenna Connectors
Antenna connectors can vary in their physical and electrical features. Further, several types of antenna connectors suit particular antennas and specific applications.
SMA connector
SMA stands for Sub Miniature type A connector. This semi-precision threaded antenna connector can be used to terminate antennas with different operating frequencies. Also, you can pick either of the male or female SMA connectors. For connection, the male part screws on the female part and secures itself with a hex nut.
Physical specifications: 
These threaded RF connectors have a barrel of ¼ inch diameter, having 36 metric threads per inch. There are two complementary components.
First, a male connector with a 5/16 inch hex nut secures its metric thread and connector pin with its mating interface.
Secondly, a female jack with external threads and a mating interface for receiving receptacles.
Brass and stainless steel are on the body and coupling nite of the SMA connector, while brass and copper are on the inner contacts. In addition, there is a PTFE insulation that surrounds the internal contacts. At last, an SMA connector has a rating of 500 mating cycles. 
Electrical specs
Impedance: 50 Ohms 
Voltage peak: A max voltage of 500 volts, depending on the attached antenna and the cable.
VSWR: 1.15+0.1f, depending on the frequency.
Radiofrequency leakage: Between 2-3GHz, there is a radio frequency leakage of -90dB.
Range of frequency: It can support broadband performance from DC to 18GHz.
Key applications
Its common applications are in wireless systems and devices.
It offers excellent performance in high-frequency applications and cellular networking. 
It can easily pair with semi-rigid and flex coaxial antenna cables.
You can also use it in GPS antennas and devices.
With the rising use of wireless networking, these RF connectors are also being used in wi-fi antennas.
It forms a weatherproof connection and can easily support outdoor applications.
RP-SMA connector
It is a reverse polarity connector with similar looks and electrical and mechanical performance to an SMA connector. 
Physical features
Like an SMA connector, it also mates through screw coupling. It is also a threaded connector with 36 threads per inch secured through a hex nut. It also uses the same materials and fabrications as SMA connectors. Also, you can find it in similar orientations like bulkhead and PCB mountable versions.
MALE RP-SMA connectors: These have a hex nut, and rather than having a center pin, it has an inner socket with threads. This internal mating interface is opposite to that of the SMA connector.
Female RP-SMA connectors: Like SMA, this female antenna connector jack is a barrel with external threads, but it has a female center pin instead of a socket.
Electrical specs
It is similar to that of an SMA connector.
Key applications:
As the SMA connectors had widespread use, the US Federal Communications Commission feared that high-gain antennas would connect to consumer devices. The development of the RP-SMA connector ensured that though RP-SMA looks similar to SMA, an electrical connection with SMA is not possible. As a result, consumer products and professional-grade products were kept separately.
They are mainly found in wi-fi routers in consumer wireless networking devices.
Image: high-frequency SMA connectors
N-Type connector
In 1940, an electrical engineer, Paul Niel, developed this connector. It can house a wide range of coaxial cable diameters.
Physical features
It comprises a central conductor. An air gap surrounds the central conductor and separates it from the outer conductors. 
The connectors have silver-plated inner contacts or are made from brass with gold. In some versions, you will also see a rubber gasket for weatherproofing. It also has a male and a female version. 
The N-Type Male connector has internal threads with a center pin.
The N-Type female connector has external threads and a receptacle for the male pin. 
With the help of the barrel of an N-type male, you can hand tighten it. However, there is a hex nut in some connectors for this purpose. Mating occurs through 5/8-24 threaded coupling. You have to cautiously use a 75 ohm and 50Ω connector as mismatching can damage the connectors.
Electrical specs
Impedance: 50 Ohms or 75 ohms (slight structural difference between these two versions)
Voltage peak: A max voltage of 1500 volts. 
VSWR: 1.3. 
Radiofrequency leakage: -90dB.
Range of frequency: DC to up to 11GHz.
Key applications
You can use them in antennas that range from satellite systems or base stations to different industrial environments.
As it can withstand vibrations and repeated connection and disconnection, it provides an extra level of security in high rugged applications. 
Some of its versions also support 18GHz, and thus, nowadays, it is being used in wireless networking applications.
Image: Radio N-type coaxial connectors
MMCX connectors
MMCX stands for Micro-Miniature Coaxial Connector, and these are tiny Snap-On connectors. These robust connectors can handle 500 mating cycles and are 35% smaller than the MCX connector. And the force needed to embed these connectors in PCBs is calibrated to prevent soldering and other delicate connections.
Physical features
These micro RF connectors are made from brass and have gold or copper plating in inner contacts. Its male RF connector plug has a center pin, while the female jack connector has a socket. Both pin and socket have PTFE dielectric insulation around them.
Electrical specs
Impedance: 50 ohms.
Voltage rating: 170 volts.
Radiofrequency leakage: -60 decibels per minute.
Frequency range: from DC to 6GHz.
VSWR: 1.25.
Key applications
Its small size and easy mating feature make it perfect for wireless applications. You can use them for wi-fi, GPS, PCS, and other wireless forms.
If there are restrictions regarding space and weight, these connectors are quite helpful.
Due to their robust performance, you can use them in internal antennas.
TNC connector
TNC stands for Threaded Neill Concelman connector, and it is mainly a thread variant of the BNC connector. It has a threaded coupling nut for safe and secure mating and thus supports frequency range in the microwave market.
Physical features
These connectors have a diameter of just above half an inch. It also has two components:
Male TNC connectors are brass and have a brass center pin and PTFE insulation. This 7/16 connector has 28 internalized threads.
Female TNC connectors are similar to males,  but the female jack has a beryl copper receptacle and externalized threads. 
With tight connections, these connectors can withstand shock and vibrations. They also have a rating of 500 mating cycles. In some variants, the silicon rubber gasket offers protection from water intrusion.
Electrical specs
Impedance: 50 or 75 ohms.
Voltage rating: 500 volts.
Radiofrequency leakage:  -50 to -60 decibels per minute.
Frequency range: from DC to 11GHz.
VSWR: 1.35.
Key applications
These medium-sized connectors are for different wireless networking solutions. 
You can use them for the termination of different coaxial cable types.
FME connector
FME means For Mobile Equipment, and as the name suggests, you can use this miniature connector for mobile applications. You can attach it to small diameter flexible coax requiring complex routing.
Physical features
It comprises a brass body with a plating of gold or nickel. The center contact is that of gold-plated brass with Teflon dielectric. It has a rating of 300 mating cycles in operating temperatures and a diameter of 0.354 inches.
Electrical specs
 Impedance: 50 ohms.
Voltage rating: 500 volts.
Frequency range: from DC to 3 GHz.
VSWR: 1.3.
Key applications
These connectors are exclusively made for cellular and mobile applications. 
You can use them in GPS and WLAN networking also. Its screw connection is tight enough to withstand the force and vibration of a moving vehicle.
RP-TNC connectors
It is similar to the TNC connector, but the only difference is that the connector polarity in inner central conductors is reversed. 
Physical features
In RP-TNC, all physical features are the same. However, the RP-TNC male pin has a receptacle instead of a center pin that resembles a standard polarity female connector. In contrast, the RP-TNC female has a center pin instead of a socket.
Electrical Specs
It is similar to that of a TNC connector.
Key applications
These connectors are meant for consumer wireless products, and it prevents the use the TNC-grade antennas and devices in consumer products. 
They are suitable for the cellular gateway, base stations, testing, and radar.
U.FL Connector
This miniature connector is suitable for use in internal antennas and PCI cards. It has a small mounting area with a low profile that connects the smallest spaces, and it sets its connection with a click sensation.
Physical features
It comprises a phosphor bronze shell and a brass or bronze central conductor. A liquid crystal polymer insulation separates outer and inner conductors. The male connector or a PCB-mounted jack has a center pun, while the female version has a central receptacle. Their mating cycles are only 30.
Electrical specs
Impedance: 50 ohms.
Voltage rating: 200 volts.
Frequency range: from DC to 6 GHz.
VSWR: 1.35.
Key applications
These are suitable for PCBs for wireless connectivity.
You can use a female U.fl connector as an antenna cable adaptor to connect antennas to larger RF connectors like SMA.
Coaxial Cable Installation Tips
Coax Cables are a critical component of radio signal transmission. For example, most cellular antennas have RG-58 and RG-174 RF cables wired to the antenna, and these are thin and flexible cables.  When installing them, keep the following in mind.
First, cables and antennas have 50ohms and 75 ohms ratings. It is always better to use 50 ohms versions for best results.
Second, try to keep your coax cables short.
Third, use one single long-length cable instead of adding connection points. After all, every connection point adds 0.5 decibels of attenuation. 
Fourth, aim for a signal loss of fewer than 4 decibels for the whole distance your want to run the antenna cable.
Fifth, low-loss coaxial cables are stiff, more rigid, and more expensive.
At last, do not use the coaxial splitter with wi-fi antennas and cellular antennas. Splitting a coax cable will cut the power in half.
Conclusion
Antenna connectors are critical for performance in wireless networking equipment. So, choose the right one for your application. Gloom can help you get a wide variety of high-quality coaxial cables, ensuring smooth signal transmission.