Apple's smart cable connector for its iPhones and various iPad models is essential for wired audio, fast charging, and data transfer.
Users are often provided with the best Apple lightning cable when acquiring the latest iPads and iPhones. Often, they tend to function properly.
However, they can be a tad short and, in some cases, get damaged fairly easily.
Fortunately, you don't need to rely totally on one Apple cable.
As things stand, a huge variety of third-party options provide users with better reach, more durability, and more variety that come with exciting designs.
Table of Contents
What Is A Lightning Cable?
Introduced in 2012 during the launch of the iPhone 5, the Lightning cable is another one of Apple's products.
It has an 8-pin connector format favored today over the company's initial 30-pin dock connector designed for iPhones, iPods, and other Apple handheld devices.
Like the USB-C charger/data port on tablets and android phones, the Lightning connection transmits audio, charge, and data from your device.
After its introduction, it has been applied in several Apple accessories and devices, such as the iPhone 13 Pro, AirPods Max, Magic Trackpad 2, and Magsafe Duo-Charger.
Factors To Consider When Choosing The Best Lightning Cables
If you've once bought a cable at the pharmacy because you forgot yours at home, you might have noticed a difference in quality. Therefore, to avoid such instances, you need to learn some key factors to look for when buying cables.
Best Apple Lightning Cable: Mfi Certified
Apple's MFi (Made for iPad or iPhone) program certifies various third-party producers who make Apple device accessories.
This certification helps to ensure that they adhere to certain standards and technical specifications to ensure product quality.
Those developers and producers who chose to enroll in the MFi programs are granted access to hardware components, technical specifications, and the right to state that their products are 'Apple Approved.'
Best Apple Lightning Cable: Length and Materials
Lightning cables are available in different materials and lengths. You must purchase them based on where you intend to charge your iPhone.
The normal three-foot cable can be easily transported and tangles only when dropped inside a bag or purse. They are great when you need to plug in your phone while in the car or transfer data at the workstation.
However, the cable might be too short to charge and use the phone simultaneously while on the bed or couch.
However, even if you opt for a longer cable, it won't be easy to fit inside your pouch if you do not wrap it properly. Nonetheless, as is to be expected, a longer cable will allow you to use your phone while charging it.
The outer shielding of your lightning cables is Thermoplastic Elastomer or TPE. It is well known for its ability to fray after short periods. Most high-end cables are coated with braided Kevlar or nylon, which tend to resist the abiding effects of pulling and bending.
Best Apple Lightning Cable: Connection
To charge your new iPhone, you'll require a lightning cable. However, lightning cables can be plugged into USB-C and USB-A ports. Finding a cable compatible with your phone is important to avoid any problems while charging.
Best Lightning Cables In 2022
Two lightning cables are available today: USB type-A and USB type-C. The latter are future-protected and provide faster-charging speeds, while the former tend to be slower and are therefore being gradually phased out.
The one you get will depend on what is located on the other end of the device you are trying to connect.
As a result, you should check the ports on the computer or charger to establish whether or not you require a type A or C USB.
Best Apple Lightning Cable: Best USB Type-C to Lightning Cables
Below are some of the best USB type-C to lightning cables.
Apple USB-C to Lightning Cable (1 meter)
The cable has a fast charging feature, ensuring your phone doesn't take ages to charge.  Also, you can connect the cable to your iPad. However, the power adapter is sold separately.
Anker USB C to Lightning Cable
The cable can charge or transfer your iPhone or iPad data. The cable also facilitates connectivity with your Mac or iPad Pro.
It can charge an iPhone 14 or later from 0% to 50% in 30 minutes when paired with an 18W USB-PD charger.
The cable is MFi certified, meaning you can charge your iPhone with peace of mind. It also has perfect compatibility features and can withstand excessive bending.
UGREEN MFi Certified Lightning Cable
You can use this cable to charge your iPhone 14 from 0% – 60% in a mere 30 minutes. Its charging speed is 3X faster than a USB-A Lightning cable. It also supports data transfers of about 480Mbps.
The cable is MFi certified means it can charge iOS devices safely at fast speeds. It's simple. All you need to do is plug in your phone and give it a couple of minutes.
Best Apple Lightning Cable: Best USB Type-A to Lightning Cables
Below are some of the best USB type-A to lightning cables.
Anker Powerline III Lightning Cable
This cable is built to last. It has a 25,000-bending lifespan, so it will most likely outlast your iPhone. Despite its slim features, it has an optimized internal structure that offers the latest generation of Power Line.
Native Union BELT Cable XL
It is an ultra-strong, highly durable cable with a reinforced structure. It also offers high-speed charging of up to 2.4 Amps. However, you can only use it with Lightning devices.
UGREEN MFi Certification Lightning Cable
It is an MFi-certified cable with an original connector that offers double protection for your iPad or iPhone. You also don't have to worry about warning messages; plug it in and let it go to work.
Apple Lightning to USB Cable
It is a USB 2.0 cable that can connect to your iPhone, iPad, iPhone, or iPod. With this Lightning Connector, you can link it to your computer's USB port for syncing and charging.
Spigen DuraSync 3-in-1 Universal Charger
This cable offers universal charging and sync features for all Lightning output devices. It is also compatible with a quick charge of 3.0, getting your phone from 0% – 50% in 30 minutes.
Nekteck Lightning to USB Cable
The cable is Apple MFi Certified. As a result, it is specially made to fit with your iPhone, iPad, and iPod. Its quality, performance, and reliability have made it very popular among Apple users.  
Belkin DuraTek plus Lightning to USB-A Cable with Strap
This cable is 10X stronger than your regular iPhone Lightning cables. It is also one of the pioneers in the sector, being in the market for nearly 35 years.
Anker USB C to Lightning Cable, Anker 321 USB-C
You can connect to your iPad, iPhone, or iPod for seamless sync and charge.
SCOSCHE HDI34
Being MFi certified, users can rest assured that this cable will charge and sync all their Lightning devices without damaging them.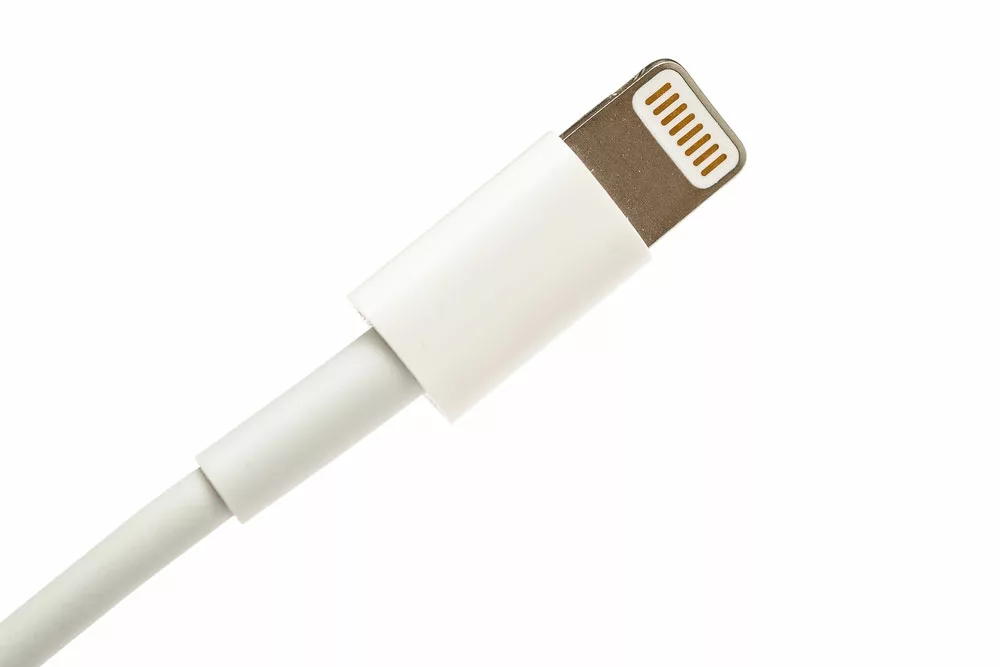 Caption: Lightning Cable Gold Tip
7 Differences between Fake and Authentic Cables
Below are the seven key features to help you identify authentic Apple lightning cables.
1. Keep an Eye Out For Interlocks
Cables that have been MFi approved should have trapezoidal and evenly spaced interlocks from the edge.
2. Make Sure the Contacts Are Gold
If the cable has gold contacts, you can rest easy because it is original.
3. Check out The Finishing of the USB Head
MFI-certified cables have a much smoother finish on their USB head. Also, if the head is tilted, it is probably not an original piece.
4. The surface of the insulator
The back of the inside of an MFi-certified USB head should be flat.
5. The Head of the Lightning Cable
A real cable should be a single piece with smooth and rounded contacts. Fake versions are usually made using more than one piece, have a rugged inconsistent finish, and come with squared contact with an uneven surface.
6. Check out The Boot
MFi-certified cables should have a consistent boot size of approximately 7.7mm by 12mm.
7. Check the Color of the Faceplate Insert
An authentic cable should have a gray or metallic color. According to Apple, fake versions of these products are typically white or black.
Conclusion
Despite having several similarities, not every Lightning cable is made the same. The truth is that some use substandard/cheaper parts that can wear out over time more quickly.
Some would stop working after a short period.
As a result, you should make all your purchases from reputable and well-established brands that emphasize the use of quality materials, such as nylon, which is ideal for protecting cables.
Feel free to contact Cloom Tech for the best Apple lightning cables.