While most people use sharp cutting objects to cut the insulation on wires, a wire skinning knife provides a safer alternative. The wire skinning knife splits the insulation without hurting the wires and your fingers.
You will find different makes and models that can handle various electrician cutting tasks as you shop for knives. 
How do you select the best wire skinning knife to provide easy time while wiring?
In this article, we will assist you in finding a reliable tool and how to buy it. We will also look at the features to look for in a wire skinning knife for better decision-making.
Table of Contents
Factors to Consider When Choosing the Best Wire Skinning Knife
Here are the essential factors to consider when selecting a wire skinning knife.
Use and preference
A wire cutter knife is handy for different tasks, including splitting wire insulation, cutting cables, or unboxing wire packages. Most electricians may carry more than one knife to work on various tasks. 
If your work entails more splitting than any other task, picking up a specific model for splitting will be appropriate.
On the other hand, a splitting knife with multiples blade provides numerous cutting options.
Knife blade type
The type of blade matters when finding the best wire stripper. Here are popular knife blades depending on how you will use the knife.
Hawkbill knife
Because of its resemblance with a hawk's beak, the blade has a curve, with the inner side being sharp.
Its curvy feature lets you place a finger on it while safely piercing through wires.
Sheepsfoot blade
The name "sheepsfoot" comes from the point's resemblance to a sheep's foot.
It provides a clean cut, particularly on a flat-cut surface, thanks to its distinctive flat, straight-line cutting edge and rounded point.
Pocket knife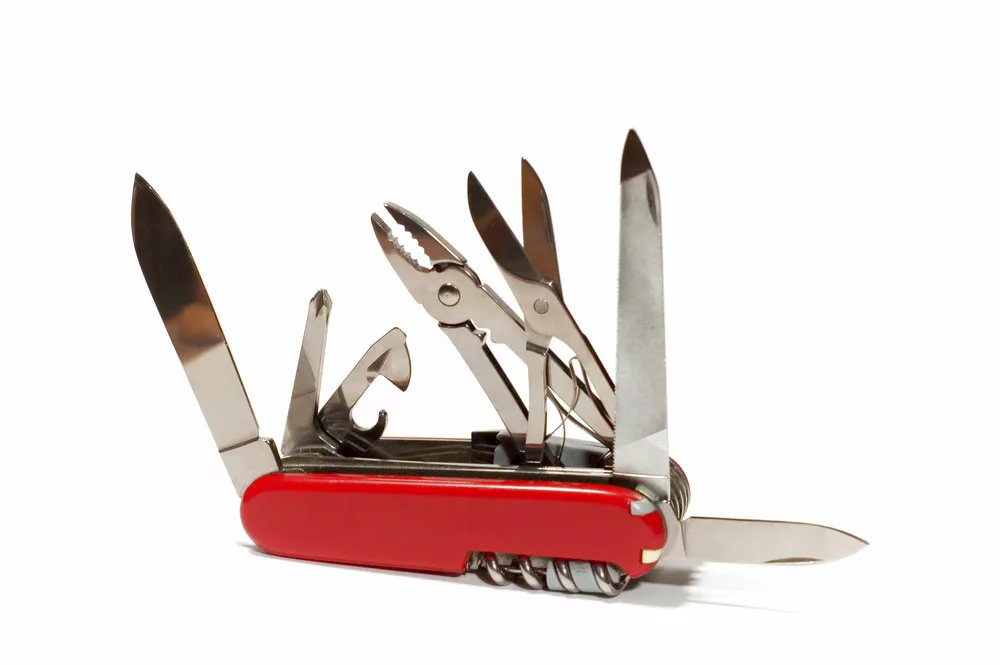 7-in-1 pocket knife
A pocket knife has more than one blade for multiple tasks that folds into the handle. Its foldability makes it safe to carry around in a pocket.
Coping blade
The blade resembles a small sheepsfoot blade due to its narrow blade and sharp, angular point. Its shape facilitates cutting through curved or constrained cable and wire arrangements.
Spearpoint blade
A spear point blade has a symmetrical shape and pointy tip that aligns with the blade's center, giving it. Its powerful point suits wire piercing and splitting.
Utility knife
A utility knife is helpful for a variety of general manual tasks.
The knives have fixed-blade or retractable blade models with solid cutting edges appropriate for heavy-duty wire-cutting tasks.
Blade material
When buying a wire-splitting knife, the blade material is crucial. The sturdiness or durability of a knife's blade and the cutting point depends on the material. Here are some of the blade materials that make the knives.
Stainless steel
Stainless steel is an alloy of steel and other metals that makes knives durable and resist corrosion. 
High carbon steel
As the name suggests, it's steel with high carbon content.
Consequently, blades made of carbon steel are incredibly durable and capable of producing razor-sharp edges, but they are also more prone to corrosion and rust.
Titanium
Titanium is light, strong, and can persevere exposure to high temperatures. Its high tensile strength corrosion resistant features make it the most durable blade material.
However, titanium material is rare, which makes the products expensive.
Ceramic
Ceramic knives use zirconium dioxide in their blade construction.
The blades stay sharp for a long time and resist any chemical reactions. Zirconium also is a low conductor of electricity.
Handle material
The handle's material helps with the wire skinning knife's safety, grip, moisture absorption, and durability. Typical materials that make knife handles include the following:
Carbon fiber
Carbon fiber handles are light and durable. They also resist breaking and bending, making the handles last long, even with rough use.
Fiberglass reinforced nylon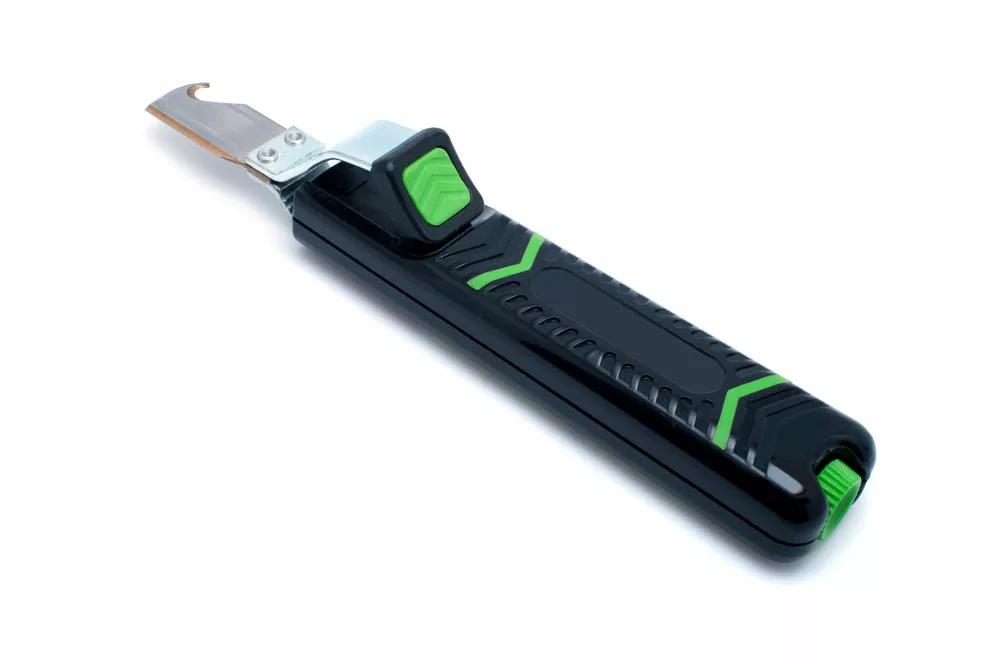 Knife for stripping off the insulation with a plastic handle
Also called FRN, fiberglass-reinforced nylon is a long-lasting material with excellent properties, including wear resistance and shock absorption. It also offers good electrical insulation.
Zytel
Zytel material is a trademark from DuPont. The material is sturdy with high resistance to chemicals. 
G10
G10 material results from laminating fiberglass layers with resin epoxy to give it tensile strength and water-resistant properties.
Micarta
Micarta is a thermoplastic material that is highly durable and can last a lifetime without breaking. It has high heat and moisture resistance properties.
Stainless steel
The Stainless steel pocket knife on a pair of jeans
Stainless steel handles are popular because of their ready availability, corrosion resistance, and non-magnetic benefits. With wet palms, the handles can get slippery.
Aluminum
Aluminum has strong and protective properties suitable for knife handles. It has high tensile strength and low-density characteristics, making the knife feel solid and light.
However, knives with these handles have less grip.
Titanium
Titanium is light and robust but can be more expensive than other handles. Its disadvantage is that it lacks scratch resistance.
Derlin
The material is a thermoplastic from DuPont that suits manufacturing handles. Its light, hardness, wear resistance, and friction-reducing properties make it a suitable handle material.
Nylon
Nylon is a solid synthetic plastic material with resistance to wear and tear, high heat, and hard impacts.
Functionality
A wire cutting knife, among other electrician's tools
The unique features of the wire splitters make it easy to identify what suits your needs best. For instance, a pocket knife will give you additional advantages because of its extra blades. The bonus blades are handy for cutting tape in boxes, open cans, or wires on demand. The blades are also foldable, which suits carrying in a pocket.
Safety features
When buying a wire-splitting knife, do not compromise on its safety features. A hawkbill knife design helps you avoid injuries when splitting wires with your finger.
You do not want to use a blade that keeps leaving scars on your hands. 
Retractable and foldable knives are safe to help hide away sharp blades when not in use. If the knife is rigid, make sure it has a protector covering it.
Price range
Regarding the price of your wire-splitting knife, keep in mind your budget. If you intend to use the knife for an extended period, paying more for extra features is an advantage.
Cheap knives serve the purpose, but their short life span can be a deal breaker. 
Best Wire Skinning Knife
These are the best wire skinning knives to help with your day-to-day electrical work.
Buckingham 7091 Orgoblade – Best Hawkbill Knife
The Buckingham 7091 ERGOBLADE Skinning Knife is a tool that has a hawkbill blade design that suits skinning wires efficiently.
Its 5.75-inch ergonomic round handle provides a comfortable grip and reduces hand fatigue during prolonged use. It is a lightweight tool weighing 5 ounces for easy handling.
The stainless steel blade provides a sharp curved edge allowing smooth and efficient skinning while resisting rust and corrosion.
The knife is also easy to clean and maintain, ensuring it remains in good condition for a long time. However, its con is that it is limited to skinning functions. 
Customer Review
"Great value and quality! Bought this for work and hasn't disappointed."
Southwire CSPKD2 Edgeforce pocket knife – Best Sheepsfoot Knife
The Southwire Edgeforce CSPKD2 is an excellent cutting tool for electrical and cable installation work.
It features an exceptionally aesthetic stonewash-finished stainless steel blade with corrosion-resistance benefits.
The molded plastic handle covering the blade provides comfort and a secure grip.
You are sure of a light workload with its measurements of 2.58 inches of blade length and 0.1 pounds weight.
The retractable blades have dual thumb studs for simple left or right-hand openings.
The sheepsfoot pocket knife's liner lock feature keeps the blade secure.
The downside of this product is its limitation to skinning functions, unlike most pocket knives.
Customer Review
"It's very functional. I love the edge-holding ability on the D2 steel."
Victorinox Classic SD 7 Function Pocket Knife – Best Pocket Knife
The Victorinox Swiss Classic Pocket Knife is a multi-tool marketed as a handy and versatile tool for everyday use.
The 7 functions make it a handy tool, including a blade, scissors, nail file, screwdriver, toothpick, and tweezers.
Its foldable compact design makes it easy to carry around. It measures about 2.3 inches in knife length and weighs 0.7 ounces for effortless functionality.
Its materials of a stainless steel blade and acrylonitrile butadiene styrene coated handles provide durability benefits. The manufacturer is also a reputable brand and assures customers of a lifetime product guarantee.
Although its functions are limited compared to other multi-tools, it suits most day-to-day wire-cutting tasks.
Customer Review
"Nice little pocket knife. Good addition for my wife's car keys."
Klein Tools 44200 – Best Coping Blade Knife
The Klein Tool 44-200 has a durable construction that suits frequent electrical use. It features a 1095 heated steel alloy blade with a black plastic handle material net weight of 2.4 ounces.
The blade that is 1.75 inches long suits any heavy or light-duty wire cutting. 
The handle has a sufficient grip to hold the knife firmly while splitting cables and wires. Its hang-hole feature comes in handy if you need to store it.
However, the product's con is that its blade design is not versatile enough to suit other daily cutting tasks.
Customer Review
"A great product from Klein for use every day."
Kershaw 4007 – Best Spearpoint blade knife
The Kershaw 4007 boot knife has a sleek, compact design that makes it easy to carry around and conceal.
It features a 3-inch blade made from durable 8Cr13MoV stainless steel that is rust and corrosion-resistant.
The handle has a rubberized co-molded material to provide a comfortable grip, even in wet conditions.
It is generally sturdy, weighing 0.24 kilograms and measuring 8.7 inches to suit cutting long and thick wires.
The blade allows for easy deployment using the thumb stud or flipper with one hand. Its secure frame lock helps to prevent accidental closure.
The non-reflective finish gives the knife a stealthy appearance.
Its limited lifetime warranty may be a dealbreaker for electricians looking forward to using it for a long time.
Overall, this product applies to various cutting needs.
Customer Review
"Good quality for the price. Easy to sharpen the blunt edge."
Best Utility Knife – Milwaukee FASTBACK Utility Knife 6 in 1
The Milwaukee 48-22-1505 FASTBACK UTIILY 6IN1 is a multi-tool with a compact folding design.
It has six functions: knife, wire stripper, saw, screwdriver, ruler, and bottle opener.
The product's cumulative weight is approximately 5.4 ounces and measures 9.7 inches upon full deployment.
It features a sturdy construction with corrosion-resistant carbon steel blades and a plastic handle. 
The quick-release press and flip mechanism give the users an easy, one-handed opening.
However, the utility knife's tools may not suit all users with the 6 functions it has.
All in all, it is a dependable product for everyday electrician tasks.
Customer Review
"Another great product from Milwaukee. The quick release feature is excellent."
Conclusion
This article comprehensively discusses the best wire skinning knives and their merits and demerits.
With the tips above, you should be able to choose a reliable tool for your project.