Can I Use an 8K HDMI Cable For a 4k TV? Recently, HDMI 2.1 gaming consoles like the PS5 and Xbox Series X have been released, along with an increasing number of HDMI 2.1 AVRs, TVs, and monitors. 
As a result, most people are inquiring about the compatibility of 8K HDMI cables with 4K televisions and if doing so is wise.
 This article explains everything you need to know about whether 8K HDMI cables work for a 4K TV. 
Table of Contents
Beyond HD: Exploring 4K and 8K Resolutions
An HDMI cable's main job is to send digital data from any source, like a DVD player or video game console, to any output device, like a TV or PC display. 
However, it would be best if you had different types of HDMI cables to support different resolutions.
4K Resolution
In 2012, 4K was first available, known as "Ultra High Definition," or "UHD." It improved over 1080p, which had been the norm for a while. 
1920×1080 pixels made up the "Full HD" in 1080p. The new 4K resolution has approximately 4,000 horizontal pixels, four times as much as standard high-definition TVs.
Supported HDMI Technology
High-Speed HDMI cables now support Ultra HD (4K resolution). The HDMI 2.0 specification introduces this resolution and other improvements.
 Hollywood film companies determined they required improved pirate security, considering new UHD televisions and content arrival. 
HDCP, or High-Bandwidth Digital Content Protection, was this security measure. 
Version 2.2 of HDCP, rather than HDCP itself, can interfere with UHD content. Each device, including Blu-ray players, UHD Televisions, and audio/video receivers, must comply with HDCP 2.2 to broadcast 4K video.
 It's not always true that a component is HDCP 2.2 compliant just because it supports 4K video and HDMI 2.0. As it only affects 4K material, there won't be any issues if you're playing a Blu-ray movie from your Blu-ray player that is HDCP 2.0 in 1080P on your 4K TV that is HDCP 2.2.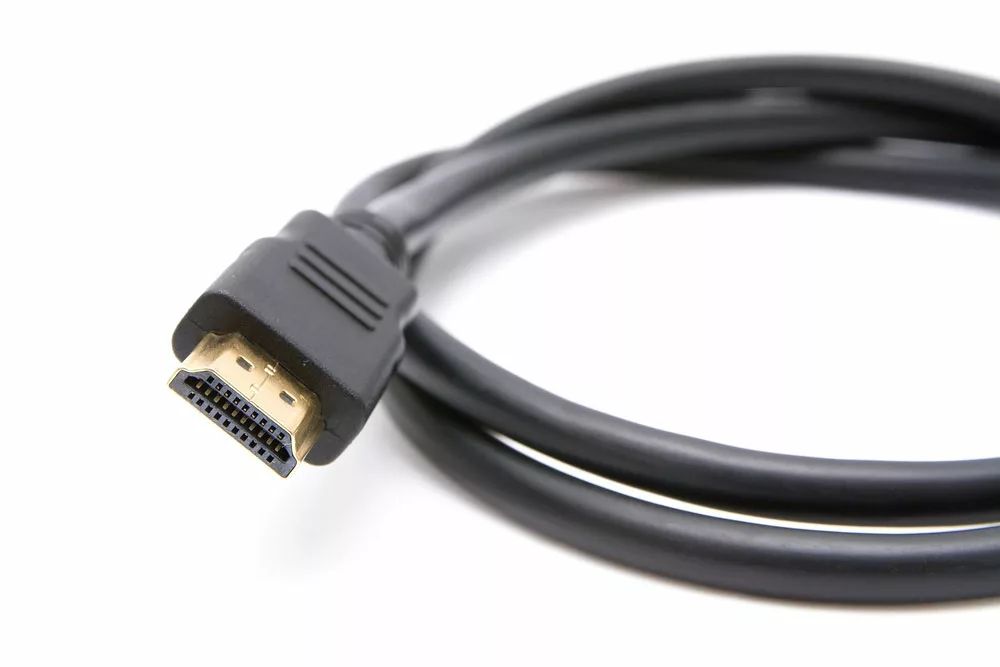 High-speed HDMI cable
8K Resolution
Full Ultra HD, commonly referred to as Ultra High Definition, has a resolution of 8K and has measurements of 7680×4320. 
The 8,000 horizontal pixels that make up its new 8K resolution give it its moniker. While 4K has four times the resolution of 1080p, 8K has sixteen times the detail of 1080p.
Supported HDMI Technology
Compared to 4K, 8K has a better resolution and frame rate. HDMI 2.1 lowers the throttle since a cable's bandwidth controls how much data it can transmit.
8K cables transmit data at a rate of up to 48gbps, which is more than twice as fast as 4K cables, which only transmit data at a rate of up to 18.2Gbps. 
Consider the 4K cable as having two lanes and the 8K cable as having six lanes. Besides carrying more traffic, a six-lane highway also allows for a far quicker flow of traffic than a two-lane highway when using the same amount of traffic.
4K HDMI 2.0 cables broadcast 4K at 60 frames per second (fps), whereas 8K HDMI 2.1 cables transmit 8K at 60 fps or 4K at 120 fps since 4K requires fewer data to send. 
If you have 4K material, you'll receive double the frames per second using an 8K connection. Real-time Gameplay, minimal latency, and lag-free gaming are the topics at hand. As a result, 8K is the obvious choice for HDMI 2.1 systems.
HDMI input
Additional Benefits of 8k HDMI 2.1
There are various advantages of HDMI 2.1 besides the higher resolution.
Enhanced Audio Return Channel (eARC)
The HDMI 2.1 supports modern audio formats like eARC (enhanced Audio Return Channel). These codecs let the TV send high-quality audio to a soundbar or home theater system.
It also supports object-based audio formats, such as Dolby Atmos, for richer, more realistic sound. Talk about incredible home theater surround sound with more bandwidth than standard ARC.
The eARC feature of HDMI 2.1 allows for direct connection to ARC/eARC-compatible soundbars and audio systems. It also allows the release of enhanced audio performance with up to 100 audio channels and accommodating spatial capacity.
Dynamic HDR
Compared to SDR (Standard Dynamic Range), HDR (High Dynamic Range) offers superior brightness, contrast, details, and colors.
Nevertheless, HDR is static, using the same HDR settings for each frame. By enabling smoother transitions between frames and making changes automatically,
Dynamic HDR in HDMI 2.1 improves the visual experience and ensures that every frame appears at its best.
Variable Refresh Rate (VRR)
This feature enables the display to sync its refresh rate to the frame rate of the presented information, producing smoother and more reliable graphics. It can lessen stuttering and tearing in games and other fast-moving media.
For gamers, you create the most immersive experience through smooth, detailed gaming with little to no lag, stutter, or frame tearing. HDMI 2.1 delivers on this promise with a variable refresh rate (VRR) of up to 120 Hz.
VRR keeps games looking fluid by adjusting the refresh rate on the fly to best fit how much is occurring on the screen. Real-time images that are incredibly fluid are ideal for multiplayer competition since they allow for games to occur instantly.
Higher Refresh Rates
HDMI 2.1 can enable higher refresh rates, allowing information display at greater frame rates. That makes motion more fluid and smooth, especially in frantic scenarios, which makes it perfect for sports and video games.
Auto Low Latency Mode (ALLM)
This function recognizes when a game console or other suitable device connects and automatically adjusts the display to the lowest latency mode. That lessens input lag, making the game experience more immersive and responsive.
HDMI cable
Do 8k HDMI Cables Work On 4k TVs?
The answer is yes. 8K HDMI cables will work on 4K TVs if your TV's manufacturer permits it, as mentioned in the user handbook. It also works if the manufacturer marks it as an 8K sample.
However, most technical experts do not advise using 8k cables in 4k TV if the TV makers have not specifically stated it in the TV user manual. That is because it can cause latency problems.
When you connect an 8K HDMI cable to a standard 4K TV, the signal will be upscaled to 4K resolution. As a result, the display quality will be hazy or fuzzy, and even you notice that the screen's darkness has increased.
Most 4k and 4k UHD Televisions produced and sold recently support HDMI 2.0. Hence, unless you want to upgrade to an 8K TV, you do not need an 8K HDMI cable.
However, certain 4k TV models released in 2020 and 2021 offer greater refresh rates. On such Screens, the 8k HDMI cables are excellent, especially if you're using the latest-generation gaming consoles.
Inserting HDMI cable
10 Best-Rated HDMI Cable for 8k TV
Here are some of the best-rated HDMI cables for 8K TVs you will find on the market.
Snowkids 8K HDMI Cable 2.1
This high-speed HDMI cable supports the most recent HDMI 2.1 specification. With compatibility for resolutions up to 8K at 60Hz and 4K at 120Hz, this Cable gives ultra-high-definition video and audio quality.
JSAUX HDMI Cables 2.1 2 Pack
If you require more than one HDMI cable for your home entertainment system, the JSAUX HDMI Cables 2.1 2 Set is useful. You may connect many devices, such as a TV,
Blu-ray player, gaming console, or streaming device, using the two cables included in the bundle saves you money on extra cables.
TISOFU (Ultra Certified) 8K HDMI Cable 6FT
The TISOFU [Ultra Certified] 8K HDMI Cable provides your home entertainment system with the greatest possible audio and visual quality.
The TISOFU cable, like other HDMI 2.1 cables, handles various HDR formats, including HDR10, HDR10+, and Dolby Vision.
KabelDirekt 8K HDMI Cable
This HDMI cable from KabelDirekt supports 8K resolution and comes up to 25 feet long. It outperforms the High-Speed specification thanks to its high build quality.
As a result, it transports UHD-2 resolutions like 8K@60Hz and 4K@120Hz (up to 9.8ft), HDR, 7.1 surround sound, ARC, and even Ethernet data.
Maximum 8K HDMI Cable
You can find this Cable in lengths of up to 30 feet, supporting 8K resolution. The Cable's small, low-profile connection design and flexibility make it simple to route. It ensures you have the most immersive and pleasurable viewing experience possible, whether you're streaming movies, playing video games, or watching sports.
CableGeeker Long 8K HDMI 2.1 Cable
The CableGeeker long 8K HDMI 2.1 Cable comes in greater lengths, sometimes up to 100 feet (30.5 meters). That makes it perfect for connecting devices farther away or for bigger home entertainment installations.
The Cable's ultra-slim and flexible form makes it simple to route and conceal behind objects like furniture or walls.
Maxonar 8K HDMI 2.1 Cable 10 FT
This premium HDMI cable complies with the most recent HDMI 2.1 specification. It is made with 100% pure copper conductors, triple-shielding, and gold-plated connections to guarantee excellent signal transmission and endurance.
The Cable's 10-foot length is perfect for connecting devices farther apart, such as a TV and a home theater system or gaming console.
Stouchi 8K HDMI 2.1 Cable 6ft
The Stouchi 8K HDMI 2.1 Cable is a high-performance cable with high-quality audio and video. The Cable supports earlier HDMI versions, allowing it to be used with older gadgets.
The most advanced technology, with refresh rates of up to 8K@60Hz, 4K@120Hz, and 2K@144Hz, is used in the HDMI 2.1 Cable.
Ivanki 8K HDMI Cable 2.1
This 8K HDMI cable is an Ultra High-Speed HDMI Cable. It is the only cable standard that satisfies exacting requirements to guarantee support for all HDMI 2.1a capabilities, including uncompressed 8K@60Hz and 4K@120Hz. The Cable can support up to 48gbps (6GB/s) of additional capacity.
Maximum 4K Ultra HD HDMI Cable 4 Foot
The Cable has triple-shielded 32WG copper conductors and gold-plated connections. They guarantee the fastest data transfer and the highest possible picture quality with 4K Ultra HD technology.
The in-wall HDMI cable 4K is backward compatible with earlier HDMI 1.4, 1.3, and 1.2 devices, HD TVs, computers, monitors, audio equipment, game consoles, laptops, and projectors.
HDMI connection
Conclusion
Watching 8k TV without issues requires HDMI 2.1 connections. It delivers a more immersive and seamless entertainment experience with greater resolutions, smoother action, and superior audio.
Also, you can use 8k HDMI connections with a 4k Screen, but there are latency problems to consider first.