Wires and cables play a crucial role in the electrical industry. And manufacturers produce many types. They are broadly available in two groups, either discrete or multi-conductor wires. The following will introduce you to a discrete wire, its advantages, and its applications.
Table of Contents
What is a Discrete Wire?
A discrete wire is a cable or wire with a single conductor that terminates on one connector contact. You can also call it lead wire or hook-up wire.
Discrete wire has unique features that make it suitable for different applications. For example:
Environment resistance: you can use discrete wires in various outdoor applications as these wires are highly resistant to conditions of harsh environments. These include weather, temperature, and corrosive compounds.
Affordable: Discrete wires have a straightforward design. Cable manufacturers can produce them using automatic crimping machines. Thus, the cost of production is relatively low; it is available at lower retail prices.
Compact size: A single strand of cable in the discrete wire has a smaller diameter than stranded cables. However, these small wire diameters do not affect its current carrying capacity.
Low signal interference: As the discrete wires have one center conductor, there is less electronic interference than multi-conductor wires. Multiple strands increase the magnetic field around the cable surface in multi-conductor wires.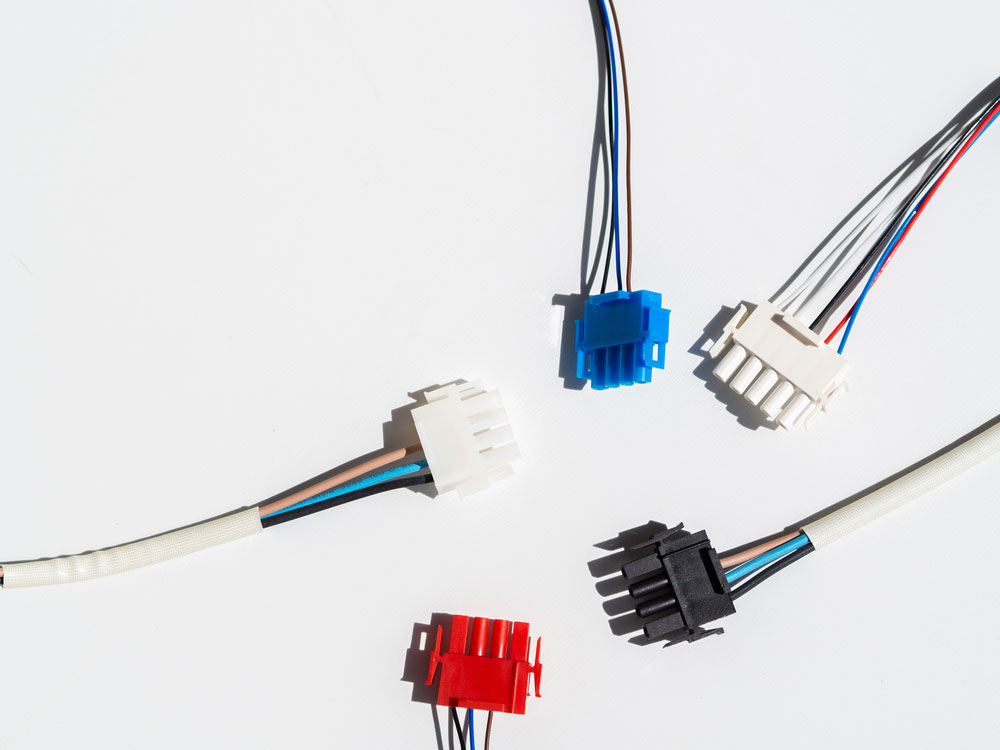 Image: wire connectors and wires
Applications of discrete wires
This solid wire can withstand harsh environments so you can use it in high-temperature applications. Professionals use it to make wire assemblies and use them in various industries such as:
Aerospace
Appliance
Automation
Consumer electronics
Industrial and heavy machinery
Medical
Military and defense
Security
Telecommunications
Transportation
Further, the discrete wire has low flexibility compared to the multiconductor wires. As a result, these wires are less suitable for use in limited spaces and other extreme operating conditions. 
Image: radio connectors
Discrete wire cable assembly
When discrete wires are used to make cable assemblies, it is known as a discrete cable assembly. Several industries, including energy, entertainment, medical, lighting, gaming, etc., use discrete wire assembly as their primary component. You can find a variety of options in discrete wire assemblies, and these include single-ended, straight or branched, dual-ended, twisted, dressed, and many more to suit your different requirements.
Wire harness benefits
A wire harness simplifies the manufacturing process of significantly large components. Professionals use this simplified design to install the equipment. The design of these harnesses mainly depends on the equipment's geometry and electrical requirements.
A wiring harness integrates all the wiring in single or multiple units. Industry professionals use this harness in various electronic appliance applications such as dryers, washing machines, etc. Once a harness is ready, industry professionals drop them inside these appliances. The wiring harness serves numerous benefits such as:
The installer's job reduces considerably as a wiring harness has multiple cables and wires installed in a single unit.
A wire harness gives protection from abrasion and vibration to all the cables and wires.
Lastly, a wire harness puts all the wires in a non-flexible bundle. Due to this space-saving feature, it can support cable-to-board or cable-to-panel applications. As a result, professionals can optimize space usage.
Image: electric panel at the assembly-line factory
Wire Harness Assembly Process
The process of developing a wiring harness completes in the following steps.
First, professionals create a design to develop wire harnesses.
Once the design is ready, experts develop a schematic. The schematic helps create manufacturing paperwork and an assembly board for the wire harness. An assembly board is a huge diagram that shows all the wire harness components and their location. This assembly board space or pinboard will serve as a workbench for developing the harness.
Next, you need wires to develop a harness. You can find these on a master reel with a coil of wires. Electricians cut these wires to the desired length and sometimes label them for identification.
After cutting, electricians strip these wires to expose uninsulated conductors and fit them to terminals or connectors as per need. With this, all the electric connections in devices become final.
Following this, engineers put these wires and components on the assembly board and bind them tightly. They use sleeves, cable ties, straps, cable lacing, tapes, or a combination of any of these to secure them.
Next, they crimp the terminals onto wires. This step becomes essential when more than one wire enters one terminal.
Despite so much automation in every industry, engineers still manufacture wire harnesses by hand only due to the different steps involved. Further, the manual process is cost-effective, mainly when it includes small batch sizes. 
Wire harness testing
A test board helps test the electrical functionality of wire harness assemblies, and one can pre-program this test board with all the electrical characteristics. Once the harness is complete, engineers plug it into the test board, and they can test the harness individually or in multiple numbers.
Discrete Wire Harness Connector Partners
3M
Amphenol
Anderson Power
Deutsch
Hirose
ITT Cannon
JST
Molex
Neutrik
Panduit
Phoenix
Tyco Connectivity
Conclusion:
A wiring harness is a simple way to keep numerous cables and wires organized. Such wire assemblies allow engineers to minimize labor time and human error. Further, their compact size makes it easier for technicians to install them in hard-to-reach spaces. If you are looking for such high-quality products, visit our website for more discrete wire offerings.