As you are in the phase of installing the electric wires in the facility, you have to use a junction box. It is an essential component of any electrical wiring process.
 If you choose a suitable enclosure, you will also get to protect your ceiling fan, fixture, or receptacle. Moreover, the maintenance will be much easier since there is only a single point where you can access all the wiring. 
Here you will see a clear picture of junction boxes.
Table of Contents
How does the Junction Box works?
The junction box is fully merged into the concrete wall, with the cover visible or buried into the plaster. Inside it is the sockets for power input, switches, and connection wires, also known as the pattress.
It is a standard part of any Thermoplastic sheathed cable (TPS) connection in a facility or an electrical conduit. Usually, you will observe them in ceilings, under the flooring, or behind the access panel.
Covers are vital since they protect the internal wires from dirt, dust, and moisture. Also, as the covering is usually made up of plastic, it will prevent sparks, short-circuiting, and arcing that may occur due to a loose connection.
A junction box is a meeting point of all the electrical wires in a specific area. These wires connect and then go to other points, making a junction for conduits. Additionally, the box provides a secure installation to the hot wire, neutral wire, grounding wires, and additional secondary function wiring.
Keep in mind that all the wires in the junction steel boxes should be the same gauge size. Moreover, you have covered the containers properly and installed them in compliance with the applicable building codes.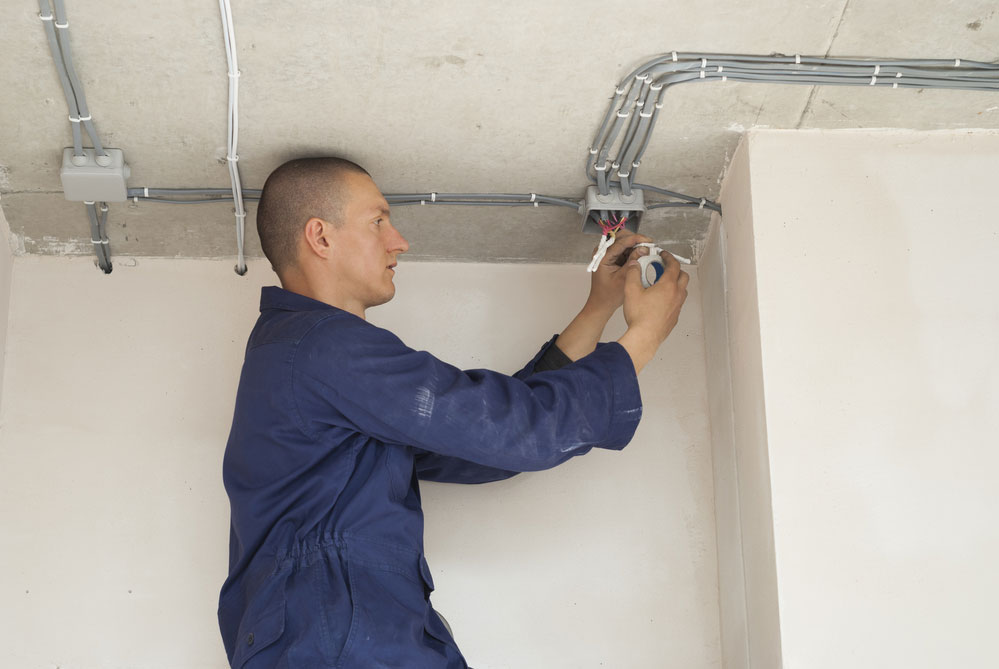 Caption: Electrician securing Junction Boxes
What are the common types of Junction boxes?
Deciding what kind of junction box is appropriate for you is difficult and requires research. 
For example, you are working on a project that requires you to wire an old building. In such a case, you will consider using the existing junction box and creating the circuits accordingly. But, if you are in a newly built facility, you need to choose the box type from scratch.
You can select based on specific material, shape, and size factors here.
Metal and Plastic Electrical Boxes
Most junction boxes are made of plastic, such as PVC or fiberglass, or metal, such as steel. If you go for a weather-proof metal box, it is available in aluminum.
The choice depends on the type of conduit you are using to run the wire. Hence, if you use a metal conduit, you should choose a metal junction box. That way, you do not need a separate grounding mechanism for the system.
However, if the cable is Type NM-B, you are free to choose between metal and plastic as NM-B has a separate ground wire for the single connector inside the covering.
Standard Rectangular Boxes
Standard boxes of 2×3 inches support the single lighting systems or receptacles on a single point. Thus, they are also named single-gang or one-gang boxes.
These boxes are 1 ½ inches to 3 ½ inches in depth and two by 3 inches in dimension. Also, some boxes might have detachable sides so that you can link multiple boxes together for holding more significant devices. Moreover, they might have clamps and closure plugs available inside the box of type NM-B cables.
2-Gang, 3-Gang, and 4-Gang Boxes
Similar to standard rectangular boxes, these also hold switches and electrical outlets. However, these are a little greater in size to keep two, three, or four devices. Moreover, you can find it in new and old work designs, with some having built-in cable clamps.
Round Pan Electrical Boxes
Round pan boxes are only ½ inch to ¾ inch deep. Generally, electricians use this junction box with a ceiling of wall-mounted light fixtures that weigh 50 pounds. Also, some metal round pan boxes can support the ceiling fan wiring.
These shallow boxes usually support only two to three electrical connections. Hence, the number of wires inside the box should not exceed the safe filling limit.
Octagon and Round Electrical Boxes
Octagon and standard round boxes are more profound than the typical pan boxes. They range from 1 ½ to 3 inches in depth and can support wall and ceiling-mounted lights of 50 pounds. As they are as deep, they provide more space for the wiring.
Caption: Round electrical boxes with wires junction
Ceiling Fan-Rated Electrical Box
Ceiling fan boxes can be of a shallow type that is only ½ inch deep or can be a standard 2 1/8 inch deep electrical box. Since the container has to support the fan's rotation, it requires a unique fastening mechanism. Hence, you cannot use the simple round electrical boxes for ceiling fan installation and opt for the fan-rated electrical junction box.
4-Inch Square Box
The 4-inch square box is available in standard depths of 1 ¼ to 2 1/8 inches. But, as they have square corners, it gives them additional interior space. Thus, you can accommodate more conductors and connectors. The square boxes are fixed in the ceiling and walls for supporting lights or housing switches.
Box Extenders
If you cannot find the right fit for your connection, worry not since you can add box extenders. The extension rings or box extenders are the same sizes as the other boxes, but they do not have the backplate. Thus, you can install it in front of a standard electrical box and increase its capacity.  
Capacity Chart for Junction Boxes
Different junction boxes come with their specific filling capacity. As a good rule of thumb, you should never overfill the box so that they are not tangled with each other. 
Below is the chart of come common wiring boxes and the number of wires you can easily fit into them.
| | | | | |
| --- | --- | --- | --- | --- |
| Electrical Box Type | Box Size (Cu.In.) | #14 Wires | #12 Wires | #10 Wires |
| 3-Inch Pancake Metal | 4.5 | 2 | 2 | 0 |
| 3-Inch Cut-In Fiberglass | 14.0 | 7 | 6 | 5 |
| 1-Gang Cut-In Fiberglass | 16.0 | 8 | 7 | 6 |
| 1-Gang Cut-In Fiberglass | 18.0 | 9 | 8 | 7 |
| 1-Gang Nail Plastic | 20.5 | 10 | 9 | 8 |
| 2-Gang Cut-In Fiberglass | 28.0 | 14 | 12 | 11 |
| 2-Glass Face Nail Plastic | 32.0 | 16 | 14 | 12 |
| 3-Gang Cut-In Fiberglass | 42.5 | 21 | 18 | 17 |
| 2-Gang Nail Plastic | 43.5 | 21 | 19 | 17 |
Electrical Applications of Common Wiring Boxes
| | | |
| --- | --- | --- |
| Electrical Box | Part Name | Electrical Applications |
| | 1-Gang Plastic Nail Box (Also named Rough-in Box) | Switches and Outlets |
| | 1-Gang Fiberglass Cut-In Box with Back Bracket. | Outlets and Switches. You can use it with Type NM wiring in Remodel uses |
| | 1-Gang Metal Cut-In Box with Adjusting Mounting Ears. | Outlets and Switches, with clamps for steel or aluminum flex. |
| | 1-Gang Handy Box. | Outlets and Switches in Garage or shop areas |
| | 2-Gang Plastic Nail Box. | Outlets and Switches. |
| | 2-Gang Fiberglass Cut-In Box. | Outlets and Switches. |
| | 2-Gang Plastic Face Nail Box. | Outlets and Switches in areas with less space |
| | 3-Gang Plastic Side Nail Box. | Outlets and Switches. |
| | 3-Gang Face Nail Box. | Outlets and Switches. |
| | 3-Gang Fiberglass Cut-In Box. | Outlets and Switches. |
| | 4-Gang Plastic Nail Box. | Switches and Lighting Controls. |
| | 3-Inch Fiberglass Nail Box. | Lighting Fixtures and Junctions. |
| | 3-Inch Fiberglass Cut-In or Remodel Box. | Lighting Fixtures and Smoke Detectors. |
| | 3-Inch Metal Pancake Box, also available in Fiberglass. | You can mount it on the surface for lighting fixtures framing |
| | 4-Inch Plastic Nail Box. | Lighting Fixtures |
| | Spanner Box. | Lighting Fixtures |
| | 4-Inch Ceiling Fan Box. | Ceiling Fan Pancake Box (for up to 70Lb weight) |
| | 4-Square Metal Box, with 1 or 2 Gangs, 3-0 or 4-0 openings. | Receptacles and Switches. Surface mount for use with EMT or Flex Conduit. |
How to Install a Junction Box
As per the National Electrical Code (NEC), no wiring splices should be outside the wire boxes. There are some other restrictions as well in the Installation Manual. Hence you need to be very careful while deciding to install the Junction box.
Choose the Right Junction Box
While starting the process; you need to buy the correct electrical junction box for your specific application. For example, for outdoors, you need a weather-proof box, and for several devices, you need a large-size box. Hence, buy what you can accommodate adequately.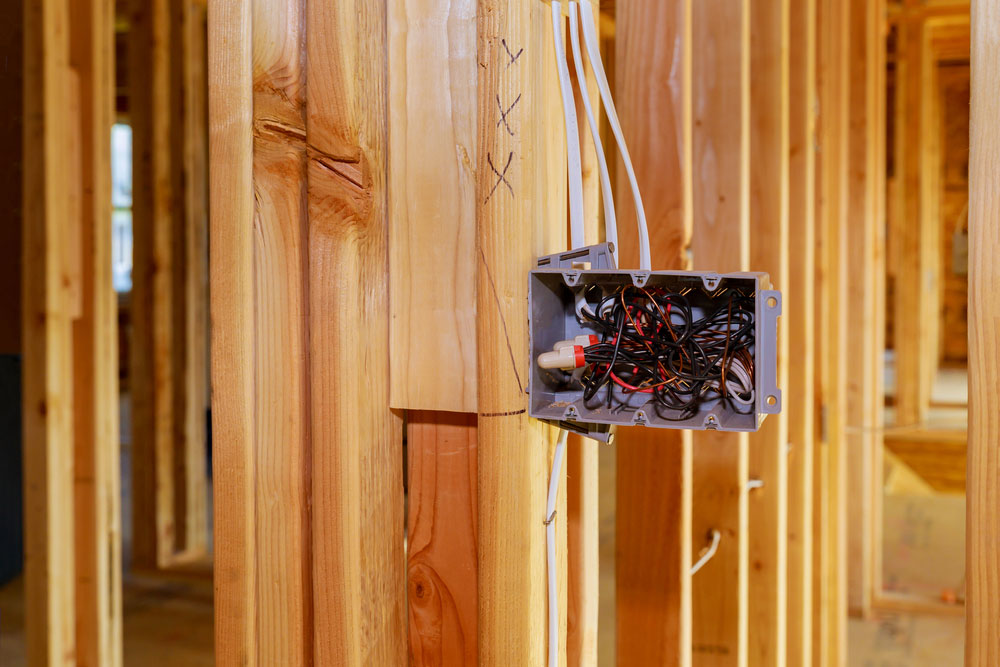 Caption: Installing electrical sockets in a new building
Before You Begin
Make sure that you have turned off the power of the circuit. Also, see whether there is an appropriate circuit breaker or not.
What You'll Need
For installation, you will need
A Voltage tester
Screwdriver
Hammer
Pliers
Drill-drivers Screwdriver tips
And Wire strippers
As for the material, you will need
Junction Box
Cable clamps
Wooden screws, and Wire connectors.
Instructions
Lose the wires at the existing junction and fix the box inside the wall.
Install separate cable clamps for every loose power wire if there are no built-in clamps in the electrical box.
Secure the wires by tightening the screws. Also, join the Wires with the connectors according to the instructions and join them together. 
Finish the job by folding the loose wires in the box. According to the installation guides, the cover should be a solid blank.
Restore the circuit's power and check for loose connections, if any.
Conclusion
Junction Box is essential to cross multiple connections at one point. With its help, you can secure the circuit while properly grounding the system. Here at Bloom, we offer a wiring harness, and your connection is made with attention to detail.