During the launch of the iPhone 7 in 2016, Apple terminated the use of a headphone jack. The public didn't appreciate this move and criticized the company. All models following the iPhone 7 also don't use the headphone jack. Apple began shipping adapters to consumers allowing them to plug in wired headphones and other accessories. However, they later stopped, forcing users to require the help of lightning-to-audio cables.
Table of Contents
How to use lightning-to-audio cables for internal audio
Apple Users need the help of adapters or a lighting-to-audio cable to feed voice from Apple products to other devices. 
Apple Lightning to 3.5mm Headphone Jack Adapter
Old Apple users relied on an external lightning-to-audio cable adapter that required the following components: microphone preamplifier, microscopic DAC, monophonic ADC, and stereo headphone amplifier to run the device.
A 3.5 mm Audio Cable with a Lightning connector 
The 3.5 mm Audio Cable with a lightning connector enables access to all your songs and audio files on your new iPhone, whether in the car or at home. You must connect the device to your home speaker or car stereo for a one-cable connection.
3.5 mm
How to use lightning-to-audio cables for External Audio?
How do you connect devices to feed external audio into your Apple device with a Lightning port?
Determine if Your Device Has a Lightning Port 
Check the bottom edge of your phone for a small oval-structured port that serves as both the lightning and charging port. If a port is present, you'll specifically require an iPhone charger lightning cable.
Prepare Interfaces, Adapters, and Cables 
Mobile Interface:
The mobile interfaces are designed to convert your Apple device's external audio signals to recognizable forms.
Lightning to Headphone Jack Adapter (3.5mm) and 1/8″ TRRS cable:
You can use a lightning-to-headphone plug to connect your audio through a 3.5mm (1/8'') TRRS cable. However, it only works on mono audio. 
Alternatively, you can use the 3.5 mm Audio Cable with a lightning connector.
USB:
A USB3 camera adapter allows you to connect various USB audio sources, for example, a USB interface or mixer.
Connecting External Microphones
When connecting external microphones to your device, you'll need the help of a mobile interface, for example, IK Media iRig or Saramonic SmartRig.  
Follow the instructions to connect an external microphone successfully:
On one side of the XLR cable, connect the microphone.
Then, connect the interface input jack on the opposite side of the cable.
Proceed to connect the interface output cable with the present lightning port of your device.
Now the primary switching device proceeds to recognize the microphone and interface as the video's primary audio signal.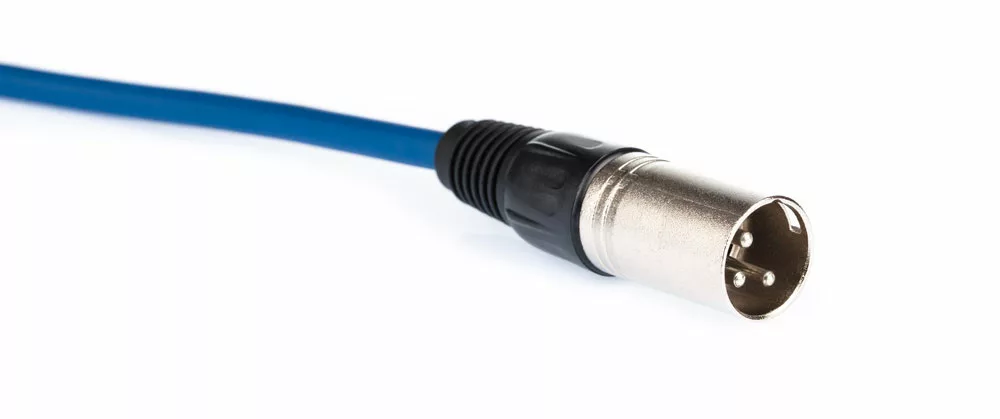 Caption: XLR cable
Connecting USB Mixers
If you have a USB mixer, connect it to your iPad using the Apple USB3 Camera Adapter. It's recommended to use this method to connect your USB mixer because it has the additional benefit of allowing you to charge a device while still using external audio.  
Follow the following instructions to connect a USB mixer successfully:
Connect the necessary external audio devices, such as laptops and microphones, to your mixer.
Connect the USB mixer output to your device via the USB input on the USB3 camera adapter.
Connecting Analog Mixers
Also, you can use an interface to connect an analog mixer to your device. Analog mixers function to pass an electric current contrast to digital data.
Follow the following instructions to connect an analog mixer successfully:
Connect external audio devices such as laptops and microphones to your mixer.
Proceed to connect the mixer output to the interface input.
Often mixers have the main output label, XLR outputs, 1/4″outputs, or both. Based on your mixer, you'll need a cable to attach to your preamp.
Finally, connect the interface output to the lightning port.
USB cables
Conclusion
Cloom Tech's 3.5 mm audio to lightning cable provides convenience by allowing you to enjoy music from your phone to your home speaker or car stereo with a single cable. You don't have to worry about compatibility with iOS updates because the cable guarantees compatibility to preserve functionality. Feel free to contact us for your audio-to-lightning cable needs.