Most electrical systems cannot function without a wiring harness. Therefore, you must carefully consider several things when designing the wire harness.
For example, rather than individually installing each wire, cable, and subassembly, the saddle consolidates them into a single unit for the OEM or installer to handle.
A wire harness also helps the finished assembly to be more protected from the effects of scratching and vibration, and it helps make the most efficient use of available space by bundling the wires together so that they don't sag.
Following Wire Harness Design Guidelines, you can rest assured that your process will be effective and that the final product will meet your needs.
Table of Contents
Wire Harnesses Design Understanding
Wire harness design can be one of the essential steps in allowing any electrical device to work, especially in helping a vehicle work as intended.
The application's success and relationship to the wire and overall current flow depend on how well the harness is designed.
Wire harnesses make constructing these more significant components easier by integrating wiring into one or more units for "plug-in" installations.
For every design, you should have a solid understanding of the requirements and be able to prevent mistakes before they happen. Often, it would help if you used engineering judgment to weigh product size, cost, performance, testability, and manufacturability.
Once a design is finalized, the first step in making a wire harness is drawing out a schematic that will be necessary for documentation and assembly board. The assembly board, also known as a pin board, acts as a workbench and a full-scale representation of the wiring harness on parts.
Today, you can develop a wire harness design process with one of the many software programs available.
However, with the proper knowledge and expertise, you can make wiring harnesses by hand. Several businesses specialize in customizing wiring harnesses to meet the unique needs of their customers.
Wiring diagram vs. schematic diagram: What's the difference between wiring harness design
You might think of a wire harness diagram as a blueprint for the connection you will need to make for your car or anything else. An electrical wiring diagram is distinct from an electrical schematic diagram. Abstract symbols represent the parts of a relationship.
Component symbols, perfect placement, splice locations, and wire colors are all hallmarks of a well-designed wiring harness diagram. In doing so, you can more easily identify which components of the wiring process you need.
The chart is representative of the standard appearance of the bundled wires.
By looking at the diagram, you can tell how intricate or straightforward your custom wire harnesses will be. Moreover, if anything happens, you can seek the help of a professional for a schematic diagram of your application if you are having trouble doing it on your own.
The focus of the Harness Design
Both the structure and the electricity of wire harnesses are crucially important. 
First, you may develop a harness design in a particular space, which is what the method attempts to find. That will reveal whether the harness project needs to accommodate a more extensive or compact electrical wiring system.
The second part of the process involves figuring out where the design might run into power problems. Consequently, the plan will center on the particular electrical rules in addition to the design.
As a result, the wires will be safe from any potential electrical damage, whether inside or outside.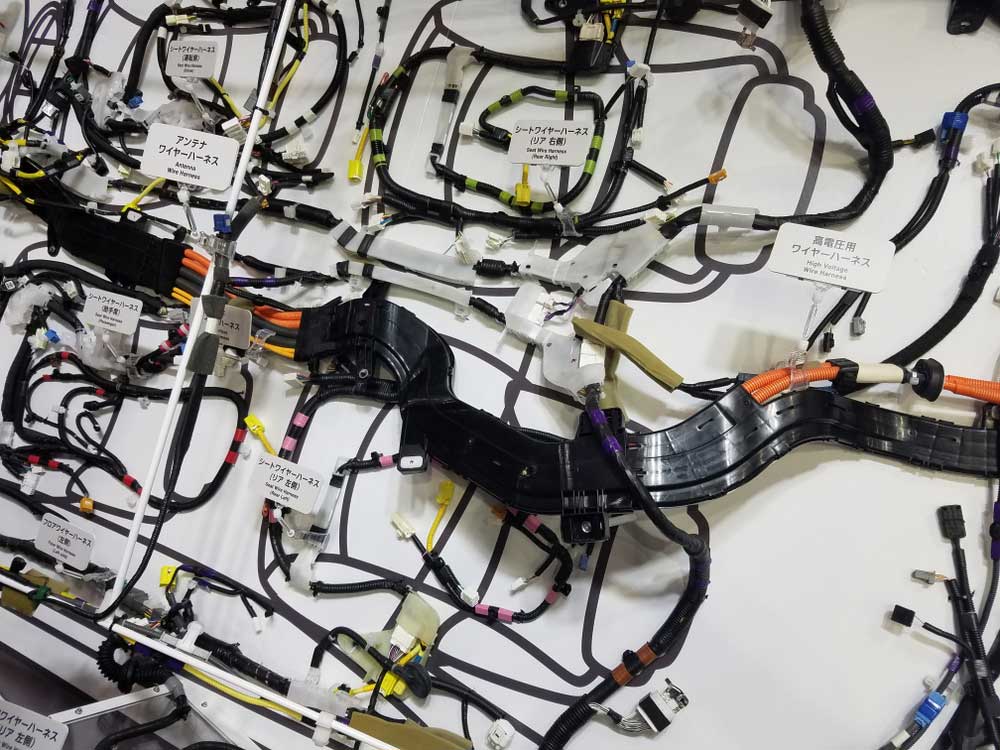 Caption: Wire harness of the vehicle
What Factors to Consider Before Designing a Wire Harness
Many factors influence the wiring harness design.
Environmental Factors
The most significant factor is its environment. Some harnesses will be heated. Some near the engine or exhaust. Others will face pressure. Water, grime, grease, and chemicals will affect some.
Certain businesses require flexible wire harnesses. However, others must endure vibration-induced abrasion. Consider the surroundings when building a wiring harness.
Choose the correct wire for your application. Choosing the wrong wire can cause insulation breakdown. That can produce electrical problems, safety issues, and UL violations.
Wiring Harness Parts
Provide an exact parts list to your outsourcing partner while designing your wiring loom. Moreover, ensure your outsourced company has the product's part number if you use your coding. That allows the partner to replace parts to improve wire harness quality, efficiency, and price.
Additional Factors To Consider Before Designing The Wiring Harness
You should check all of the items on the checklist for each design and even more. 
Length and Tolerance
Be precise with the measurements. Also, take into account the allowable deviations from the required length.
Outer Jacketing
Different materials have distinct advantages and weaknesses and are used for various purposes. Therefore, before choosing the material as a cover, consider the goal, benefits, and drawbacks.
Using color and labels
You can distinguish the circuit names using wire colors and any labeling language.
Wire Harness Design Guidelines: Types of Wire
There are various types of wires, including insulating material and bare or plated copper. Additionally, their voltage ratings vary. Different cables are best for each type of application. Therefore, choose one that properly complements your application and preferences.
Wire Harness Design Guidelines: Locations for Splices and Splicing
One of the most critical steps in the design process is splicing a wire or a circuit. However, you can do it in many ways.
Therefore, think about the splicing technique you intend to use before choosing a design and sending your proposal to the maker of your work harness.
Useful Standards
WHMA's IPC/WHMA-A-620 Requirements and Acceptance for Cable and Harness Assemblies.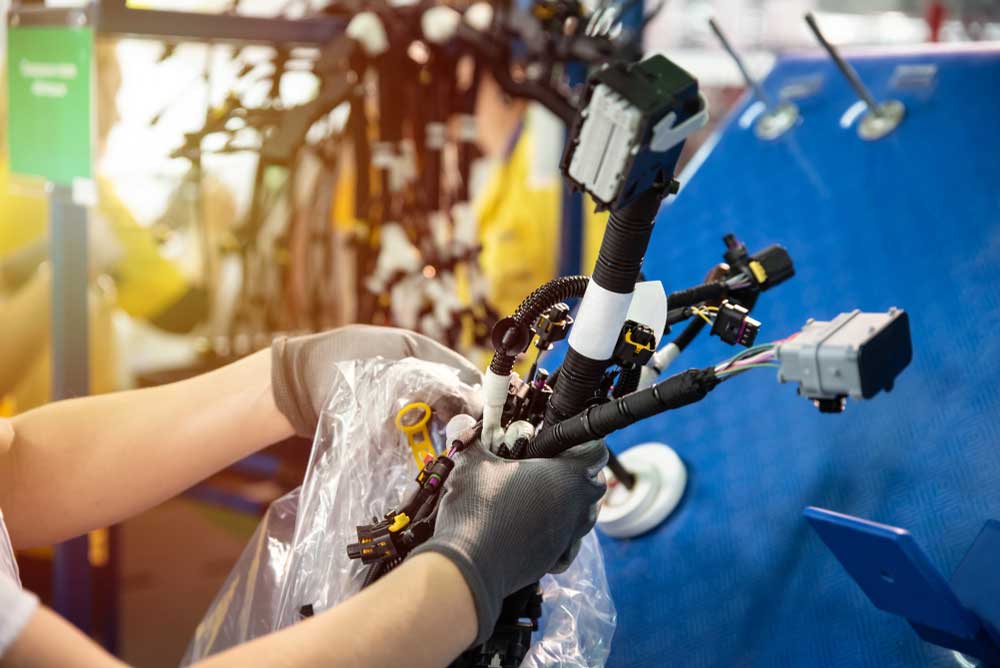 Caption: Worker packing wire harness in the production line
Material for making Electrical Wire Harness
You'll need some of these standard items to either construct your wire harness from scratch or to better describe your needs to us so that we can better meet your needs.
Wire Cutters that can cut the wire to the required length and shape
Wire Strippers that remove the insulation of wires and cables.
Crimping pliers, sometimes known as ratcheting crimpers, can use to fasten terminals onto the ends of stripped wires securely.
Wires/cables are essential for transmitting signals and electrical power to their destination terminals.
Cable Ties/ Zip Ties that tighten the wire harness together.
Wire Harness Design Guidelines: Basic Wiring Harness Building Process
Now that we have everything we need, we can begin implementing the cable harness diagram. For that, it is necessary to draft a schematic diagram detailing the wiring job's specifics, including wire sizes, wire lengths, wire ends, where and how the cables will be bound, etc.
Using the diagram as a guide, cut the necessary wires to length.
Use a wire stripper to remove the insulation from the wires and reveal the wire's core.
The next step is to clamp the wires and secure them with cable, zip ties, or tape.
Connect to the appropriate cable parts as shown. The final piece of the design puzzle is ready for installation into the working gadget.
Using a testing board, check the main wires singly or collectively for any problems. If the test results are not what was hoped for, you must rearrange or restructure the cables.
Caption: Multicolor wires packed in automotive
Wire Harness Design Guidelines: Mistakes for Avoiding a wrong Wire Harness
Each of these processes is now carried out mechanically. So the wiring harness doesn't perform as expected in certain circumstances. Because of this, attempting to complete it manually on your own without any training or experience increases the likelihood of making mistakes. 
The inadequate layout of the wiring diagram is primarily to blame.
Cutting wires into inappropriate lengths and re-connecting them can cause connection failures.
Failure of design identification results in wrong signal, workflow, or other analytical or functional necessity.
Failure to carry out the design as planned or introducing changes to the design during implementation.
Inadequate adherence to established electrical or manufacturing standards in the design. While this might not be a problem in the harness itself, it could lead to costly mistakes regularly.
Conclusion
The complexity of the application often dictates the level of difficulty of the design and implementation.
To ensure the success of your project, we recommend that you first learn as much as possible about the design requirements before proceeding with a professional harness designer and manufacturer.
Here at Cloom, we offer wiring harnesses and cable assemblies to make your connection safe and reliable.