About 8k Vs. 4k HDMI Cable, We all use HDMI cables to transfer audio and video signals between devices. 
However, people often need clarification about which HDMI cable to pick based on their intended use and categorization. 
It is essential to know the specifications of different HDMI cables to choose the best one.
Nowadays, instead of simple HDMI cables, you must have seen that 4K HDMI and 8K HDMI cables are attaining a new hype in the market.
 While they are the same HDMI cables you may know already, they are named distinctively based on the corresponding video output resolutions they support. 
Let's dig deeper into these cables' specifications and know the real difference between these two.
Table of Contents
4K and 8K vs. Supported HDMI Technology
Every day brand-new technologies are coming up in the market, pushing possible resolution range on TVs a notch higher than earlier. 
The concept of 4k and 8k TV resolutions is now becoming commonplace.        
4k and HDMI 2.0
The word resolution can refer to the degree of detail visible to a person on the TV screen or the number of pixels visible on the TV. 
 In 2012, 4K resolution became an upgraded version of 1080p, a standard known to everybody. 4K was called Ultra High Definition or UHD, while 1080p was commonly known as Full HD.
The 4K resolution features 4000 pixels horizontally, four times that of regular HD TVs. 
High-speed HDMI cables are good to go if you talk about cables that support 4K resolution. You can see this resolution specification in HDMI 2.0 specifications on HDMI.org. 
Hollywood movie studios are looking to protect their content from piracy as the market is witnessing UHD TVs and ultra-high-definition content. 
HDCP, or high-bandwidth Digital Content protection, has come up with its 2.2 version, and it causes problems with UHD content.
 If a device wishes to transmit 4K content, it must be HDCP 2.2 complaint, be it Blu-ray players, UHD TVs, or audio/video receivers. 
If you see 4K video and HDMI 2.0 on any component, it does not necessarily mean it is HDCP 2.2 compliant; however, it will only affect 4K content. 
So, if you want to watch a movie from a Blu-ray player, HDCP 2.0 in 1080p, on your 4K TV (HDCP 2.2), you can watch it without any problem.
8K and HDMI 2.1
8K resolution, also called ultra-high definition or full ultra-high definition, features resolution dimensions of 7680*4320. 
It is named 8K since it features an 8000 horizontal pixel count and has a 16 times more detailed resolution than standard 1080p. 
8K resolution requires HDMI 2.1 cable for data transmission since higher cable bandwidth decides its data transfer capability, and 8K has a higher data frame rate.
The 8K cables can deliver at high speed of 48Gbps, while 4K cables can transfer data up to 18.2 Gbps. 
8K HDMI 2.1 cables can transmit content at 60 frames per second, and 4K HDMI 2.0 cables also transmit content at the same speed, but 8K cables will transmit 4K content through HDMI 2.1 cables at 120 frames per second, as fewer data is needed to transmit 4K content. 
So, if you want to share 4K content using 8K cable, you will get double frames per second.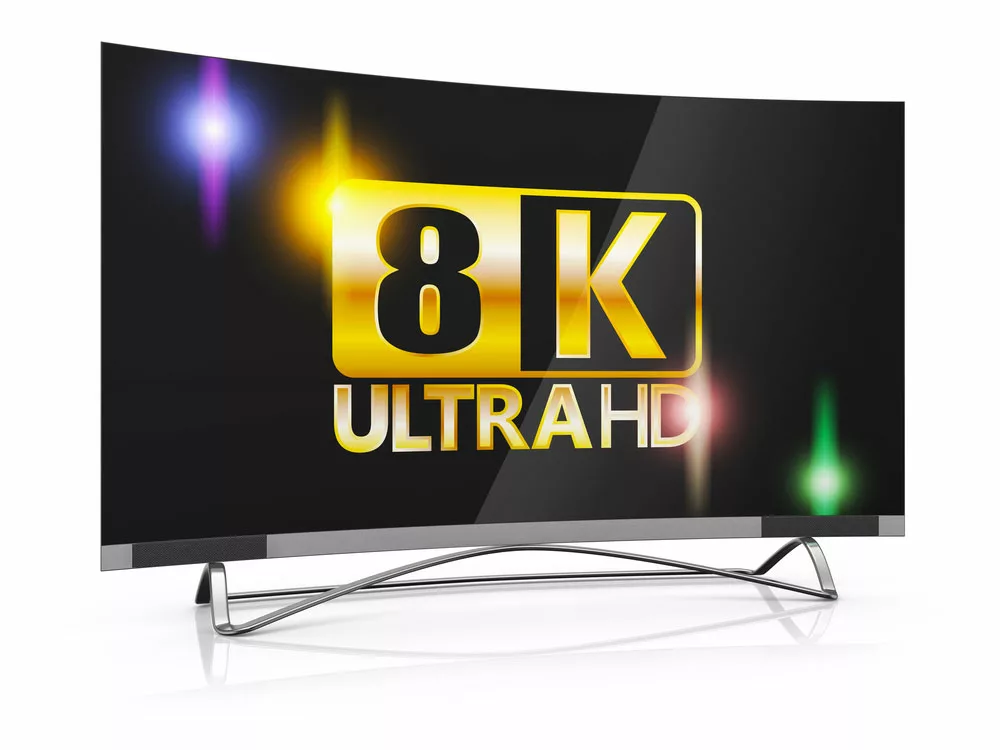 An HDMI port
What are 4K and 8K HDMI cables?
By now, you must have understood that there is nothing like 4k or 8k cables; the only thing is HDMI cable, which is available in different types based on supported resolution.
 Based on their different versions, you can use or not use them on 4k or 8K TVs.
HDMI cable has a particular version meant to meet specific performance standards. HDMI cables that support 4k and 8k resolutions are high-speed cables and fall under category 2 HDMI cables. 
These cables are meant for transferring resolutions equal to or higher than 1080p. A standard or category 1 HDMI cable will not transmit 4k video. 
On the contrary, HDMI cables supporting 4k or 8k resolution are also compatible with 1080p TV. 
These cables have backward compatibility allowing them to be used on devices with older or newer HDMI specifications.
Why are some HDMI cables labeled "4K" or "8K"?
Manufacturers mark their HDMI cables as 4k or 8K just for marketing, as there is no real difference between the cable marked 4k or 8K and the one not marked so. 
The speed rating, the maximum transmissible bandwidth, makes one cable different. Often, manufacturers divide their cables into four different categories i.e.
Standard: the most basic cable capable of transmitting data at 4.9Gps. It can handle a 1080p connection very easily.
High-speed: it can handle a double transfer speed of 10.9gbps.
Premium: capable of handling a transfer speed of 18gbps.
Ultra-high-speed: capable of handling a transfer speed of 48Gbps.
4k and 8k cables differ based on bandwidth; thus, 8k cables have higher bandwidth to transfer extra data from 8k videos. The frame rate of 4k and 8k cables also differ.
 For example, a premium cable can support a 4k video at 60 frames per second, but it does not support 8k videos. 
On the other hand, a high-speed cable can also support 4k videos but at 30 frames per second. So, it is essential to know the speed of the cable rather than knowing whether it is a 4K or 8K cable.
More benefits of having a 4K HDMI 2.0 cable
There are several advantages to getting the right 4K HDMI cable. 
HDR
You can enjoy high-quality HDR content with HDMI 2.0 and its siblings, as you can enjoy 4K resolution content at 60 frames per second. 
It supports different HDR formats, such as Dolby Vision, advanced HDR, and HDR10+, as long-distance data transmission is possible without data loss.
Audio Return Channel ARC
These HDMI cables also feature Ethernet and ARC (Audio Return Channel) capabilities.
Additional benefits of 8K HDMI 2.1
Besides having an incredible bandwidth, 8K HDMI cables are worth investing in over HDMI 2.0 cables for the following reasons.
Enhanced Audio Return Channel (eARC):
HDMI 2.1 cables are eARC efficient, allowing a secure and direct connection to an ARC/eARC soundbar system and enhancing the audio quality.
 The cable can also support up to 100 audio channels. It has more bandwidth than standard ARC, so it can support multiple formats, including Dolby Atmos, Dolby TrueHD, Sonos Beam, etc., to give you an amazing home theatre surround sound experience.
Dynamic HDR
HDR refers to a high dynamic range, and a cable with HDR provides better contrast, color, and brightness than the Standard Dynamic range.
 However, HDR is static, keeping the same settings throughout each frame. However, 8K cables have dynamic HDR, allowing better flow between different frames and supporting automatic adjustments ensuring each frame looks best. 
As per HDMI.org, HDMI 2.1 cables feature ideal contrast, depth, detail, color, and brightness in every video moment.
Variable refresh rate(VRR)
With a variable refresh rate of 120Hz, 8K HDMI 2.1 can deliver that ultimate immersive environment for all gamers. 
With such high VRR, your games will look super-smooth for real-time game playing without reduced lag, stutter, and frame tearing. 
Do 8K HDMI cables work on 4K TVs?
All 4K and 4K UHD TVs have come with HDMI 2.0 compatibility in the last few years. So switching to HDMI 2.1 cables is unnecessary. However, if you are switching your TV to 8K, you may need one.
4K TVs in 2020/2021 supported high refresh rates. Opting for 8K HDMI cables for new-generation devices from Sony or Microsoft would be better. 
8K HDMI cables can transfer data at 40gbps and support videos of 8K or more resolutions. So, it is always better to use 8K cables for audio/video with 8K or high resolutions. 
As discussed earlier, 8k HDMI cables can also handle 4K content at 120 frames per second; they are best for high-end gaming. 
However, you will need a 4K PC with over 60 fps to support the latest game consoles. 
If your streaming media device can push 4K speed at more than 60 fps, there is no harm in using 8K or any ultra-high speed HDMI cable.
 For devices with 4K @ 30 or 60 fps, you can use HDMI 1.4 or HDMI 2.0.
Before using an 8K cable in your 4K TV, read your TV manual.
 It is not recommended if it does not mention it there because when you connect an 8K cable to a 4K TV. The given signal upscales to 4K resolution, and this upscaling process makes the picture blurry and unclear.
 You may also notice some blackness on the screen. Further, using an 8K cable on 4K TVs can sometimes lead to lagging issues.
Television technologies
Conclusion
So, the concept of 4K and 8K resolution must be clear to you. We also explained HDMI and HDMI cables for 4k and 8K televisions to clarify which cable to use with which TV. 
 Lastly, we suggest you get only high-quality HDMI cables for an ultimate viewing experience.