If you are unsure what to choose between Android TV and Roku TV, you have come to the right place. Our tech-savvy team is here to take you through a detailed Android TV vs. Roku TV comparison and help you make an informed decision. 
We tested these two platforms on different aspects, including user interface, Bluetooth connectivity, channel support, voice control, and more. Your choice will depend on what you prioritize in a smart television. 
Table of Contents
What is Roku?
Roku TV is a popular smart TV known for its simple interface and wide range of streaming channels. The platform launched its first Netflix streaming in 2008, and many viewers loved it. It remains among the best streaming and gaming platforms and compares well with modern ones like Android smart TV.
What is Android TV?
Android TV is simply a smart TV with an operating system based on Android. The platform was unveiled in 2014 to replace the unsuccessful Google TV, and it has never disappointed. Despite being relatively new, it has already emerged as one of the industry's best due to its unmatched content innovation.
Android TV vs. Roku TV: Main Differences
User Interface
One area where Roku TV excels best is UI. The platform has a straightforward interface.
The site features a menu list on its home screen's left side. With this menu, you can find all your favorite TV apps at a glance.
The Android interface is also user-friendly and highly customized. However, it features a lot of adverts on its screen. Though you won't escape a few adverts on the Roku TV platform, Android has a lot. Besides, Android TV looks smaller and congested in one place, making their interface look busy.
Bluetooth
Android TV supports Bluetooth connection across the board. You are likely to avoid running into Bluetooth connectivity problems with this device.
On the other hand, older Roku TV sticks sometimes lack Bluetooth connectivity features. Instead, they offer smartphone apps that will give you indirect wireless connectivity. The app is less effective than Bluetooth.
However, the new Roku devices, such as the Roku stream bar and Roku Smart Sounder, pair well with Bluetooth-enabled devices. Not all Roku have Bluetooth connectivity features, so you must be keen when purchasing them. 
A man connecting smartphone and TV via Bluetooth
Channel support
TV is about channels. The good thing is both Android, and Roku TVs do well in this aspect. They support all the popular streaming platforms, including Amazon Prime Video, YouTube, Netflix, Disney+, Peacock TV, and Hulu. 
However, HBO Max is still unavailable on Roku TV, making Android TV a great choice for popular streaming channels. Android TV can also support every streaming app on the Google play store.
Roku TV outshines Android TV regarding the number of channels offered. The platform has around 2,000 channels, most of which are free. But we also have to admit most of these channels are less popular. 
You can purchase Roku Ultra for a better experience. The device offers 4K HDR streaming, private listening using a headphone jack, and functions for notifications if you lose track of your streaming devices.
However, we still recommend Android over Roku for streaming channels because Roku is prone to carriage disputes. The TV content provider found themselves in some carriage disputes with YouTube and some major broadcasters in recent years.
Live streaming on a smartphone
Voice Control
Everyone is familiar with Google assistant, so this is one area you expect Android TV to do well. It supports all versions of Google Assistant, which doesn't come as a surprise. It is also compatible with Alexa but not as excellent as in the case of Google Assistant.
The newer versions of Roku TV are also compatible with Google Assistant and Alexa. However, the device does not support all google assistant features as Android TV does.
If it is searching for your favorite show with google assistant voice command, then Roku native voice assistant can handle that. However, you won't be able to access calendar events or check the weather through Roku Google assistant. For a better voice search, you can purchase an enhanced voice remote.
That said, Android is a better deal regarding voice control. You can use it to control every smart home device, check upcoming calendar schedules, check the weather, and more.
Apps
Although we mentioned that Android has smaller clustered apps on their interface, we didn't mean they have more apps than Roku. Roku TV has a rough count of around 2,000 apps, which is way better than what Android TV can offer.
However, some apps on the Roku TV platform are not official and unpopular. We even noticed it lacks some popular apps, such as the official twitch app.
If you are only interested in the number of apps offered, Roku TV has more. But for popular and well-updated apps, the Android TV platform offers the best. 
Gaming
Android TV is very versatile when it comes to the games offered. In addition to gaming selection, the Android platform and hardware are compatible with stadia, which offers 16GB storage.
As for Roku, you have limited options when it comes to gaming. Some games you can play without any problem include Minesweeper, solitaire, Snakes, and other similar games.
That said, Android TV wins in this category too. But we always recommend purchasing an Nvidia Shield TV for your TV gaming.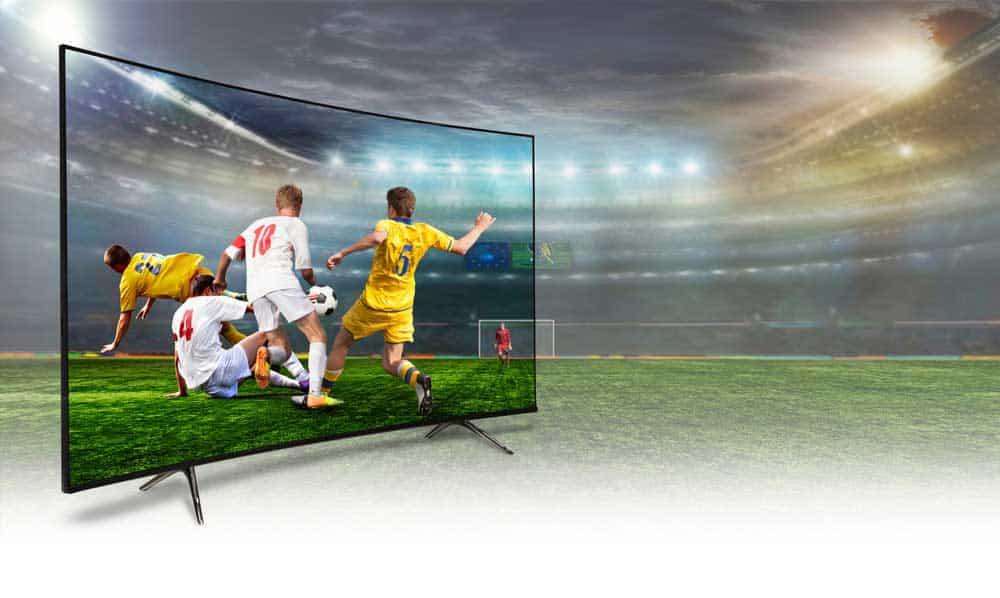 4k monitor watching smart tv translation of football game
Android TV or Roku TV: Which One is Better?
The best TV platform between Android and Roku depends on your preference. They win in different categories. However, Android TV wins in many categories, including Bluetooth connectivity, voice control, and gaming. Roku may be a great option for a simple interface and more channels. 
Can You Have an Android TV on Roku?
Unfortunately, Roku doesn't have a Google play store. The platform has its operating system, so there is no need to include competitors-based apps.
Is an Android TV worth buying?
Android TV is worth it since it will enable you to use the Google play store to download apps and streaming platforms such as Netflix, Hulu, and Amazon Prime Video, among others. You can also download games on your television with a lot of ease.
Is Roku TV Worth Buying?
Roku is worth buying if you want a smart TV platform with a friendly user interface and a wide range of streaming channels. However, you can only use the existing channels as Roku TV rarely updates its channels and is unlikely to get new features. Besides, there is a possibility of losing access to some streaming services that make updates to their platforms.
Roku TV vs. Android TV – Final Verdict
Roku TV can still compare well with modern smart TV platforms like Android. The platform has even more channels and a smoother interface.
However, Roku TV is slowly becoming outdated as they need to update its content. If you need a modern streaming or gaming platform, Android TV is a better option. The platform has great Bluetooth connectivity and voice control and often updates its content.