If you install cables professionally or the do-it-yourself way, using the best cable ties makes your work effortless.
They eliminate the cable mess to ensure a clean and hazard-free workspace.
However, the market has many cable tie makes and models, which can be daunting when picking the options available.
For less stressful zip tie shopping, this article compiles a list of the best cable ties you can acquire.
It also gives you the elements to look for in cable ties to achieve an excellent cable setup.
Table of Contents
Factors to Consider When Choosing the Best Cable Ties
Before buying cable ties, you need to keep these things in mind.
Type
Black velcro zip ties
Cable ties are of different types that suit light and heavy-duty use. Cable tie varieties include self-gripping ties and velcro cable ties.
Self-gripping fabric ties
They are made of rolls of cloth material such as polyester and have double-sided tape to secure heavy cables. 
Velcro cable ties
The ties have hooks in the front and loops in the back, making them ready to use at any time. They are also suitable for reusing.
Length
A zip tie fixing on the banner
Depending on how wide the cables you are securing together, you need to keep the length of the cable ties in mind.
When handling small cable wires, a short one is suitable.
A cable with a wide diameter requires a long tie to cover its circumference.
Capacity
Zip ties on multicolored electric cables
How many cables you want to attach determines which one to purchase.
Light wire ties can wrap up a few wires, while heavy-duty models suit many cable wires.
UV Resistance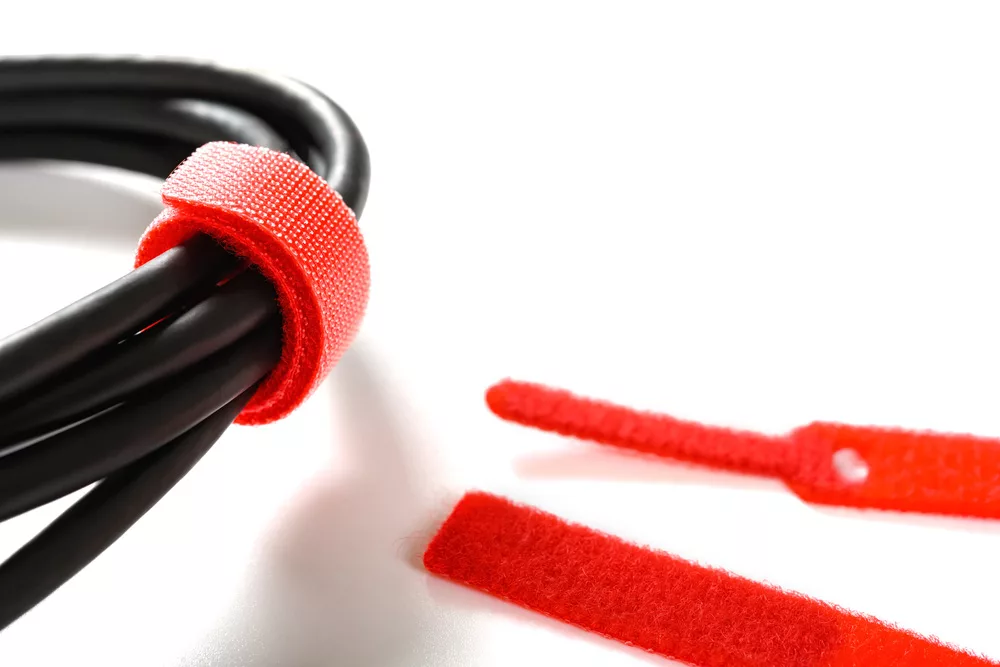 Red velcro fabric cable tie on black cables on white background
UV radiation from the sun destroys the quality of materials.
When choosing cable organization products, it is crucial to check if they are ultraviolet light resistant.
This applies especially if you are using the cables outdoors.
You should purchase cable ties with high UV blocking properties to ensure more life for the cable setup.
Best Cable Ties
Here are the best cable ties you will find in the market for your needs.
N NOROCME Cord Management Organizer Kit
The kit is the best overall if you want more than a cable tie.
The kit includes four 20-inch by 4-inch cord protectors, ten reusable wire ties, and 36 adhesive cord holders.
It has two 197-inch adhesive tie rolls and 100 nylon wire ties.
With these accessories available, you enjoy reliable management of all cables in your car, TV cabinet, office, and home desk.
They also work superbly with USB cables, audio aux cords, 
The items in the kit have sturdy and durable reusable materials. Setting up is simple, so they require minimal assistance.
While setting up the ties, the cord holders help you organize as many cables as possible.
The only downside is that the adhesive cord holders will not hold on rough surfaces.
They attach on smooth flat surfaces.
Review
"This product came with a lot of products.
For someone who is now part-time teleworking, this is great.
I have many cables connected to my computer, which helped me get organized."
HAVE ME TD Cable Zip Ties
If you have multiple projects, these cable ties suit any purpose.
They hold cables firmly, whether fixing a broken fence, setting up lights, fitting banners, or attaching vehicle accessories. 
The package includes 400 nylon ties in 12, 8, 6, and 4-inch sizes.
The product is highly flexible for versatile use and can withstand high heat exposure.
However, they are not reusable, which is a disadvantage.
Review
"They are good quality ties with reasonable pricing."
HMROPE Cable Zip Ties
The zip tie model can handle bulky cables for the server room or internet network lines.
They are 0.15 inches thick, which makes them strong with weight support of up to 50 pounds.
The zip ties' materials characterize nylon 66, a highly fire-resistant compound.
They can withstand temperatures between 40 and 85 degrees C. 
The product includes 100 ties of 8-inch length, which efficiently organize your heavy cables.
With the lifetime warranty it comes with, you are sure of its durability in the long run.
The downside is that heavy wind affects cable tie tensile strength if installed outside.
Otherwise, it is a great product where you will get good value for your money.
Review
"I use them to get all my computer cables in order. They are many and last a long time."
VELCRO One-Wrap Cable Ties
These velcro cable ties come pre-cut; you only need to insert the round end into a strap to secure the cables firmly.
They are solid and durable ties that are perfect for reusing. 
The package comes with 100 velcro ties in different sizes and color combinations.
Their measures include 5 inches, 8 inches, 11 inches, 15 inches, and 23 inches.
The colors available are blue, green, red, orange, etc.
The disadvantage of the one-wrap cable model is that they are not weather resistant.
Therefore, they will serve poorly outdoors.
Karaoke Cable Ties
These nylon zip ties are UV resistant and suitable for indoor and outdoor use.
They work well for network cables and bulky electrical wires.
Exposing them to extreme weather should not be an issue with their -40 degrees to 180-degree rating. 
You will find 100 pieces of 12-inch self-locking zip ties in the package you buy that support up to 50 pounds of cable weight.
It has a one-year warranty with a full refund if defects occur within the first year of use.
Their drawback is that they are one-time-use products.
Review
"They are strong zip ties for their size and have a good price compared to what local stores charge."
SMART&COOL Reusable Silicone Magnetic Cable Ties
As their name says, these ties comprise a silicone material and a magnetic locking feature.
The cable ties are simple and reusable for different cable management projects.
The product has 30 colorful pieces that are great for home decorations.
The limitation of these ties is they will attach to metal surfaces only.
Also, exposing the magnetic end near credit cards can demagnetize them, hence, a need to handle them properly.
Review
"I use these handy ties for various things to keep them in order."
HMROPE Fastening Cable Ties
These wire ties have a microfiber material and a unique hook and loop locking feature.
Unlike most zip ties, these models are reusable and last an extended time. 
In the packet, you will find 60 6-inch fabric strap ties.
The only demerit is they don't suit use in a garden.
However, you can use them in other indoor and outdoor projects like desks, workshops, and organizing wires in a living room.
Review
"They are great for organizing cables and extension cords for my custom-built PC."
Conclusion
Finding the proper cable ties should be easy.
The guide above provides the best cable ties to acquire and tips for wise decision-making.
Selecting the right model ensures satisfaction while using them for longer periods.