About HDMI cable with different ends, It's frustrating when you cannot get quality signals when watching your favorite movies or music videos on Blu-ray. 
When that happens, you're likely using an HDMI cable of poor quality or one not compatible with connected devices. 
With today's ever-changing technology, it's important to know the different HDMI cable
options. 
Read on for an exclusive guide on the HDMI cable with different ends to meet your connection needs. 
Table of Contents
Varying HDMI Cable ends.
When looking for HDMI cables to purchase, you can get those with differing end types. 
Varying HDMI-Type Ends for HDMI Cables
HDMI end types vary from standard, mini, dual link, and automotive connection systems to micro types. 
It's important to know the type of HDMI port on your devices before buying a cable. 
That's vital as these different types of HDMI cables are normally not interchangeable. 
Normally, each type of HDMI end has a different size, and thus it makes it easy to identify each kind. 
However, the standard, mini, and micro types are the common kinds that you will need at home for connecting devices. 
Typically, you can apply the mini type of HDMI when connecting portable devices, such as cameras or camcorders. 
On the other hand, micro HDMI ends, relatively smaller than a typical HDMI, fit well in a DSLR camera, GoPro, or camcorder. 
Likely, you will find HDMI cables with different HDMI end types.
Standard HDMI to Mini HDMI, 
Mini HDMI to Micro HDMI, 
Standard HDMI to Micro HDMI 
HDMI Cables that have varying Interfaces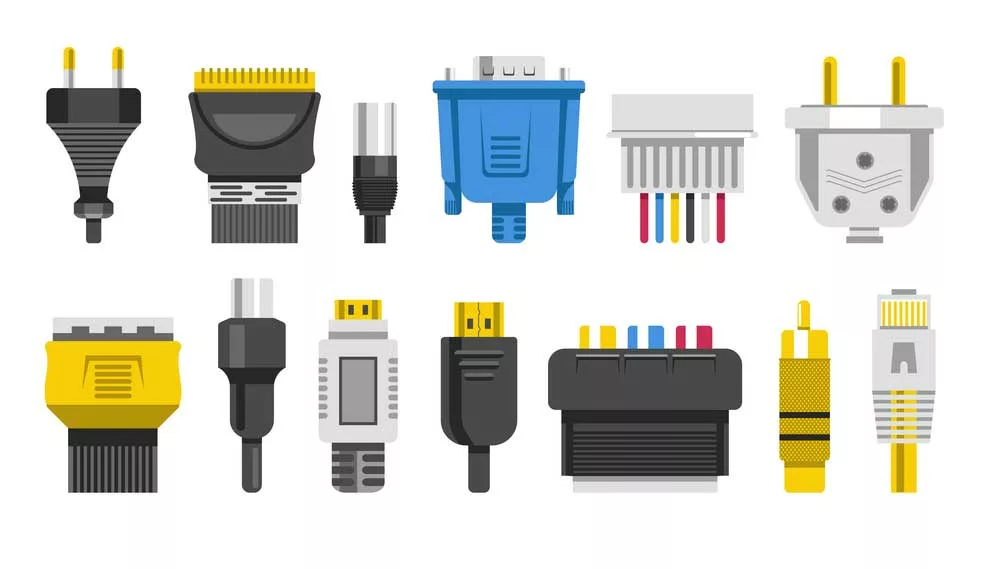 Different A/V ends
The following are some of the common HDMI cables with varying interfaces:
HDMI – DVI cable
HDMI – DisplayPort cable
HDMI-USB Type C cable
Optical – HDMI cable
RGB – HDMI cable
S-video – HDMI cable
SCART – HDMI cable
VGA – HDMI cable
Firewire – HDMI cable
Ethernet – HDMI cable
HDMI – lightning cable
These cables are important when you are linking two devices that have different interfaces.
A good example is when connecting a computer screen with a DisplayPort and a PC that has an HDMI port. 
You must get a cable with a DisplayPort interface on one end and an HDMI interface on the other. 
The Functioning of HDMI Adapter Cables Depends on the Specs of the Lesser Interface
Also known as HDMI adapter cables, these HDMI-to-something cables will tend to perform at the level of the interface with a lower capability.  
For example, you plug in an HDMI-to-DVI cable to your laptop's HDMI supporting a 4K resolution @ 60Hz. 
Then, you plug the other end into the monitor's DVI supporting a resolution of 2,560 x 1,440 @ 60Hz. 
What will happen? 
The cable will function at a resolution equal to that of the DVI interface, not the end with 4K capacity. 
So, you will not get much from your laptop's HDMI port, even if it holds the upper hand. 
This principle applies to all other types of HDMI cables with varying interfaces. 
How do HDMI Adapter Cables Work?
A great illustration of how an HDMI cable works is that of a soundbar system connected to a TV screen. 
Here, the aim is to transmit signals between the soundbar and the TV through the HDMI Audio Return Channel (ARC) connection. 
To make this possible, the Optical-to-HDMI cable obtains power from the soundbar HDMI connector. 
The transmission occurs via the UTIL pin in the HDMI connector, acting a lot like a coaxial S/PDIF signal. 
The adapter may have a chip designed specifically for the ARC physical interface. 
This chip's function is to ensure that the electrical features of the signal remain the same throughout the transmission process.
HDMI Cables that have Female/Male Ends
In other cases, your devices may require buying an HDMI cable with a different gender. Usually, you can get standard, micro, or mini HDMI type on either end.
Male to Male HDMI cables: Often, we use them to connect a PC to a monitor, TV, or even Blu-ray players and home theater systems. 
Female-to-Female HDMI cables: This type of cable is used as extenders for other HDMI cables.
Male-to-Female HDMI cables: Like female-to-female cables, you'll find this type used as extenders for other HDMI cables. 
HDMI Cables that have Varying End Features
Usually, cables come in different connector types, interfaces, or male/female models as follows: 
HDMI cables with IP68 Connectors
Typically, users apply the industrial-grade HDMI cable in an outdoor setting. 
The design of IP68 connectors enables it to withstand dust, debris, and moisture.   
HDMI cables with Panel Mount Connectors
This connector has mechanical features that make it secure for any device or equipment comprising either of the following three types of mounts:
External front panel mount: In this case, a larger part of the connector remains on the outside or front part of the panel. 
Side mount: With this one, you'll find the connector casing attached to the panel in a horizontal plane. That way, it makes the connector more secure.
Internal or rear panel mount: This type of mount has a larger section on the inside of the panel.     
HDMI cables with Straight or Right-Angled Connectors
Generally, a straight connector will stretch horizontally when plugged into the female socket.
Due to its simplicity, you will find this type of connector in many of your typical or common setups. 
That said, there are cases where there's limited space before the HDMI socket. 
For example, you'll find that you have a TV or PC that has its ports very close to the walls.
And likely, you don't want to fold the cable so as not to damage or stain it too much.
In such situations, you will need a right-angled HDMI connector.
When connected, the connector will face downward, making both the HDMI cable and the device sit flush against each other.  
With this connector, you can maintain the order and neatness of cables behind your TV or computer. 
HDMI cables with Locking and Gripping Connectors
This connector employs the concept of grip and hold. 
To make this possible, it has a spring mechanism that makes the blade of the male connector easily and tightly grip the receptacles of the plugged-in device. 
Further, it makes it hard for the cable to come off for whatever reason until you pull it out intentionally. 
Also, you have to use a given measure of force. 
For this reason, the connector is appropriate for HDMI cables that you will use in areas with frequent vibrations. 
Also, it's great for use where there's a high possibility for the cable to be pulled out accidentally. 
Conclusion
That's it on the HDMI cable with different ends. 
It's common to face problems such as distorted images, installation issues or even no signal.
More often than not, that happens when you use an HDMI cable that does not work with your device.
So, buy high-quality HDMI cables with proper ends, and a custom solution may be your best choice.