Enterprise data centers mostly use ten gigabyte-per-second networks these days. Therefore, your Gigabit Ethernet connection might need these 10G cables. You can use these for lengths under 100 meters, including contacts from storage to switch or a server to change. These all go through rigorous cable production testing so that you can trust their reliability.
You'll also find setups with 25GbE and 40GbE. These are usually an option for larger projects. It would help if you had custom wiring that fits your assembly. So, you want to use SFP28 DAC or 40G QSFP+, depending on the requirements. Spine switches might need even more bandwidth and speed. SFP+ wirings suitable for those setups could be 100G SFP+ DAC cable.
Let's begin with the definition of an SFP+ cable. 
Table of Contents
SFP+ Direct Attach Cable – An Overview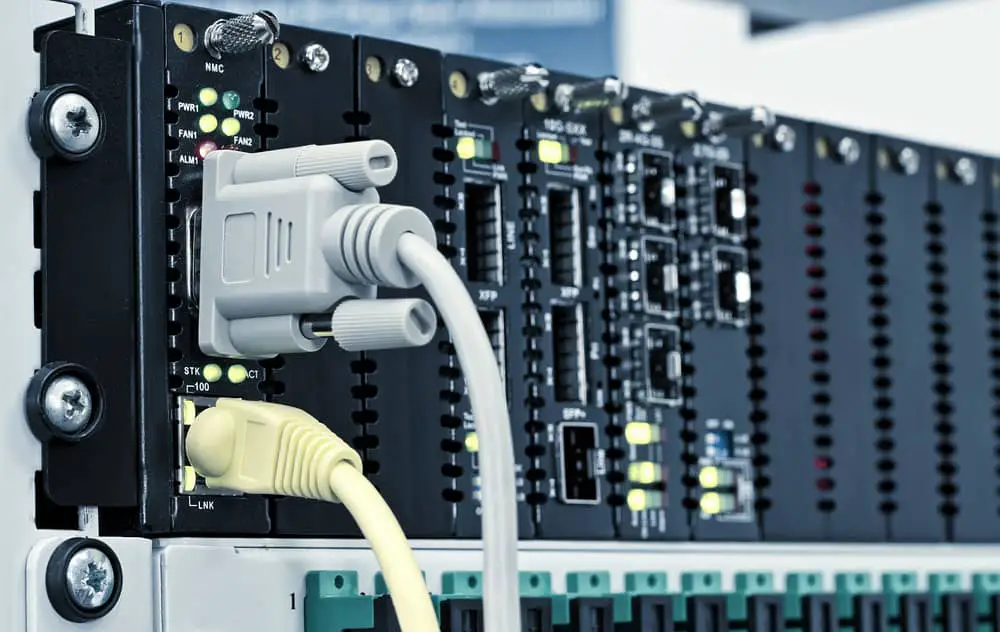 Caption: Gigabit technology center with SFP slots
Standard manufacturing considers this option a fixed setup. Therefore, you'll receive the length specified, and the product will come with SFP+ connector optical modules. The optical SFP+ module maintains a permanent connection to each cable's end.
The manufacturers use improved connectors that allow receiving and sending 10Gpbs of data. They use a fiber optic or Twinax cable to emit data via paired receivers and transmitters. A single SFP+ port exists for optical transceivers and the direct attach cables. However, the difference is that there are no electronic components, such as costly optical lasers. Therefore, you can expect power consumption to be lower in short-reach applications. If you use a simple average expense per cable, it will be lower, too.
As for the cable length, it can vary from less than five to 15 meters. The latter is a long-reach cable, but the extra length usually increases the price.
Why You Should Use an SFP Cable
Caption: Fiber optic media converter card with SFP
The main advantage of the SFP+ cable is they don't use additional power, which makes it a low-cost solution. They can secure connections between servers and switches. Therefore, you'll take cable management to the next level. Additionally, the electrical characteristics ensure high-quality signal transmission.
Here is an overview of the benefits of SFP+ cables:
Excellent reliability, and you can expect admirable EMI performance and compliance with RoHS.
Impressive speed. The backward compatibility goes down to 1Gbps, while the cables can handle up to 10Gbps.
MSA compliance. These cables will meet all the requirements of SFP+ cables.
Saving space. Although it fits 10Gbps networks, the cable diameter is relatively small, ensuring you can optimize space and serve everything in the racks.
Flexible and scalable. Thanks to this, you can expect an improved density in storage area networks and data centers.
Power saving. Comparing them to fiber optic will reduce the cost 3x since they are power efficient. 
What Types of SFP+ Cable Exist?
You'll find several types of SFP+ wires on the market. These include two main categories:
DACs – direct attach cables
SFP+ AOC – active optical cable
SFP+ Direct Attach Copper Cables
Caption: Copper wire
You can find two different types – active and passive DAC cable setups. Here is a short overview of both categories:
ACC – active copper cable type. The assembly has signal equalization and amplification, and you'll often find them in host systems without electronic dispersion compensation. Active copper cables have Tx Disable and Rx LOS options. If you compare it to a fiber optical transceiver, you'll notice the EEPROM signature for an active direct attach cable.
PCC – passive copper cable. These options have total compliance with the SFF-8431 SFP+MSA. The direct attach cable assemblies don't have signal amplification. If you use passive cables, you'll notice EDC. It is usually on the host boards, which allows extra assembly length. You can expect reliable connections of the SFP+ ports with the active equipment. The risk of loss is minimal. PCCs are a low-cost solution for rack to rack or in-rack uses because they use little power.
SFP+ Active Optical Cables (AOCs)
AOCs use a fiber optic cable between optical transceivers. This integration eliminates a complex optical fiber interface. Instead, it ensures a simple electrical-to-electrical setup. If you compare them to a traditional copper cable, you'll find AOCs have an identical electrical input, and the cable ends have an electrical-optical conversion. Therefore, you can expect the setup to work at high distances with impressive speeds.
AOCs are compatible with standard electrical interfaces. SFP+ applications use AOCs for effective data center interconnects. It's compliant with industrial standards and has 10Gbps bi-directional operation support. The optical fiber cable ensures excellent density and speed while using little power.
25G SFP28 Cable VS 10G SFP+ Cable: What's Better?
Caption: Fiber optic equipment closeup
It's easy to distinguish between these two cables. The 10G SFP+ cables can send and receive data up to 10Gbps. On the other hand, 25G SFP28 cables are suitable to transmit signals up to 25Gbps. 
Both designs use the same form factor. However, the difference is in the electrical interface. Thanks to that, the SFP28 options have better speed. Another convenient thing is that you can insert 10G SFP+ cables into these ports. Therefore, you don't have to worry about port support if you have one for the 25G SFP28 cable.
SFP Fiber Cable VS 10G Twinax: What You Should Use
What if you need to choose between 10G Twinax and SFP fiber cable? Before you make a decision, it's necessary to assess all product specifications. So, here is a detailed comparison of the main features:
Distance
SFP+ Twinax copper cable utilizes little power and has low latency for servers. Therefore, you can save a lot in the process. Additionally, the wires are more resistant and durable, which makes them suitable for robust connections. These setups offer more flexible cables with lower fragility. The problem with Twinax cables is that they can't reach more than ten meters. If you need a higher distance, it's necessary to use the SFP+ transceiver. Apart from a longer reach, it ensures better compatibility. Do you use a patch panel to connect the switches? If yes, you'll have to choose a 10G SFP+ SR transceiver.
It comes down to this – you'll need an SFP+ cable for an in-track installation. On the other hand, if you want an inter-rack connection, you'll need SFP SR.
Cable Management and Cost
Caption: A technology center with fiber optic
Product experts suggest that it's easy to go with fiber cables. That's because you can choose cable length freely. Understanding optic cable splicing can ensure you get the best value for money. SFP+ lines have certain length limits. These setups are suitable to put in the same rack. However, using Twinax with only half a frame can cause problems. You'll have a load of inflexible copper, which can be a hassle.
It's worth noting that optical 10G transceivers can cost more than 10G SFP+ copper cable. The good news is that the price of optics has gone down in the last several years, and that's why the price gap is as low as ever, which makes them a cost-effective solution, too. It allows you to focus on features and performance to get an efficient replacement while ensuring cost savings.
What if you get cables from different brands? You might do that because of current product availability. If you use optical transceivers, you might have fewer compatibility problems. Those who have two switches from various brands will need compatible SR transceivers. That's all it takes to resolve the compatibility issues.
Caption: Server room interior in a data center
Conclusion
SFP+ cables have connector modules and fixed cable lengths and setups. They have various uses while supporting sending and receiving 10Gbps of data. It's essential to find the proper cable assembly for your network applications. If you need custom coaxial assemblies or assistance in choosing your setup, don't hesitate to contact us.