Many electronic devices have some form of USB connection, such as computers, cameras, camcorders, scanners, and more. Several new USB cable types have been introduced in the last few years, but common types like USB-A and Micro-USB also hover around. Thus, there is a wide range of USB cables in the tech world. Then, how to choose one?
Table of Contents
How to Choose types of USB cables?
When you buy a new tablet or a laptop for graphic design, you will undoubtedly need a USB cable. However, picking the correct cable type may be confusing with the many options available. Before choosing any, get answers to a few questions. These are:
What kinds of USB cable is required for your device?
What are different cables compatible with your device?
Remember, the shape of the cable is not an indicator of its speed. For example, the USB-A cable can work from a slow rate of 12 Mbit/sec to 10 Gbit/sec. Thus, you must look into all the details to get a suitable cable for your portable devices.
Image: USB-A Cable
USB Cable Types Explained
Being a user, you will determine the USB Type of any cable based on the following points.
Connectors present at the ends of your connecting cable
Ports in which you will plug it
The actual cable if it can plug into two different ports
Here in the first and second categories, you will determine the type by the physical shape of the connector. 
However, in the third type, you will see both connectors on both ends. You can name the USB cable one of these two ways.
 As the single type, for example, Type-C cable or Apple Lightning cable. Here you will look into both sides of the cable and name the cable by the not Type-A side. However, if both sides are Type-A, it will be a simple USB cable.
For example, as One Type to Another, USB Type-A to USB Type C. Here, the one end has the typical A-type connector. In contrast, the other has a Type-C connector that will enter your portable devices.
Image: Apple Lightning cable
Types of USB cables
The type of USB cable is based on the types of USB connectors, and let's read about them.
USB A
You can also call it a USB standard A connector.
You can use it on host controllers in hubs and computers. And the USB-A socket connector offers a downstream port connection, and it rarely gives an upstream connection because its host devices will supply 5V DC power on the VBUS pin.
Some implementers also use USB-A male to male cables to connect two USB-A female style ports. However, remember that an A-A cable cannot set connections between two computers.
USB Type B
You can also call it a USB standard B connector.
You can use this connector for USB peripherals such as an upstream port on a hub or printer. Though fading out, the USB B Style connector is still in use.
USB Type C
You can call it a USB-type C connector.
USB C connectors are the latest type with the new USB 3.1 standard. Unlike type A and Type B, you can use USB-C cable type on host controller ports and for upstream sockets of devices. Nowadays, most cell phones and laptops have C types of USB connector. You can connect a USB-C port with USB 2.0, 3.0, 3.1 Gen 1, and Gen 2 signals.
Image: USB-C devices and USB Type-C connector
USB Mini B
You can use mini – USB cables on USB peripheral devices but with a small form factor like USB type B. By default, it has five pins that include an extra plug for supporting a USB OTG device. This feature allows mobile devices and other peripheral devices to act as a USB port.
As smartphones are becoming sleeker and compact, Micro USB B has replaced Mini B. Nowadays; only some digital cameras use Mini B connectors.
USB Micro B
Micro B is the scaled-down version that allows slim mobile devices to connect to computers and hubs. It has five pins to support USB OTG so that mobiles and smartphones can read external devices, cameras, and any other peripheral device. You will have to implement a special wiring connection to enable OTG feature in the cable assembly.
Industries have accepted this Micro – USB interface widely after the International Telecommunication Union (ITU) included it in Universal Charging Solution. 
 USB 3.0 Type A
USB 3.0 A provides a downstream connection to host controllers in computers and hubs. Its design is similar to the A connector used in USB 2.0 and USB 1.1. however, this version has some additional pins in USB 2.0 ports. It can support 5 Gbps bandwidth for superspeed data transfer. You can easily distinguish it from its previous versions with its blue color and "SS" logo.
USB 3.0 Type B
This B-type connector works for the USB devices such as printers or upstream ports on hubs and other peripheral devices. This connector supports 3.0 superspeed application and USB 2.0 low-speed data.
You cannot plug a USB 3.0 B into a USB 2.0 socket as the shapes are different. However, USB 3.0 B receptacles can accept USB 2.0 B male plugs.
USB 3.0 Micro B
This USB 3.0 cable is a super speed connector that stacks five more pins to attain standard data transfer speed. You can find it in hard drives, cell phones, digital cameras, and other USB 3.0 devices.
You cannot plug a USB 3.0 micro-B connector into a USB 2.0 socket. However, USB 3.0 Micro B socket devices can accept USB 2.0 Micro B male cable plugs. As the industries need high-speed data transfer rates, these connector types are increasingly used in Machine Vision and 3D imaging applications. 
USB 3.0 internal connector
Intel developed these connector cables to connect the SS ports of the front panel to the motherboard. It has a 20-pin internal socket with two USB 3.0 signal channels. Thus, it gives you a maximum of 2 USB 3.0 ports without sharing data bandwidth.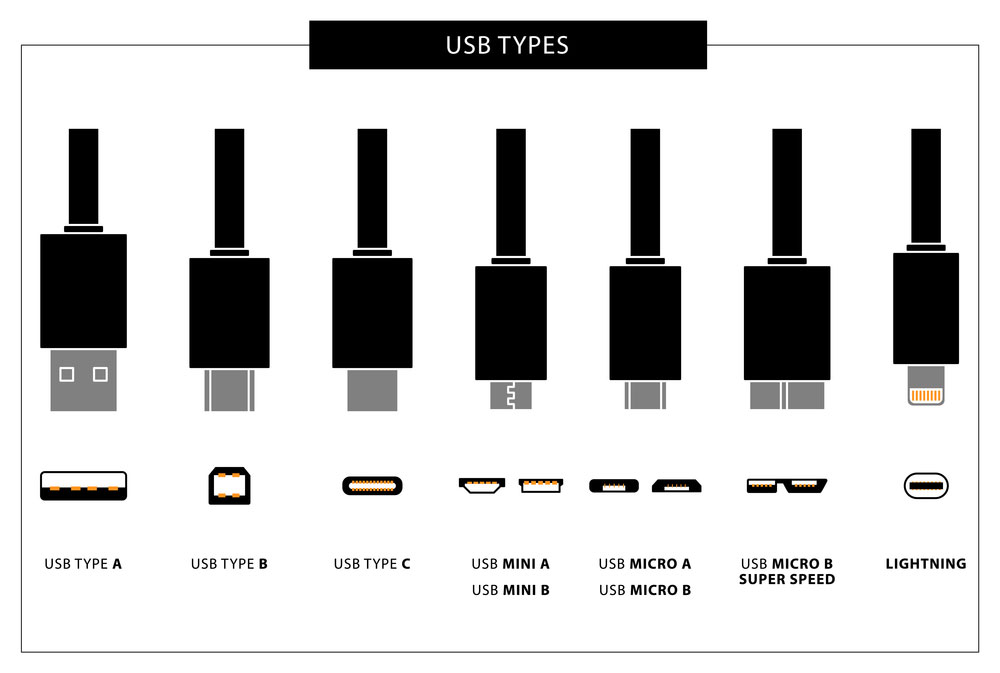 Image: Different kinds of USB cables
Conclusion
There are so many varieties of USB cables, and you must pick a suitable one for charging and transferring data from any of your devices. Our experts at Cloom have been dealing in cable assemblies, and wiring harnesses for decades.