Discarding tired or broken  connectors, cables, and wires isn't always necessary. Oftentimes, you can fix or improve them through a cable wire splice.  
However, you must be extremely careful with how you approach this. Wires and cables that you've improperly spliced can cause damage to electronic devices and appliances.
They can also be a hazard to people. The following guide will help you prevent this by exploring what a cable wire splice is and how to execute it expertly. 
Table of Contents
What is Cable or Wire Splicing?
Cable splicing describes the process of integrating or connecting two cables or wires. Electricians typically perform splices on fiber optic and coaxial cables/wires. Splicing allows you to extend cables/wires and replace damaged ones instead of buying new ones.
Things You Must Consider In Regards To Splicing
It would be best to consider a few things before attempting to splice a set of wires or cables. These considering include:
Distinguish Between Wire and Cable
Are you splicing a cable or a wire? What is the difference? A wire consists of a single conductor. It can have insulation or be devoid of it. 
Inversely, a cable consists of multiple wires. As such, cables are harder to splice than cables. You must be able to discern between the two. It will determine how complex splicing will be.
Wire Gauge
You must ensure you know the wire gauge of the cables you are splicing. Generally, electricians either use the American Wire Gauge (AWG) or Metric Wire Gauge (depending on the region) to determine the cable thickness/size.
 You must never try to splice two cables with different gauges. It will increase the risk of overheating because of uneven amplitude.
Turning Off or Disconnecting the Power
Some cables may connect directly to the power distribution unit or the house's electric wiring. 
Thus, you must ensure that the power is off or disconnected. If you're extending the cables of an appliance or large device, make sure that it's unplugged before you perform a splice.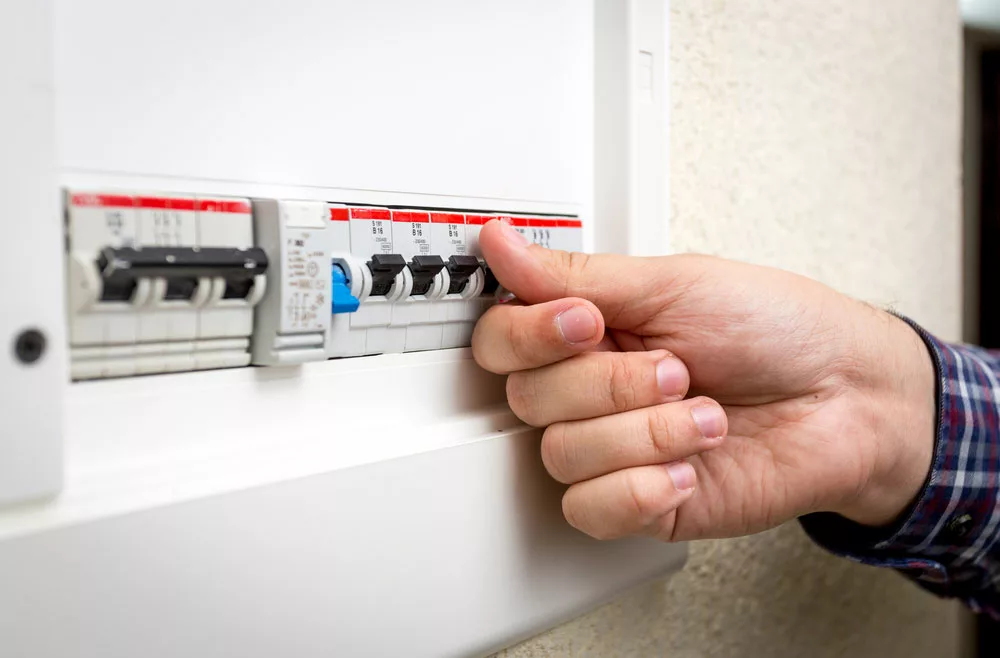 Man switching the power off.
Voltage Range
You must be aware of the normal voltage range of the cable and device. If the splice causes a substantial decrease in the voltage that passes through the cable and splice, it generally means that you've poorly spliced the cable. 
Cable splicing tends to cause an increase in resistance which, in turn, reduces the amount of voltage running through it. The better the splice, the lower the resistance. 
Splicing More Than Two Wires
While most professionals argue that you shouldn't try to splice multiple cables (> 3), it's possible. However, it requires care. A pigtail or rattail splice is the best way to splice more than two cables. This guide covers all rattail splice types further down. 
Insulating and Covering Your Wires
Insulating black electric tape is not enough when covering spliced cables or wires. 
According to UL standards, you must apply caps to taped (or exposed) wires. This will ensure that the wires maintain their original integrity.
 Thus, they will be less likely to pose a danger to people nearby. It will also protect the wires from ambient moisture.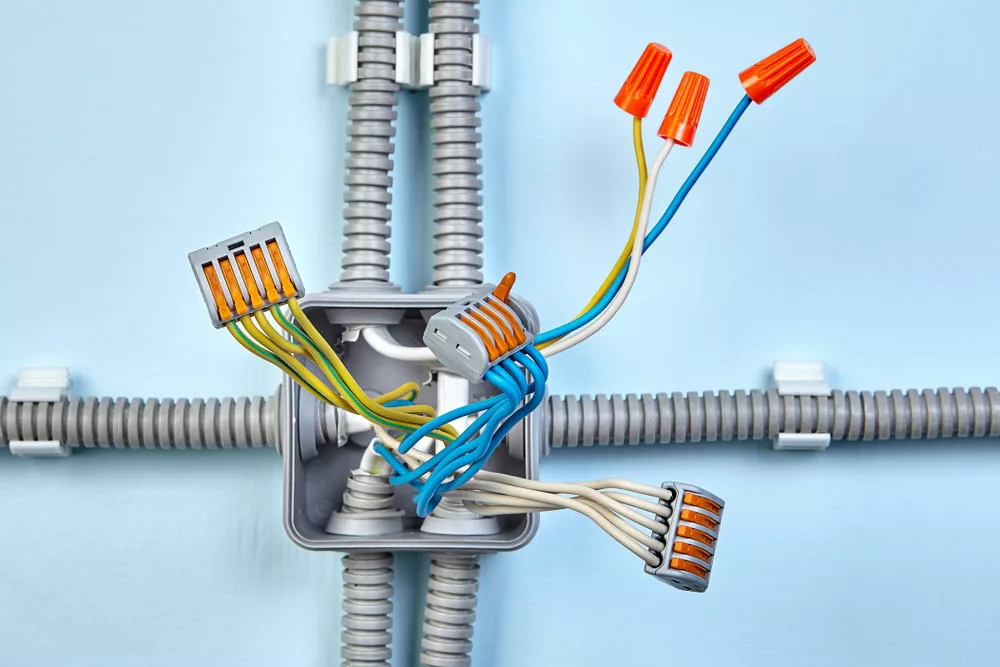 Capped Electrical Wires
Use a Junction Box
It would be best to leave loose splices, cables, and wires exposed and hanging out of ceilings or walls. 
Even if you have properly spliced them, you must place them in a junction box (jbox). This will ensure that they pose no danger to people walking near them.
Delegate Splicing
Depending on the situation, splicing can be a complex task that requires experienced hands. If you're unsure about a splice, consult an electrician. Electrical work can be dangerous. 
The Right Tools
Typically, you will need the following tools to perform a basic coaxial splice:
Wire stripper
Twist-on wire cap/nut
Electric cable ripper
Hammer
A set of screwdrivers
Workman gloves
Pliers
Electric drill (Preferably Cordless)
Electric tape
JBox
Cable clamps
Wire connectors
Welded spliced wire in a junction box
In most cases, you won't require all the above tools. It all depends on the complexity of the splice and your preferred approach. Albeit, splicing fiber optic cables requires a different set of skills. These include:
Fiber strippers
Crimp tools 
Tubing cutters
Kevlar scissors
Needle-nose pliers
Fibre scribes
Tweezers
Jacket stripper
Types of Splices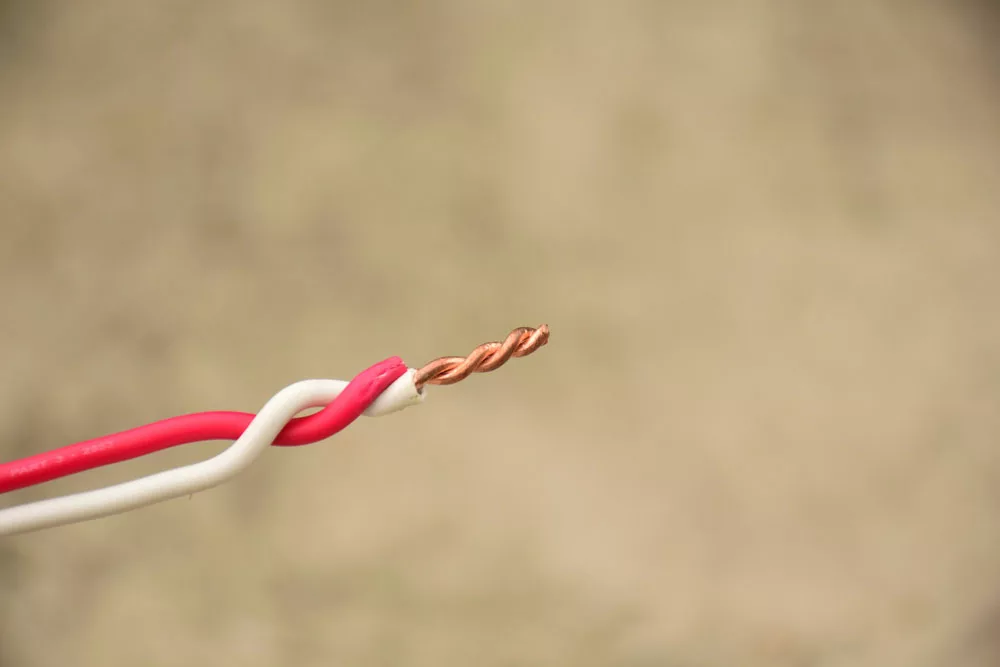 Rattail Splice/Join
The previous sectioRattailoned the rattail/pigtail splice. Again, many profrattaills believe this to be the best type of splice. As such, it's very common. However, you have other options, including:
Y-Splice: Suitable for cables with small strands of wire.
Tap Joint: Joining and wrapping one end of the conductor to a continuous wire instead of joining two wires by their ends. The most common tap joints are:

Knotted tap
Plain tap joint
Aerial tap
Duplex cross joint

Western Union Splices: Professionals use these splices when the cables may suffer heavy tension or stress. Once they've spliced the cables, they solder them to reinforce them. There are two types of western union splices:
How To Splice a Cable Step-By-Step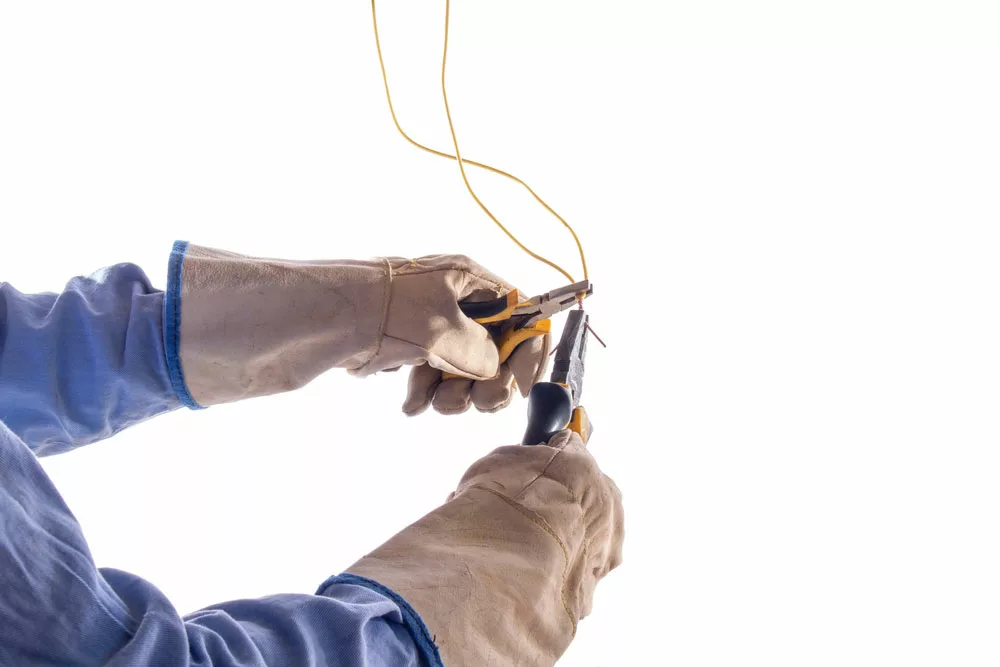 Gloved Hands Splicing Wires Together
The first thing you must do is read the considerations this guide has provided you with. You must ensure you have the necessary tools and the recommended precautions. Once you've done that, you can begin splicing your basic cable:

Expose at least an inch of the conductors of both cables by stripping them using a wire stripper. To do this, clamp the wire in a suitable hole in your wire strippers or crimpers. Then perform a 360-degree twist before pulling the tool away from the rest of the wire to remove the insulation.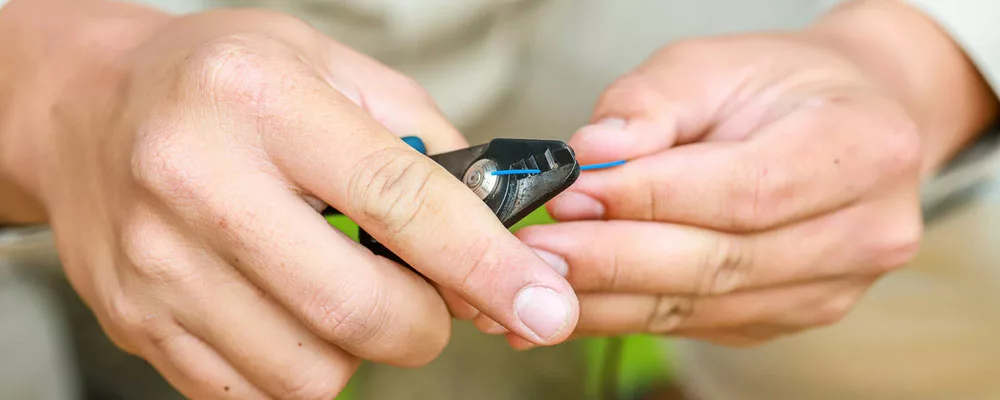 Wire Stripping

Remove all tape and wire caps if trying to fix a splice. You can then use pliers to untwist the wires or cable rippers to pull them apart.
Hold the wires parallel to each other, ensuring that both points touch and are level. Use your pliers or a twist-on wire nut to rotate the wires into a joint spiral. You must essentially screw them together. This will essentially create a pigtail/rattail splice.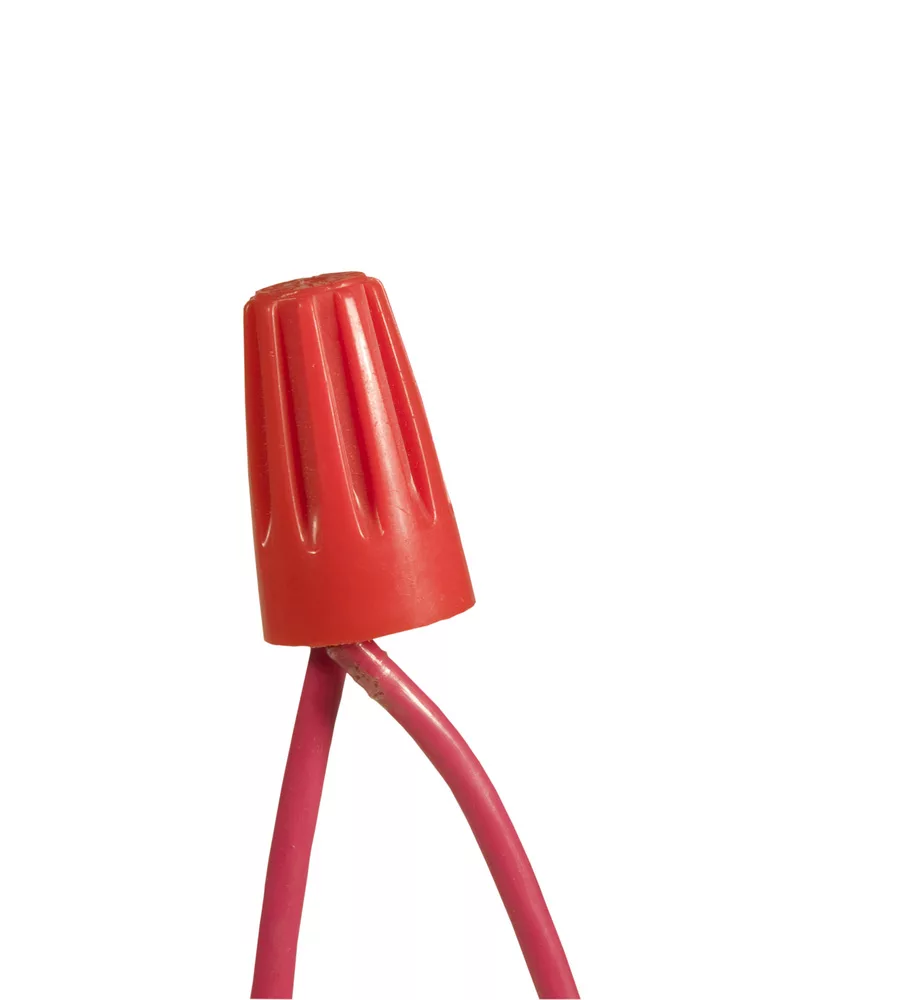 Wire Twist-On Cap/Nut
Yorattailen removes the wire nut (if you've used one) and applies some insulating/masking tape. Once that's done, place a wire cap on the taped cable splice. 
Splicing Fibre Optic Wires
We use mechanical splicing for normal cables. Fibre optic cables and wires are a little different. There are two ways to splice them:
Fusion Splicing: Where an operator uses a specialized fusion splicing machine to splice the fiber optic wires.
 Fibre optic cables transfer information through light. Thus, twisting the wires together is out of the question. 
The fusion splicer joins the fiber optic wires end-to-end to ensure light can pass through them without interruption. This process essentially melts the endpoints of the fiber optic wires. 
The fusion splicer can generate heat through an electric arc, laser, gas flame, or a tungsten filament.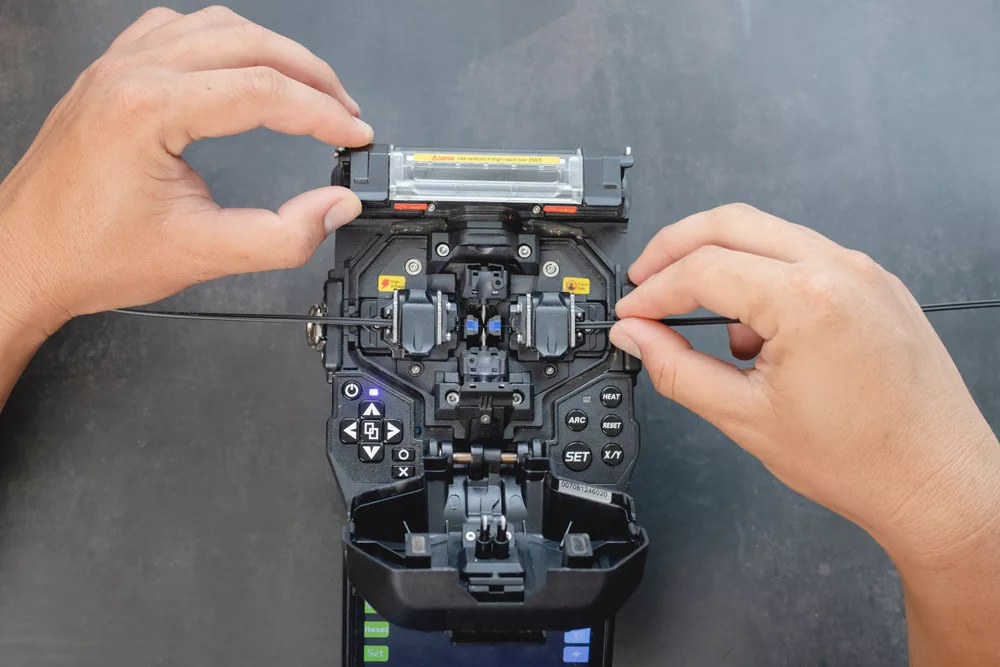 Fibre Optic Fusion Splicer
Mechanical Splicing: Where a skilled technician uses a gadget or tool to clamp and connect two separate fiber optic wires. 
Technically, the connector doesn't join the wires. It just levels them and places them close enough so light can pass through. Types of mechanical splicers include:

Elastomeric Splicers
V-Groove Splicers
Rotary Splicer
Capillary tube
Conclusion
Splicing copper coaxial wires can be easy in most cases. You don't have to be an experienced technician to perform a simple pigtail cable wire splice. 
These days you have quick splicing tools such as splice wands and semiautomatic splice tools. Nevertheless, only professionals should attempt to perform fiber optic splices. Regardless, fusion splices are relatively inexpensive.
This means you won't have to replace your fiber optic cables completely. Splicing is cheaper and better for the environment than completely replacing damaged wires.
Don't hesitate to contact us to learn more about wire wiring harnesses and cable assembly.