About Cat 7 vs. Cat 8 Ethernet Cable, The availability of many ethernet cable types, from Cat 5, Cat 6, Cat 7, to Cat 8, in the market makes it an overwhelming task to acquire the right network cabling system perfect for your internet needs. 
Therefore, you need to understand the similarities and differences between these cables while choosing one that meets your demands.
This article focuses on the differences between Cat 7 and Cat 8 to help you make an informed choice. Sounds great? Let's get started!
Table of Contents
What is Cat 7?
Cat 7 is an acronym for Category 7 cable, and it has the following characteristics;
Faster data transmission
Higher bandwidth
Four wire pairs
The cable itself is shielded, effectively reducing noise and eliminating crosstalk.
CAT7 allows you to transmit data at a speed of 10Gbps and a frequency of 600MHz. It is also backward compatible with the following cables;
However, Cat 7 ethernet cable is not officially acknowledged by ANSI/TIA.
Cat 7 vs. Cat 7A
Cat 7a is an improvement of the Cat 7 design regarding wire gauge, shielding type, and twisting tightness. It operates at a relatively higher frequency, allowing it to offer high-speed data transfer with;
| | | | |
| --- | --- | --- | --- |
| | CAT 7 | CAT 7A | Winner |
| Cost per foot | $0.6 | 0.8 | Cat 7 |
| CrossTalk/Signal-to-Noise | Lower than Cat6models | Lower compared to the Cat7Cables | Cat 7a |
| Frequency (MHz) | 600 | 1000 | Cat 7a |
| Bend Radius andBulkiness | Less | More | Cat 7 |
| Max. TransferSpeed (up to 100 meters) | 10 Gbps | 10Gbps | Draw |
| Transmission Range (meters) | 100 | 100 | Draw |
Cat 7 ethernet cable is more reliable and relatively cost-effective. However, if the marginal performance of a Cat 7a offers competitive benefits to your business, the Cat 7a ethernet cable will be a worthwhile investment.
What is Cat 8?
Cat 8 is an abbreviation of Category 8 cable. It is an ethernet cable that supports a frequency of up to 2000MHz (2GHz) and a speed of 25Gbps or even 40Gbps. Cat 8 cable is limited to a 30-meter two-connector channel.
The cable itself is shielded to eliminate crosstalk.
The physical appearance and design of a Cat 8 cable are similar to that of lower cat ethernet cables. You can terminate Cat 8 cable in;
Moreover, Cat 8 cables are backward compatible with lower-category cables. So, you can use a Cat 8 cable with a standard Cat 7 connector.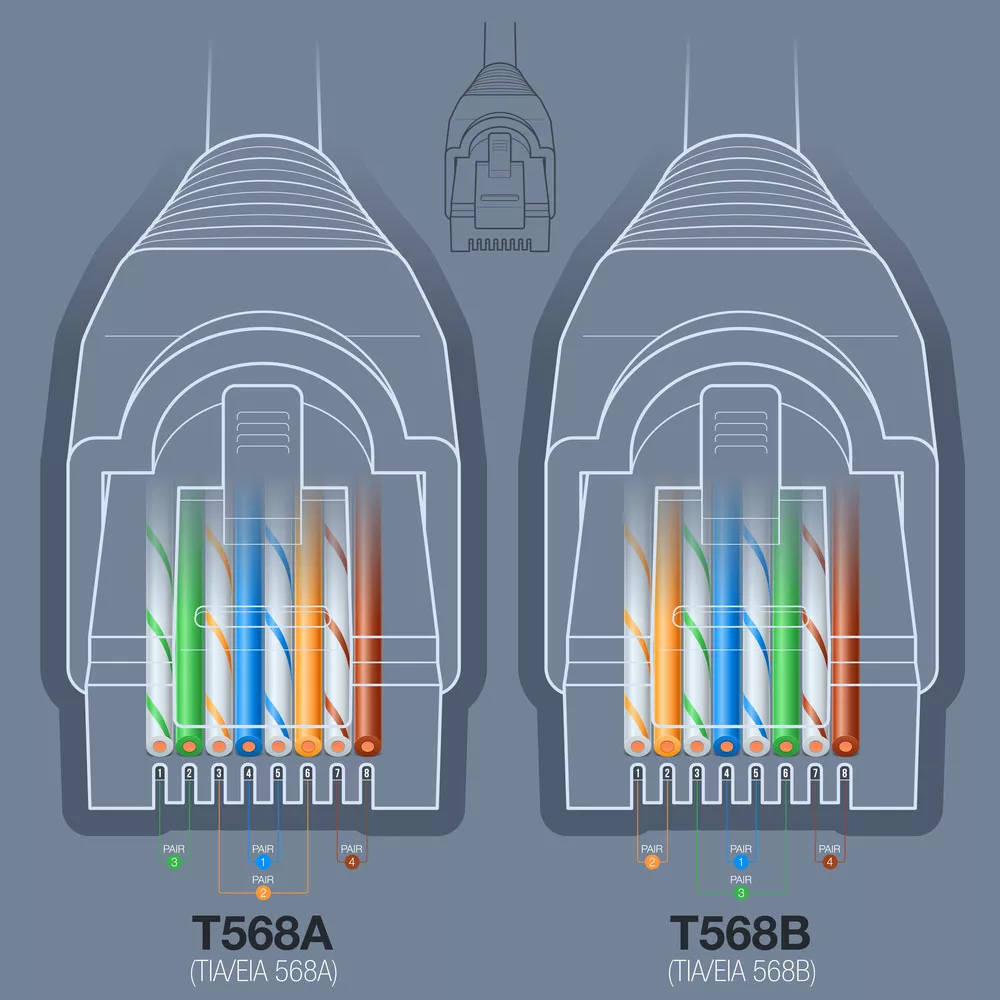 T568A/T568B termination diagram
Cat 7 vs. Cat 8: Similarities
Here are the popular similarities between Cat 7 and Cat 8 networking cables;
| | | |
| --- | --- | --- |
| | Cat 7 | Cat 8 |
| Function | Hook up network switches, computers, routers, printers, etc. | Similar to Cat 7 |
| PoE support | PoE, PoE+, PoE++, and 802.3af/at/bt up to 90W | Similar to Cat 7 |
| Lifespan (years) | 15 | 15 |
| Cable construction | Shielded | Similar to Cat 7 |
| Backward compatibility | Yes | Yes |
| Crosstalk | Eliminates crosstalk | Similar to Cat 7 |
| Jacket rating | CMR for general indoor use and CMX for direct burial use and outdoor UV protection | Similar to Cat 7 |
| Termination | T568A/T568B color code standards | Similar to Cat 7 |
| Conductors | 8 cable conductors twisted into 4 color-coded pairs | Similar to Cat 7 |
Cat 7 vs. Cat 8:Differences
Regarding the difference between Cat 7 and Cat 8, both ethernet cables have unique perks and disadvantages. To give you a clear understanding of this, we will compare both networking cables based on multiple factors that will help you choose the one that best suits your needs.
| | | |
| --- | --- | --- |
| | Cat 7  | Cat 8 |
| Maximum frequency (MHz) | 600 | 2000 |
| Distance (Meters) | 100 | 30 |
| Connector type | GG45 | Class 1: RJ-45Class 2: GG45 |
| Cost of installing | Most companies estimate it to be around $75 per connector for a total installed cost of $1,950. | On the other hand, the total cost of a Cat 8 cable is 20-30% more than that of Cat 7. |
| Average cost per foot | $0.6 | $0.7 |
| Maximum transmission speed (Gbps) | 10 | 40 |
| Number of connectors | 4 | 2 |
| Standard Gauges in the conductors (AWG) | 22 or 23  | 24 |
| Performance standard | Developed by ISO/IEC but not acknowledged by ANSI/TIA. | Fully Recognized by ANSI/TIA |
Cat 7 vs. Cat 8: How do I Choose?
Cat 8 ethernet cables are more valuable than Cat 7 cables. However, a Cat 7 ethernet cable will be more than enough for a home network. Therefore, we at Clooms recommend using a Cat 6 or Cat 7 ethernet cable for home networks.
However, if you operate a high-speed data center, consider choosing a Cat 8 cable. Besides, due to Cat 8's backward compatibility with lower cable categories, you can upgrade to Cat 8 from Cat 7.
It also has GG45 that can be used with commercial networking devices and equipment.
Who Should Use Cat 7 Cable?
Cat 7 is ideal for smart homeowners seeking to power their homes with reliable wired internet. The shielded cables are vital in;
Delivering high speeds.
Protecting the network from external interference.
Besides, these shielded Cat 7 cables can last over 15 years.
Moreover, the cost factor, reliability, and higher transmission range of cat 7 cables make them suitable for ISP designing indoor networking solutions for apartment complexes and commercial facilities.
A Cat 8 cable has a limited length and is relatively expensive. On the other hand, a Cat 7 cable has a better cabling length, which is perfect for large-area network applications.
Who Should Use Cat 8 Cable?
The high cost and speed of Cat 8 ethernet cable make it financially best suited for high-speed;
Cloud servers
Data centers
Enterprise-level servers
Ethernet switches
Besides, Cat 8 cables have RJ45, which means they can connect to various standard networking devices and equipment.
So Cat 8 ethernet cable is an ideal option for individuals seeking to upgrade their network without worrying about equipment overhaul.
Is Cat 8 Worth It?
Cat 8 is the most valuable ethernet cable, offering a faster data transfer speed of up to 40Gbps. However, due to this faster speed, cat 8 cables are only perfect for data center applications.
Besides, most home network equipment and legacy devices can not operate at Cat 8 speed of 40Gbps.
Moreover, the network transmission speed depends on whether all the connected devices can operate at higher speeds.
Therefore, if your devices can not operate at higher speeds, there is no point in using a Cat 8 cable. You will be better served with a lower category, less affordable cable, such as Cat 7, Cat 6, or Cat 5.
For instance, although these cable categories can not compete with Cat 8 regarding transmission speed and frequency, they are the most suitable options for home applications.
Conclusion
By now, you should know all the primary similarities and differences between Cat 7 and Cat 8 ethernet cables. We believe that both networking cables offer high performance.
For instance, 10Gbps is considered fast enough for most networking needs. If you want the best experience, a Cat 8 ethernet cable offers great networking and internet experience.
Of course, Cat 6 is the most suitable for home applications. But no matter what cable you need, we are here to help you with the connection. Do not hesitate to contact our custom wiring experts for assistance.