4K resolution has become an everyday norm for televisions and monitors. A 4K resolution means 3840*2160 pixels, which gives you more vivid and detailed picture quality due to such high density.
Earlier, 4K content was not common, but now different sources like streaming services, Blu-ray players, and broadcasting services provide 4K content. As a result, 4K devices are making a hit in the market.
This growing craze for 4K content has led cable manufacturers to introduce certified 4K HDMI cables.
What are these 4K HDMI cables? Let's bust all the myths about 4K HDMI cables and understand the fundamental concept behind them.
Table of Contents
What do you mean by certified 4K HDMI cables?
First, you must know that nothing exists as a 4K HDMI cable. Only different types of HDMI cables can support different versions of HDMI. 
Different HDMI versions have unique performance standards, and an HDMI cable must be high-speed enough to be compatible with that particular version.
For instance, HDMI 1.4 supports 4K resolution @ 60 Hz. An HDMI cable to support such HDMI 1.4 performance should have a high capacity, and those cables fall in Category 2 HDMI cables.
Also, as an HDMI cable is backward compatible, an HDMI cable that meets performance standards for higher versions can support older versions of HDMI.
In contrast to Category 2 cables, Category 1 or standard HDMI cables come with a lower capacity and, thus, do not support 4K resolution signals. It only supports 720p and 1080i resolutions.
A Gold-plated HDMI Cable
Then, why are some HDMI cables known as certified 4K HDMI cables?
It's only a marketing strategy.
The Input HDMI port on display devices like TV or projector and the output HDMI port on source devices like Blu-Ray player or game consoles defines the different versions of the HDMI interface.
An HDMI 1.4 version can support a resolution of 4K @ 30-hertz refresh rate, while an HDMI 2.0 version supports a 4K resolution @ 60-hertz refresh rate.
You must know the HDMI version of your device's port to know if the video connection supports a particular resolution and refresh rate.
There are no HDMI cable versions as they do not integrate circuits or software that can be updated with time. They only have wires to carry signals from one port to the other.
However, the inside wiring and the wire's quality may determine an HDMI cable's performance standards.
So, it's clear that there is no 4K HDMI cable. You can categorize HDMI cables as high-speed cables that support HDMI 1.4 specifications (4K @ 30 hertz), and there are premium high-speed cables that support HDMI 2.0 specifications (4K @ 60 hertz).
People commonly refer to high-speed and premium high-speed HDMI cables as 4K.
A braided HDMI cable
Is it essential to have HDMI certification?
Yes, it is necessary to have HDMI certification, as buying a cable not tested and certified by these HDMI ATCs may not work as expected. 
HDMI LA (Licensing Administrator), a body by HDMI Forum, authorizes some centers known as HDMI ATC (Authorized Test Centers). After testing, these centers can award licenses and certifications to HDMI cables based on different HDMI specifications.
HDMI cable categorize
| | | | | |
| --- | --- | --- | --- | --- |
| HDMI cable type | Resolution | Refresh rate | Bandwidth | Version |
| Category 1 or standard HDMI cable | 1080i and 720p | 30 hertz | 4.96 Gb/s | 1.0 a-1.2a |
| Category 2 or High-speed HDMI | 1080p and 4K | 30 hertz | 10 Gb/s | 1.3a-1.4a |
| Category 3 or premium high-speed cable | 4K and  5k | 60 hertz | 18 Gb/s | 2.0a-2.0b |
| Category 4 or Ultra-high speed cable | 8K and 10K | 30 hertz | 48 Gb/s | 2.1 |
All HDMI versions' official specifications and features
| | | | | |
| --- | --- | --- | --- | --- |
| Features | HDMI 1.3 | HDMI 1.4, 1.4a, 1.4b | HDMi 2.0, 2.0a, 2.0b | HDMI 2.1 |
| 1080p support | Yes | Yes | Yes | Yes |
| 4K support | No | Yes | Yes | Yes |
| 8K support | No | No | No | Yes |
| Bandwidth | 10.2 Gb/s | 10.2 Gb/s | 18 Gb/s | 48Gb/s |
| Maximum frame rate | 1080p at 60 hertz | 4K at 24 hertz;3840*2160p at 24 hertz, 25 hertz and 30 hertz | 4K at 60 hertz | 4K at 120 hertz;8K at 60 hertz |
| High Dynamic Range support | No | No | Yes, but only in 2.0b  | Yes |
| HLG | No | No | Yes but only in 2.0b  | Yes |
How do certified 4k HDMI cables support 4K TV?
You must know that TVs'  refresh rates differ from HDMI cables' refresh rates. For a standard TV, the refresh rate is 60 Hz, which easily matches the video's default refresh rate, i.e., 60 Hz or 24 Hz.
However, some modern ultra-high-definition televisions have a higher refresh rate up to 120 Hz. In such a situation, the television creates new frames, delivering each frame multiple times.
As a result, you experience less blurriness in videos with swift movements when you are in video games and other sports. 
So, when the television has a high refresh rate, you must pick an HDMI cable with higher bandwidth to carry the high amount of information required to fill those multiple frames.
Some tips for fulfilling the 4k experience:
If you bought a television with refresh rates higher than 60 hertz, you must have purchased it for playing online games or other sports to experience smooth video movements. However, to watch regular content without too many fast actions, you must reset the refresh rate to 60 hertz to experience real images.
HDMI cables can also support various color spaces defined by ultra-high-definition videos. The broadest range of colors is supported by HDMI 2.1, followed by HDMI 2.0 and HDMI 1.4.
Your devices must support the HDMI version that you want to display. For example, if you wish to have an HDMI 2.1 version, your source and display device must have an HDMI 2.1 supporting capacity. You can check that by checking the HDMI ports on these devices. Now, imagine if your devices support different HDMI specs. In such a case, your display device will display features of the lower specs. For instance, if your Blu-Ray player has an HDMI 1.4 port and the monitor supports HDMI 2.0, the monitor takes features of the HDMI 1.4 version. If you want to avail of HDMI 2.0 features, both devices must have HDMI 2.0 support.
A Standard HDMI-to-Mini HDMI cable
Is using a 4K HDMI cable on a Non 4K television okay?
HDMI 1.3 cable is a non-4K cable as it does not have the required bandwidth. 
However, the next version, i.e., HDMI 1.4, has similar bandwidth but can transfer 4K videos at 30 frames/sec.
HDMI 2.0 cables and its other types have bandwidth over 18 Gb/s, which is okay for 4K content at 60 frames/sec.
Further, HDMI 2.1 cables can support a 120-hertz refresh rate and 4K resolution high-definition video quality. 
Apart from the bandwidth, all cables' compatibility and design are the same.
High-speed/HDMI 1.4 or higher cables have a higher tier to work with all display resolutions except 8K.
On the contrary, other HDMI versions do not have such high bandwidth to transmit large data packets with 4K pictures.
As HDMI cables show backward compatibility, HDMI 1.4 and other latest HDMI cables easily support 720p, 1080p, and 1440p resolutions.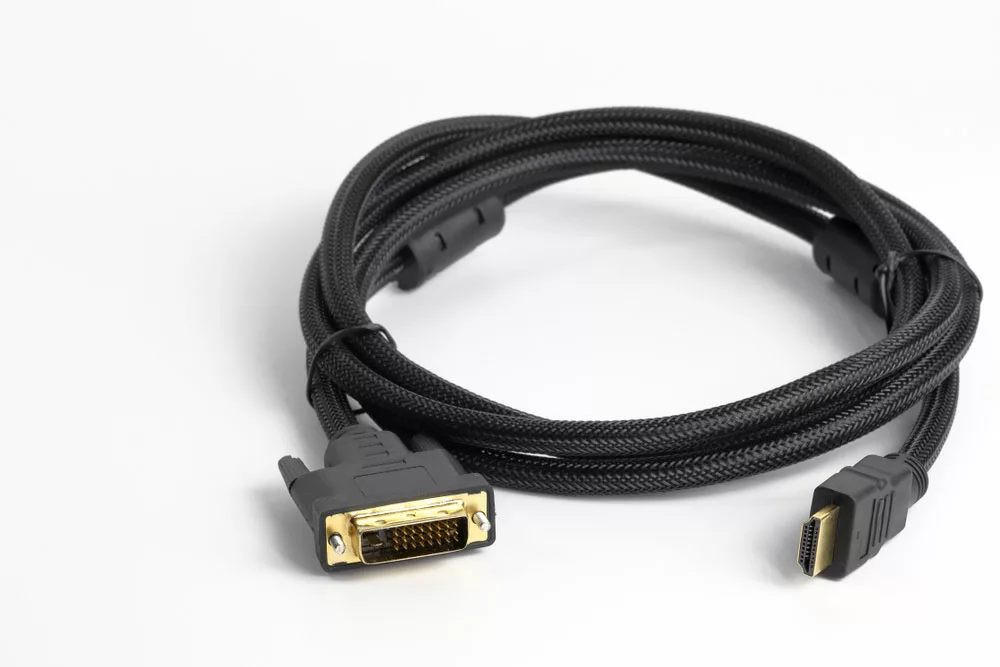 A DVI-to-HDMI cable
Conclusion:
So, all HDMI cables are 4K ones except HDMI 1.0, 1.2 and 1.3. However, not all HDMI versions can carry 4K content the same way due to the difference in the cable bandwidth, and that's why you need higher and updated cable versions for transmitting 4K content.
If you still have any doubts regarding HDMI cables, contact Cloom. We are a leading manufacturer of cable assemblies and wiring harnesses and also provide custom solutions to our clients.