How to cut ethernet cables? Handling ethernet cables can be challenging, even for someone with some experience.
One of the most challenging aspects of working involves cutting and stripping them without causing internal or external damage.
Fortunately, there are specialized tools available for such tasks. This piece will discuss some of them and how to use them professionally. 
Table of Contents
What is a Wire Cutting and Stripping Tool?
If you are familiar with the networking sector or industry, you will likely know about wire-cutting, stripping tools, and handheld devices that most electricians use daily.
That said, a stripping tool provides a clean and seamless cut on most cables so users can get a secure network connection. 
Another key function of the tool is to adequately strip the cable.
You can also remove the external jacket from the ethernet cable, depending on the situation. In most cases, users should practice little before performing such tasks. 
A wire cutting and stripping tool have great features, making it the ideal companion for network specialists and electricians.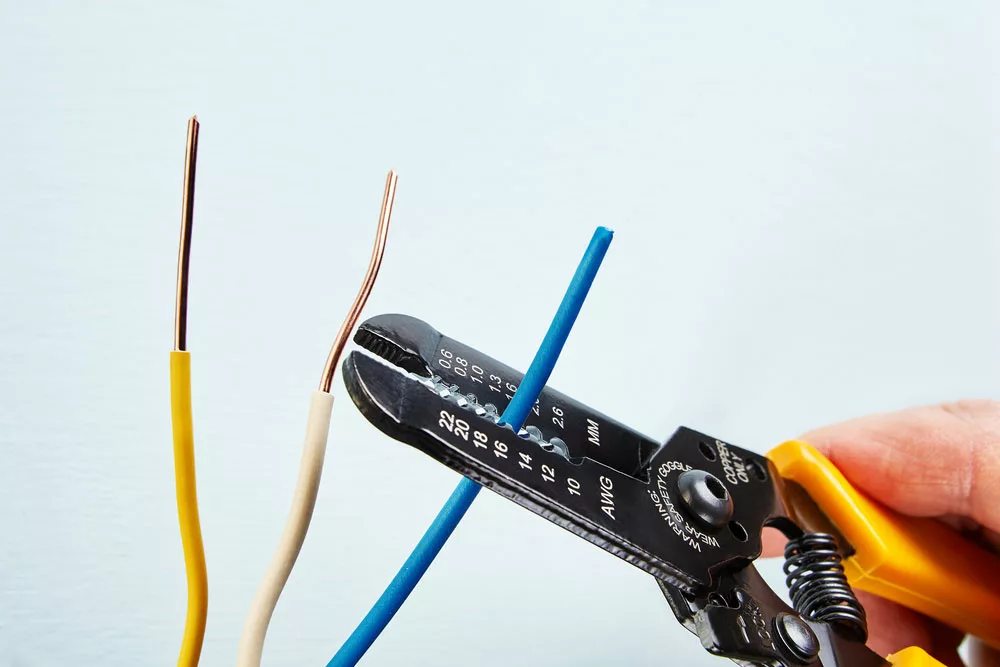 Wires being stripped using a wire stripper
Components of Ethernet Cables Cutting Tool
It is a handheld component, so most users often carry it without much hassle.
There are numerous components to the cable-cutting tool, and individuals can use any of them depending on the job they are handling. 
For starters, it has a knob on top used to alter the level of the blade so that you can make a clean and seamless cut on the cable's jacket.
There is also a specially designed cassette for the cable to rest on that you can take out on other ethernet cables.
A cutting tool also has a comb meant for coaxial cables and a blade for cutting the alternate ends, even when dealing with ethernet cables. 
Failure to take note of these elements and how they function will significantly hinder your capability to use them as you should. 
Automatic Wire Stripper
How To Use an Ethernet Cables Cutting Tool
A wire-cutting or stripping tool is something that individuals find to be very user-friendly. All you have to do is practice several times before moving forward with your tasks. 
The following are other easy steps to help you look like a professional while using the tool.
First, check the measurements or settings for stripping and cutting the cable. 
You will then have to adjust the knob found at the tip. In most cases, you can rotate or move it counterclockwise to alter the level of the blade.
Place the cable into the slot, and don't forget to retain around 3 inches of the cable on the alternate end.
Once you're done, you can adjust the knob so that it is set perfectly on your cable jacket.
The next crucial step will require you to move the tool clockwise or counterclockwise to correctly score your cable. 
Afterward, bend the cable in any direction to let its jacket easily tear apart with minimal resistance. Users can also cut your cable by placing it inside the cutting slot, sometimes viewed as a more straightforward process. 
Factors to Consider When Selecting Wire Strippers
Below are the key aspects to consider when selecting wire strippers.
Today the thickness of a wire, or its gauge, is normally measured using AWG ranging between 0000 to 40 since it is the standardized system.
However, unlike expected, the bigger the figure, the more slender the wire. Most electrical wiring in homes is between 12 and 14 gauge, with larger appliances like stoves, water heaters, and HVAC systems between 6 and 10 gauge. 
In most cases, a wire cutting and stripper tool designed to handle wires from 10 to 22 gauge is sufficient for general household needs.
However, if you are dealing with a much larger or smaller wire than usual, you will require wire strippers and cutting tools specially designed to cater to such gauges.
Types of Wire Strippers
Generally speaking, there are 3 main kinds of wire cutting and strippers, which are;
Adjustable wire strippers come with a single notch that allows users to adjust the tool to the precise gauge of wire one is stripping.
It is very convenient to deal with a range of wire sizes. Nonetheless, you could cut or damage the wire if you fail to adjust the settings before changing wires.
The most common wire strippers are gauged ones. They have tiny notches carved on the periphery of their cutting blade, each corresponding to a distinct gauge wire.
Since they are the most common, they also come in varying sizes. To use the tool, one will first need to align the wire gauge of the wire to the correct notch of the stripper.
You must also remember that going too wide or very narrow will likely lead to a badly cut or damaged wire instead of smoothly removing the jacket.
Automatic wire strippers, also known as self-adjusting cutters, are the quickest brand for such tools, making them highly-priced in almost every aspect.
These tools are designed to sense the wire gauge a user is stripping and immediately adjust itself to the appropriate size.
As a result, you will not have to purchase a different wire stripper when dealing with different gauges of wire, nor will you be required to take your time setting the device to the current size of your wire.
Cables or Wires
When people talk about 'wires' and 'cables,' you will find that they are often interchangeable. However, in essence, they are two different components requiring their strippers.
Therefore, before you settle on a particular wire stripper, you must understand what you will be cutting or stripping. For instance, bigger cables need a different stripper than their thin counterparts. 
Generally, a wire can be defined as a conductive metal in plastic material called a jacket. Wires are also color-coded according to their specific use.
The ground wire is green, and white represents a neutral wire, and red, black, blue/yellow a hot wire, or one carrying a current.
There are solid or stranded wires, and as suggested by the name, the former is a single piece of aluminum or copper, while the latter is a multitude of fairly thin strands grouped within the jacket.
Since the solid wire tends to be thinner than its stranded counterparts, most wire strippers provide users with levels for both wires. 
On the other hand, a cable refers to several braided or bunched-together wires that are then covered with a jacket.
The size of a cable is typically indicated using two numbers, with the first one highlighting the gauge of the wires inside, whereas the second tells users the number of wires inside the cable.
For instance, a cable showcasing 14-2 means it has 2 14-gauge wires beneath the jacket. 
Other Features
The various other factors to consider including;
Comfort
Those intending to use wire strippers often have to consider the grip.
It must be easy to handle to make your job much more comfortable. In most cases, a rubberized handle will provide that soft area that will act as a cushion. 
Spring-loaded
This type of handle is more comfortable for the user, especially if you have long work sessions. It is also ideal when using it with a single hand. 
Multi-purpose
There are certain wire strippers you can use to cut screws or nuts, as well as crimp wires. 
9 Best Wire Strippers of 2023
Below are the nine best wire strippers in 2023.
Klein Tools Wire Stripper
This sturdy, lightweight tool can cut and strip copper solid ranging between 10 and 18 AWG wire and copper braided or stranded 12-20 AWG wire.
As a result, you can use it for almost any wiring project in your household. It has a price tag of $20.
WGGE Wire Cutter
With a mere $10 or less, you can get this wire stripper or cutting tool to strip, loop, or cut copper ranging between 10 and 22 AWG stranded or solid wire and 0.6 to 2.0 mm aluminum cables.
Its serrated nose also makes it ideal for pulling, shaping, or bending wires and crimping them. 
Knipex Automatic Wire Cutter
If you are searching for a user-friendly, accurate, and versatile tool for stripping or cutting stranded, solid, and a multitude of wires or cables ranging from 10 to 24 AWG without having to set sizes or pick a gauge, then it is the tool for you.
It has a price tag of $39.
Jonard Tools Adjustable Wire Stripper
If you are working with small, delicate wires like those found in electronic devices, you will appreciate the accuracy of this cutting and stripping tool for $10.
It lets users cut or strip stranded or solid wires ranging between 10 and 30 AWG.
Irwin Vise-Grip Wire Cutter
It can crimp, strip, or cut stranded or solid from 10 to 22 AWG wires. Going for around $14, you can also use it to pull jackets without damaging the internal wire. 
Dowell Wire Cutter Tool
it is a standard gauged wire stripper priced at $6. It can handle aluminum and copper stranded or solid wires ranging between 10 to 22 AWG,  making seamless cuts with no ragged edges. 
Irwin Self-Adjusting Wire Strippers
This wire stripping and cutting tool eliminates the guesswork. You can place your wire inside jaws and squeeze, resulting in perfectly stripped wires.
It can handle 10 to 24 AWG, crimp, or cut non-insulated and insulated wires. It costs $26.
DataShark Universal Stripper for Flat or Round Cable
This wire stripping and cutting tool is ideal for cables that connect to your computer or home entertainment system. It works with most coaxial, ethernet, and flat-phone cables with a price tag of $13.
Eclipse Tools Precision Cutter
For anyone working with electrical gadgets, like those in hobbies such as model railroads, the stripper is the right tool. It can strip and cut the wire from 20 to 30 AWG, which is rather thin.
However, despite the delicate nature of such wires, it can seamlessly remove the jacket without causing harm to the conductor that is underneath. It goes for around $5.
Conclusion
Wire strippers and cutters are a must-have tool for anyone dealing with wiring projects, like setting up a computer or a home entertainment system.
The information provided above will help you understand how such tools work and which are the best case-by-case.