About Ethernet Cables For Smart TVs: Did you just get a brand new smart TV and want to enjoy various streaming services on this device? 
First, you'll need to connect your TV to the internet. However, it's best to use a wired connection to get a fast, reliable, and steady connection. 
For this, you'll need ethernet cables for smart TVs. The article below will discuss the various ethernet cables for smart TVs and help you determine the right one.
Table of Contents
Best Way to Connect Smart TV to the Internet
Ethernet Cable – Best Performance
Pros of wired connections
Ethernet cables are always the best for connecting to stationery devices such as TVs and PCs because they maximize performance, reliability, and internet speed. 
While streaming media on your TV, especially 4K content, you want to avoid buffering as much as possible. 
Therefore, you need a fast and reliable speed that an ethernet cable provides to accomplish this.
Also, most of the first smart TVs weren't WiFi compatible, so you could only use an ethernet cable or powerline adapter. 
Also, if you've installed your TV out of range of your wireless connection, you'll need to use an ethernet cable.
Cons of wired connections
One disadvantage of using ethernet cables is running a cable from your router to the TV, especially if the router was set up on the wrong side. 
Another problem could be having a mounted TV; you don't want to drill holes in your wall to run the cable. 
Connect Your TV Over Ethernet
All you need to do is plug one end of your ethernet cable into your router and the opposite end to your TV.  
If the ports on your router are all taken, you can use a network switch to add up terminations. Most network switches are plug-and-go with nothing complicated.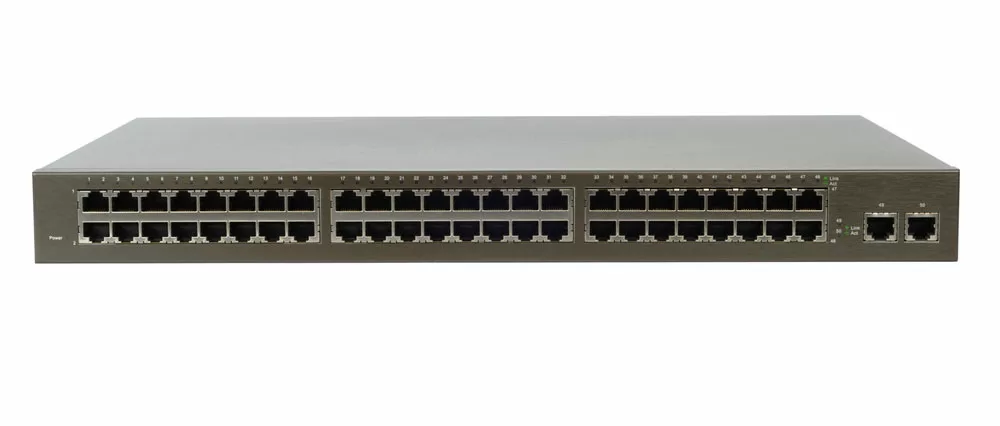 Caption: Network Switch
WiFi – Most Convenient Easy
Pros of wireless connections
Most people find this method the easiest way to connect their TV to the internet. 
As long as your TV is within range, you can access the settings and connect to your network. 
There's no need for an installation process of drilling and cutting through walls, nor do you need any cables. 
Cons of wireless connections
Although wireless speed and technology have significantly improved over the years, it's still better to use a data cable where possible. 
As previously mentioned, it'll reduce buffering and improve your internet speed. 
Sometimes, you might be unable to connect your TV to a WiFi network because some of the earliest TVs don't support wireless connections. 
You might have to use a USB adapter to connect your TV to the internet. 
Also, if your TV isn't in range of the wireless signal because of thick walls or foil linen that reflects the signal, you might need a wireless adapter. 
If your TV isn't compatible with wireless connections, you can simply get a smart TV stick such as Google Chromecast or Kodi Stick to help you connect to the internet.
Connect a Smart TV Over WiFi
If your TV isn't WiFi compatible, simply connect a wireless adapter, then navigate to settings and connect to your network. 
However, if your TV supports WPS, simply select the option, then press the WPS button on your router. 
You don't need to enter any passwords. However, ensure your router and TV are WPS compatible before attempting this method. 
Powerline Connections – Notable Alternative
Powerline connections function via sending internal data around the existing main electrical cabling. 
It consists of two or more pieces, one installed near the router and the other next to your TV.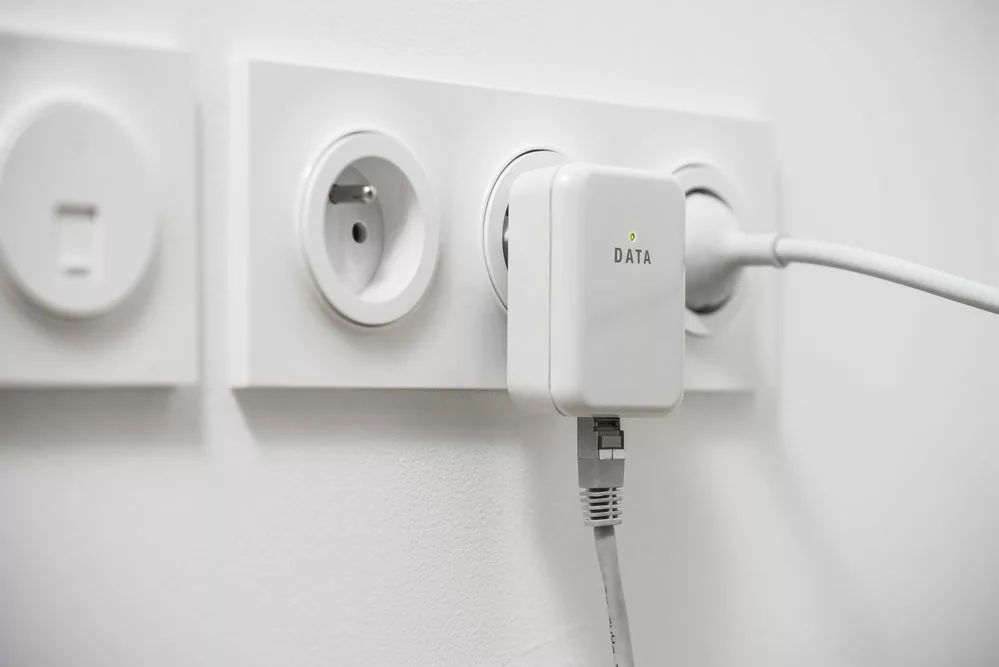 Caption: Powerline Adapter Connecting To Electrical Socket
Pros of powerline connections
A powerline connection is perfect for a TV that isn't WiFi compatible or when your TV is outside your signal range and there's a weak signal.
Cons of powerline connections
For the kit to work with, you must be on the same electrical circuits. 
Therefore, if you live in a huge property or somewhere where all the electric loads are separated into various circuits, you can't use powerlines. 
Furthermore, electrical cables weren't designed to convey data signals and, therefore, suffer intensely from interference. 
It's important to have your TV directly connected to the circuit and not use an adapter when using powerlines. 
Connect Smart TV To Internet With Powerline Connectors
Depending on the model of your adapters, there are several ways to connect it to your TV. If possible, it's best to connect via ethernet cables; if not, you can still go wireless.
Using the Powerline Adapter Kit – Plug a home plug adapter into the main electrical circuit next to the broadband router and connect with an ethernet cable. Plug in your other powerline adapter to an electrical circuit close to the TV and connect the TV with an ethernet cable. 
Using a WiFi-Compatible Homeplug Kit – Before attempting this method, ensure your TV is WiFi-compatible. Plug an adapter into an electrical circuit next to your broadband router and connect with an ethernet cable. Next to your TV, plug another adapter into an electrical socket. If your TV and powerline support the WPS method, click it on your TV to easily create a connection. If it doesn't facilitate WPS, find the wireless SSID and enter a password. 
Minimum Speed Requirement For Smart TVs
The information below only covers the devices that allow an ethernet cable.
Apple TV
Below are the various resolution options Apple TV offers and their required minimum speed: SD at 2.5 Mbps, 720p at 6 Mbps, 1080p at 8 Mbps, and lastly, 4K at 25 Mbps. 
Roku Ultra:
With Roku Ultra, you can enjoy streaming quality of up to 4K Ultra HD. Plus, the required minimum speed for enjoying this service is 25 Mbps.
Netflix
With Netflix, you can enjoy streaming Ultra HD at 25 Mbps, HD at 5 Mbps, SD at 3 Mbps, and broadband at 1.5 Mbps. A helpful tip is ensuring you have an HD plan and setting your quality settings to high or auto.
YouTube
With YouTube, the minimum required speeds for streaming are as follows: 4K at 20 Mbps, HD 1080p at 5 Mbps, 720 HD at 2.5 Mbps, 480 SD at 1.1 Mbps, and SD 360 at 0.7 Mbps.
Amazon Fire Stick + Ethernet Adapter:
With the Amazon Fire Stick plus an ethernet adapter, you have a more reliable viewing experience. You can enjoy Ultra HD at 25 Mbps, HD at 5 Mbps, SD at 3 Mbps, and broadband at 3 Mbps.
Nvidia Shield TV:
With Nvidia Shield TV, you can enjoy 4K quality streaming at 25 Mbps.
Ethernet Cables For Smart TVs: Smart TV
Almost every smart TV today is equipped with an ethernet port for connection via an ethernet cable. Since there are various smart TV models, it's difficult to determine the exact minimum required speed for streaming. However, with an internet speed of 25 Mbps, you can enjoy streaming on your smart TV.
Google Chromecast + Ethernet Adapter:
With Google Chromecast plus an Ethernet adapter, you can stream 4K content at a recommended minimum speed of 25 Mbps.
What Type of Cable is Right For Smart TVs?
It's safe to say that the required speed is about 25 Mbps. Such speeds will ensure you enjoy smooth, high-resolution streaming. Therefore, the question of which cable is best for you arises.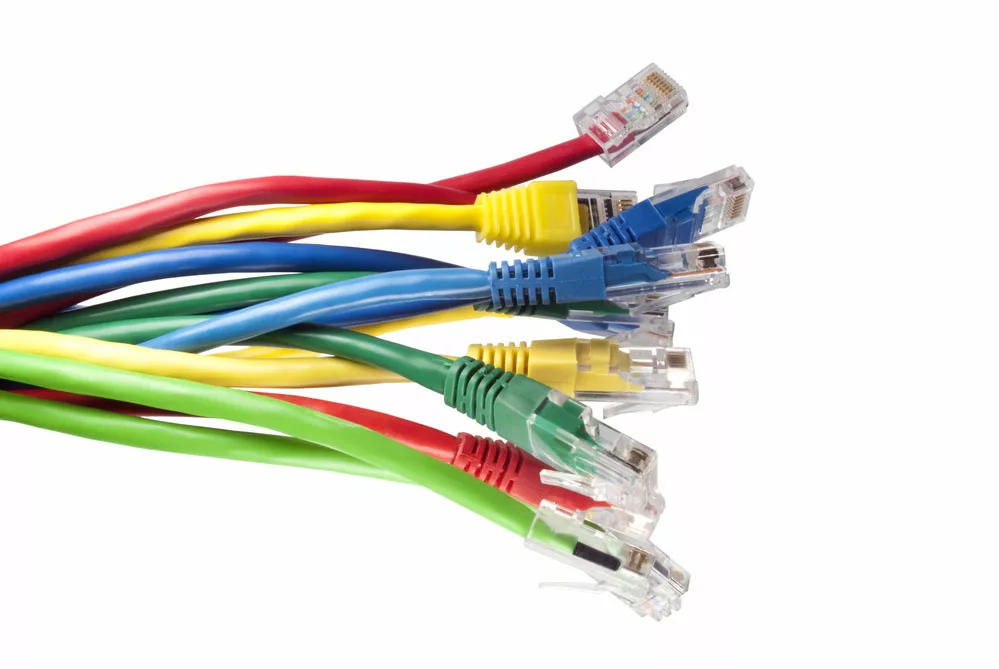 Caption: Various Ethernet Cable Types
Ethernet Cables For Smart TVs: Ethernet Cat Types
Below are the various ethernet Cat types and their performance.
Cat 5
This cable was mainly used in older networks and was never installed on new networks. It offers 100 Mbps at a distance of 100 meters with a bandwidth of 100 MHz.
Cat 5e
It is the most commonly used cable because of its performance and low cost. It offers 1 Gbps at a distance of 100 meters with a bandwidth of 100 MHz.
Cat 6
The Cat 6 cable was a major improvement in terms of performance compared to the Cat 5e cable because it is more tightly wound and has a braided shield or outer foil. 
The shielding or foil protects the wires, preventing noise interference and crosstalk from outside sources like wireless signals.
 It offers 10 Gbps at a distance of 55 meters with a bandwidth of 250 MHz.
Cat 6a
The Cat 6a cable is capable of supporting double the bandwidth compared to a Cat 6 cable. 
Furthermore, it can maintain higher speeds over longer distances. It offers 10 Gbps at a distance of 100 meters with a bandwidth of 500 MHz.
Cat 7
The Cat 7 cable has intense specifications, with the entire cable being shielded and each wire having its shielding. 
This significantly reduces outside interference and crosstalk. It offers 10 Gbps at a distance of 100 meters with a bandwidth of 600 MHz.
Cat 8
The Cat 8 cable is the most modern ethernet standard in the market, which explains its significantly high price compared to the other cables. 
It can offer 25 Gbps – 40 Gbps at a distance of 100 meters with a bandwidth of 2000 MHz.
Ethernet Cat Type vs. Performance vs. Cost: What is the Best Ethernet Cable For Streaming?
Getting the latest and fastest cable is not the solution to boosting your internet performance. 
Most homes use a gigabit ethernet router that offers speeds of up to 1000 Mbps, the exact speed the Cat 5e cable is rated for. 
A better and faster cable doesn't necessarily translate to faster speeds.
Even if your home uses a 10 Gbps router, you must consider your ISP's internet speed. 
Plus, the cost of the latest ethernet cable doesn't make sense for most households. 
Therefore, if you have a 10 Gbps router and a fast internet speed, your best cable option is the Cat 6 ethernet cable.
Furthermore, if your house is surrounded by countless wireless signals, like if your house is close to a busy WiFi environment or cell tower, then your best option is the Cat 7 cable. 
For those looking to future-proof your setup, the Cat 8 cable is your safest bet. However, if you want to increase your speeds, this cable won't make much of a difference.
Conclusion
Now you know the best cable for your smart TV isn't the latest and fastest, as it depends on your internet speed and several other factors. 
For all your ethernet cables for smart TV, feel free to contact Cloom Tech.