About Ethernet Cable for POE, Appliances, such as wireless points, IP cameras, and phones, get power directly through ethernet cables, which terminate the use of extra adapters or other power cables. 
This is what we call POE technology, and an Ethernet cable for POE (power over ethernet) plays an important role in allowing data transformation and power delivery on a single cable. 
In this article, you will be clear about what and how to select your preferred power of ethernet cables with respect to your work.
Table of Contents
What is POE, and how does it work?
As mentioned below, this technology eliminates power cables and allows the appliances to receive the power supply directly without hindrance from the ethernet cables.
Power here is injected into the cable by an injector or a switch by which the appliance receives the data directly.
Ethernet cables for PoE, which meet the quality of CAT5e, comprise four pairs of ethernet cables. And they send power to the PoE-enabled appliances.
Overall, power over ethernet eases the installation and management of network appliances by providing them with data and power over a particular single cable. 
This reduces the messiness of cable and allows the flexible arrangement of appliances in different locations.
PoE compatibility and PoE network components
Only a switch with POE compatibility can work on ethernet cables. If you use a non-PoE switch, then an injector has to be attached to make it work. 
This way, an ethernet cable that takes data from the specific switch supply the power to the injector and the outcome of it is the ethernet cable having data and power. 
In the early days, few appliances would work in these network cables, but with time, it got standardized and earned universal fame, so now the majority of the appliances are compatible with it. 
White isolated ethernet cable.
Standards and power parameters of PoE
The power over ethernet standards explains the instructions for power supply over ethernet cables. 
Here we have explained a few of the common PoE standards and their power variables:
| | | | | |
| --- | --- | --- | --- | --- |
| Standard | 802.3af (802.3at Type1) PoE  | 802.3at Type 2 PoE+ | 802.3bt Type 3 4PPoE/PoE++ | 802.3bt Type 4 4PPoE/PoE++ |
| Power (W)available at the Device | 12.95  | 25.5  | 51  | 71  |
| Max. Power(W) delivered by the source | 15.40  | 30  | 60  | 100  |
| Voltage(V)  range at the Source | 44 – 57  | 50 – 57  | 50 – 57  | 52 – 57  |
| Voltage(V) range at the device | 37 – 57  | 42.5 – 57  | 42.5 – 57  | 41.1 – 57  |
| Maximum Current(mA) | 350 | 600  | 600 (per pair) | 960 (per pair) |
Advantages of PoE
Power over Ethernet has several advantages in network device connectivity, and some of them are as follows:
Easy and cost-effective: it removes the need for extra power cables and outlets by using a single ethernet cable. It reduces the cost of cables and framework required.
Flexibility: it allows flexibility of appliance placement since there are not many cables to connect. It allows you to fix any appliances in any corner of the room without hassle.
Reliability: PoE uses a UPS system that always has a backup power supply. 
Better safety: it allows a low-voltage system of power, which is way safer than any higher-voltage AC power, thus reducing the risk of electrical shocks.
Eco-friendly: it is eco-friendly because it reduces energy intake by using energy.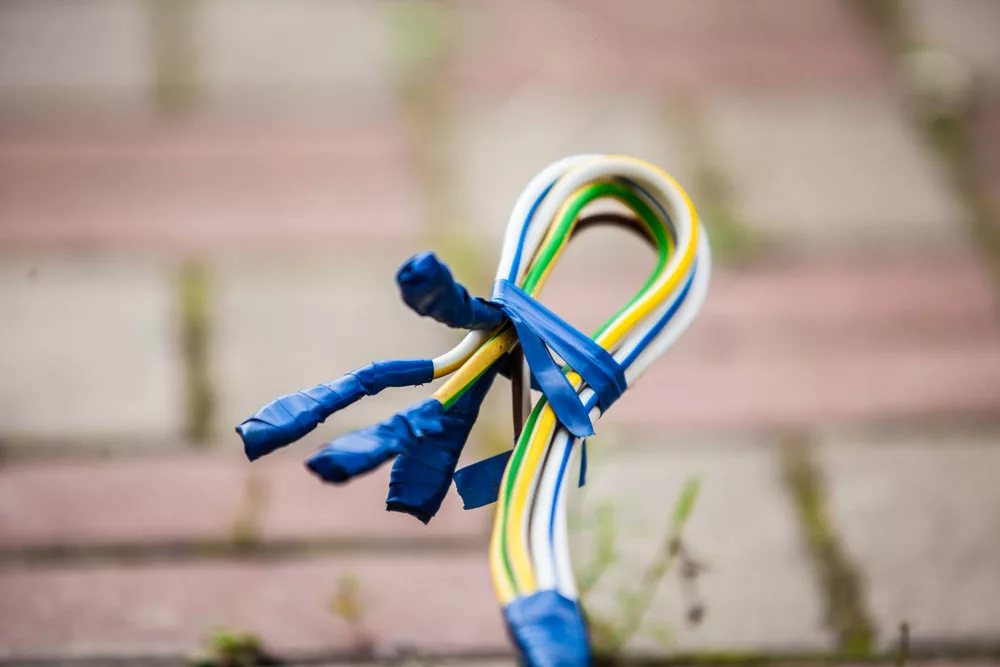 Electrical wire
Applications of power over Ethernet
Power over Ethernet has a broad range of applications across many industries. Listed down are some of the most common applications of PoE:
Wireless access points: it allows the power supply for wireless access points, which reduces the need for specific power cables. It also helps in relocation, allowing flexible wireless arrangements.
Healthcare: Poe widely helps in healthcare systems to monitor patients' appliances, nurse calling systems, medical appliances, and much more.
Network switches can easily be used for power-enabled network switches, reducing the need for any separate power supply.
Surveillance cameras: PoE also widely assists in IP cameras, which allows the data and power to pass on over a single ethernet cable which simplifies the installation and terminates the use of a separate power supply. 
Voice-over phones: it is very commonly used in these voice-over phones, which makes it operational even when there is a power outage. 
Considerations for selecting the ethernet cable for PoE
While selecting an ethernet cable over Poe cables, there are many things to keep in mind for better reliability of data and power. 
Any slight hindrance in its fundamental factors can affect the efficacy of the Poe channeling.
Data transmission requirements:
POE technology actually sends around 10/100/1000Mbps of data and 15W, 30W, 60W, and even up to 90W power budget to appliances over Cat5e, Cat6, Cat6a, Cat 7 and Cat 8 cables for a more distance of 100m.
 Some of these low-level ethernet cables can also do it, but it is not recommended. Cat5e or some higher will also support POE on almost all voltages, but Cat5 will majorly support low voltages. 
For best results, the environment and the temperature of cables should be cool, or else if the temperature rises, the signals and performance decline.
Here category 8 is the most updated version of copper cables, which allows amazing performance with a maximum channeling rate of around 25GB at normal channels. 
Data transmission blue ethernet cables
Power consumption:
The IEEE803.3af provides up to 15.40W of direct current for type one appliances. 
But the upgraded version of IEEE802at is POE plus, which provides a power of around 25.50W for type two appliances. 
To further increase the power, the use of all four pairs of ethernet cables was assigned. 
This standard introduced us to new types of power, which are 51W ( type three) and 71.3W (type four), respectively. 
Temperature rating:
This means the maximum temperature an ethernet cable's shield can bear. 
For Poe transmission, at least 60 degree Celsius or more of temperature should be available. 
However, you are still supposed to control the heat by the following method.
Size of a conductor gauge:
If the resistance is more in small-diameter cables, then it would generate a higher amount of heat. 
So a larger diameter must be a better choice as it increases the heat spreading across the cable.
Shields of cable construction:
There are commonly two types of cables which are either unshielded twisted or shielded twisted. 
Cat5E and Cat6 are the most commonly used ethernet cables, while category 7 with metallic shields is better for higher heat dispersion.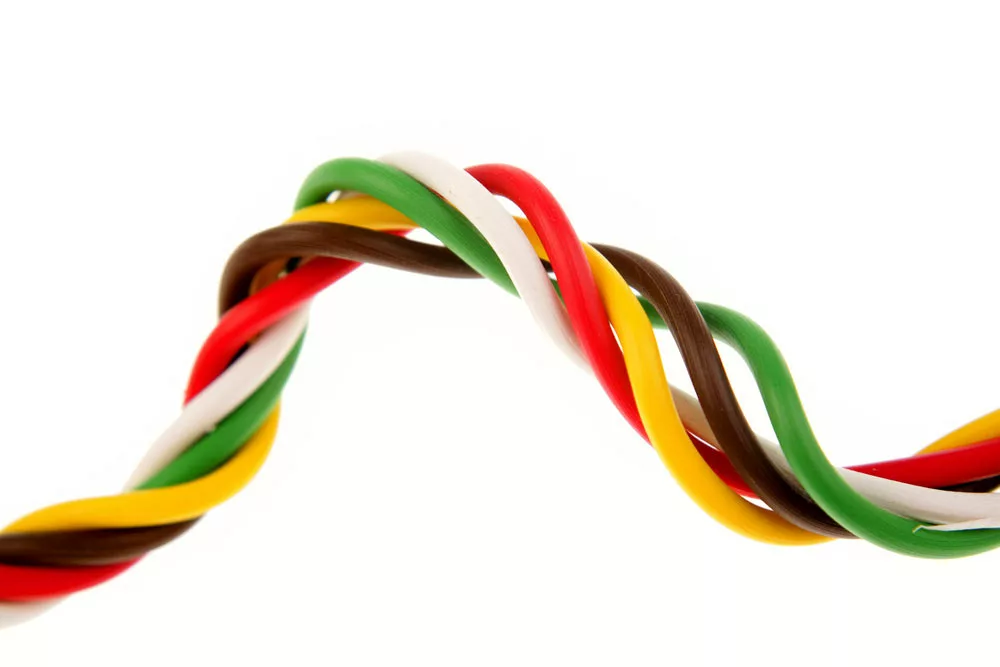 Caption: cabling of ethernet wires
Installation mechanism:
The wrong way of installation can trap the heat, which can physically damage the cables. 
So, it is very important to keep a proper ventilation system where cables are present, as a POE switch in a closed environment will produce a lot of heat. 
Segregation of big bundles is also another crucial factor to see, as it can also aid in heat generation. 
Cable conductor material:
When selecting the cable material, there are two main forms of copper cables, pure copper cable and copper-clad aluminum. 
The copper-clad aluminum has great radiation of heat, which leads to interruptions, although it is cheap. 
A pure form of copper material is best for us as it offers very less resistance, making it to use for a very long time without getting any impact on speed. 
Conclusion
Using a single pair of cables for both power and data is more beneficial as it does not hinder any signals, also known as phantom power. 
Further, it has a lot of advantages in terms of cost-effectiveness, reliability, flexibility, safety, scalability, eco-friendly and remote management, and much more. 
After reading all the above tips and details of every aspect, you should be able to decide on the right cable for your preference.