About USB Data Cable vs. Charging Cable: You might be trying to move files from your phone to your computer via a USB cable, but it isn't working.
Then you notice that your device is charging, but your computer states, "Device not recognized." If this is the case, it could be that your cable is broken or faulty.
However, you'll be surprised to learn that this isn't always the case, as some cables are not capable of transferring data.
Hopefully, the article below helps you settle the debate between USB data and charging cables.
Table of Contents
USB Data Cable vs Charging Cable: The basics
In general, there are only two types of USB cables:
Data cables – These cables function to facilitate both data transfer and charging.
Charging cables – These cables can only charge your phone and tablet, but they can't facilitate data transfer. 
What is the Difference Between The Cables?
The main difference between a data cable and a charge-only cable is how they're constructed. More precisely, the wiring systems (the number of wires in the cable). 
Beneath the body of the USB are wires, and the number of wires in your cable determines if it can charge, transfer data or do both.
Data cables comprise four wires (data receive, data transfer, negative, and positive).
The negative (-) and positive(+) wires convey electrical current to your device as the remaining data receive(D-) and data transfer(D+) are in charge of data transfer. 
However, the charge-only cables only have negative and positive wires.
Why are the Charging and Transfer Speeds of the USB Data Cable Different?
Although USB cables look the same, not all of them are built the same.
For instance, USB 3.0 puts two shielded data pairs to the specifications of the USB 2.0 cable. The added shielded pairs enable faster performance when downloading video and data.
This concept is similar to that of a 2-lane- and 6-lane highway that enables more traffic. 
The table below outlines the various versions you might encounter while looking for a new USB cable.
| | | | |
| --- | --- | --- | --- |
| USB Version | Max Transfer Speed | Max Power Output | USB Connector Types Supported |
| USB 1.1 | 12 Mbps | 0.5A, 5V, 2.5W | Type AType BMini AMini BMicro AMicro B |
| USB 2.0 | 480 Mbps | 0.5A, 5V, 2.5W | Type AType BMini AMini BMicro AMicro B |
| USB 3.0/USB 3.1 Gen 1 | 5 Gbps | 4.5A, 5V, 0.9W | Type AType BMicro BMini B |
| USB 3.1 Gen 2 | 10 Gbps | 0.5A- 0.9A, 5V-9V, 240W | Type AType C |
| USB 3.2 Gen 2X2 | 20 Gbps | 0.5A- 0.9A, 5V-9V, 240W | Type C |
| USB 4.0 | 40 Gbps | 0.5A- 0.9A, 5V-9V, 240W | Type C |
Note that the shape of the connector does not in any way influence the USB version, which indicates the speed and performance of the USB.
To sum it up, the USB connectors are categorized according to their physical design (Type A, B, and C) and functionality (USB 1,0, USB 2.0, USB 3.0, and USB 4.0). 
USB Data Cable vs Charging Cable: How to Determine the Difference
Since the USB Implementers Forum hasn't established guidelines requiring manufacturers to label data transfer or charge-only cables, differentiating the two is difficult. However, it isn't impossible, as there are some ways.
Physical Examination
Data cables have 4 wires; therefore, their insulation is thicker than a charge-only cable with only two wires.
Contact Customer Care
If you're making an online purchase and the cable's product page doesn't clearly state if the cable can transfer data, it's best to contact customer care for clarification. 
Also, if you're buying your cable at an actual store, it's best to confirm the type of cable from an attendant before purchasing.
Preliminary Test
The last method you can use to determine if your cable supports data transfer is testing the cable. 
If you encounter issues accessing your device from a computer or your phone only charges, the cable is probably charge-only.
How to tell if a USB Cable Supports High Speed and Fast Charging
Below are the various ways to tell if your USB cable supports Hi-Speed and fast charging.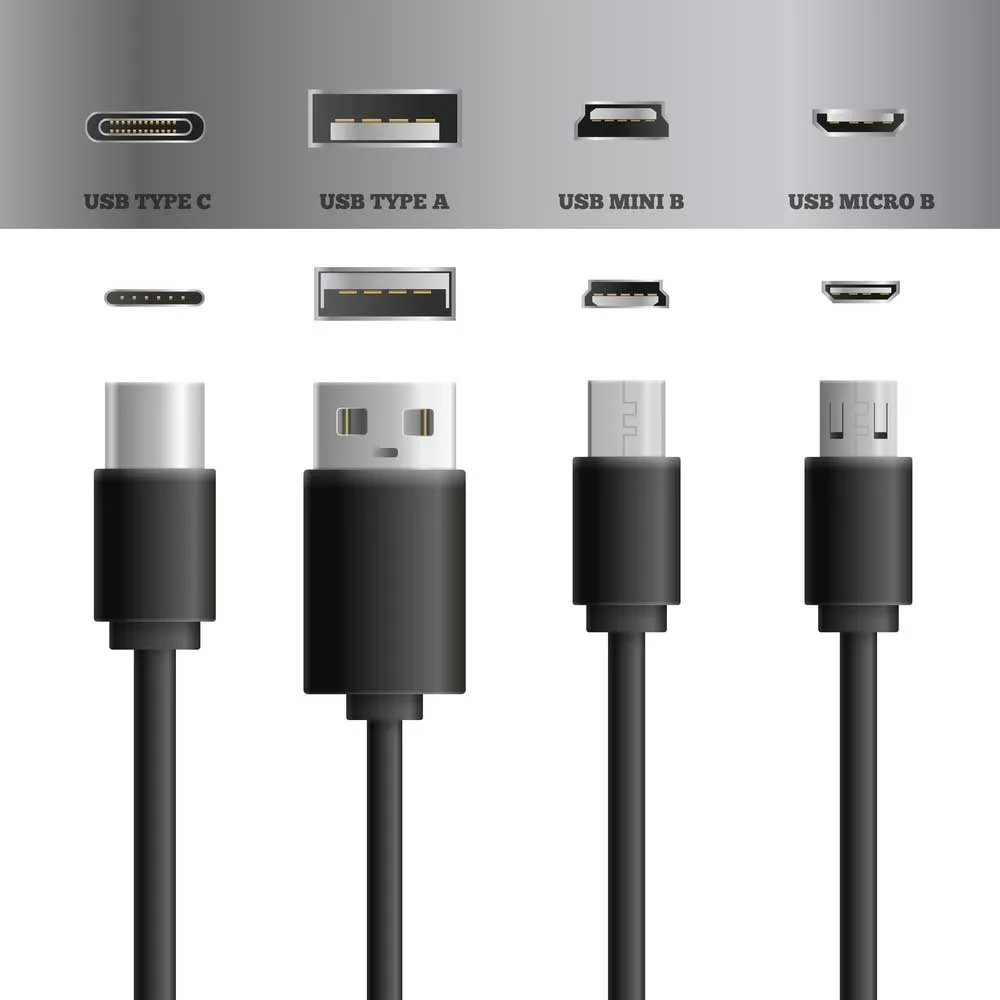 Caption: Various USB Male Connectors
Confirm the Color In the Type-A Connector
Type A plugs are very popular USB connectors across several standards, and most manufacturers apply a color-coded system to tell apart different standards. 
White – USB 1.0 (Power output: 0.5A, 5V, 2.5W and data speed of 12 Mbps)
Black – USB 2.0 (Power output: 0.5A, 5V, 2.5W and data speed of 480 Mbps)
Blue – USB 3.0 (Power output: 0.5A-0.0A, 5V, 4.5W and data speed of 5 Gbps)
Teal – USB 3.1 (Power output: 0.5A-5A, 5V-48V, 240W and data speed of 10 Gbps)
Red – USB 3.2 (Power output: 0.5A-5A, 5V-48V, 240W and data speed of 20 Gbps)
Yellow – USB 3.0 (quick charging) and USB 2.0
Orange – USB 3.0 
Confirm the Labeling on the Connector
The USB symbol resembles three connected wires in a fork-like shape. Several USB cables have the symbol on the cable and the USB port. 
Most USB 3.0 cables have the symbol "SS" to indicate superspeed charging. 
Also, they might have the numbers 40, 20, 10, or 5 indicating the transfer speed in Gbps.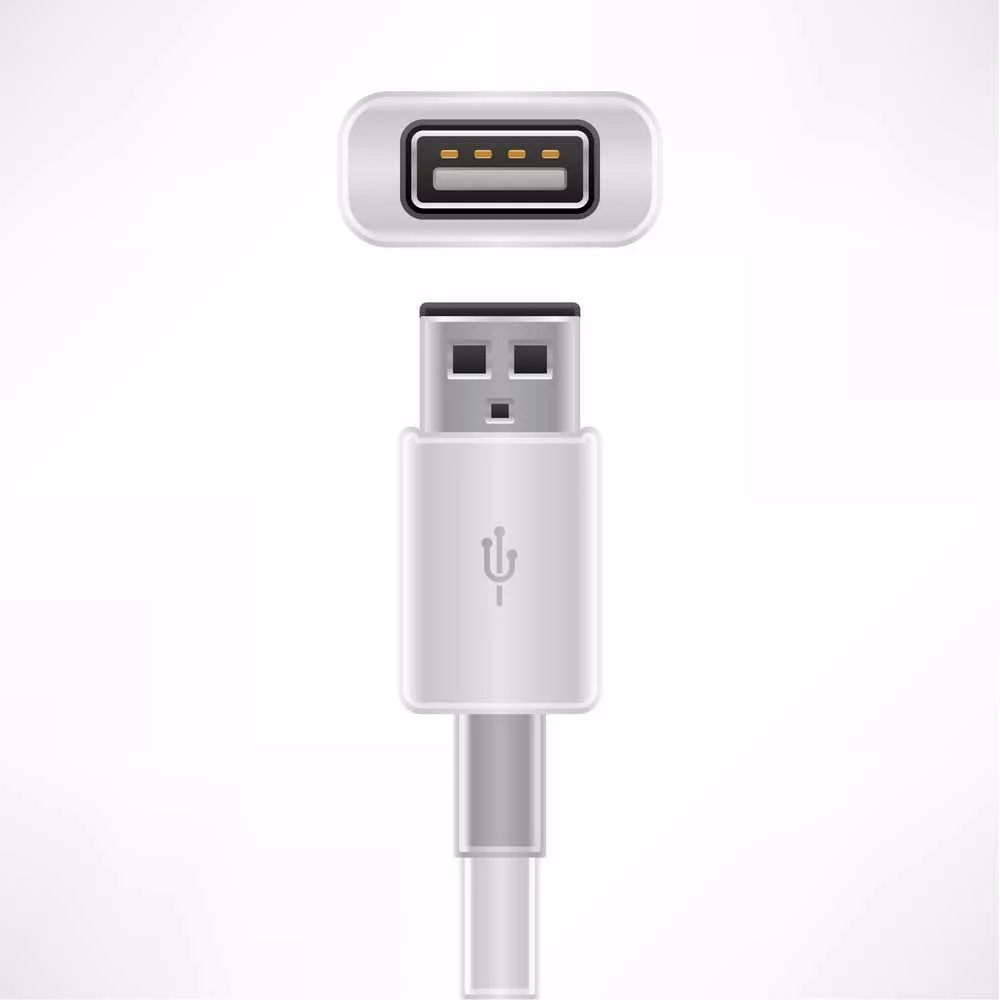 Caption: USB Plug With Fork-Like Symbol
Check if the USB Cable Can Support Fast Charging Protocol
Several assorted brands have adopted several quick charge protocols, the industry standard being USB PD. 
Other quick charging protocols include Motorola Rapid Charging, Samsung Adaptive Fast Charging, and Qualcomm Quick Charge.
 The above protocols can provide up to 60 watts, which can fast charge most tablets and phones.
Confirm the Amperage of your Cable
If you're buying a cable or still have the box your cable was packed in, check the package for any information that could indicate the cable's amperage. 
A standard USB cable is rated 0.5 amps, while fast charging cables are rated 2.5 amps or higher.
Confirm your Cable's Thickness
Quick charging cables need to convey a strong electric current, making their wires thicker. 
Therefore, if you still can't tell if your cable supports fast charging, check your cable's thickness. 
If it's thicker than a standard USB cable, it's possible to support fast charging.
Conclusion
Although all cables have negative and positive wires, not all have data exchange wires, which is why some USB cables can only charge your phone and can't transfer data. 
Furthermore, not all USB cables can transfer data and charge power at the same speed. 
For all your USB cable needs, feel free to contact Cloom Tech.